What follows is a repost of my contribution to Intel's Inside Scoop blog. As an Intel Insider, I advise the company on new media as well as share my thoughts and views on tech…
CES 2010 is the next stop for all gadget lovers and technologists. In many ways, the holidays and the slower pace that ensues serve as an excuse to recharge so that we may effectively travel the miles of booths featuring new electronics, tech, and consumer products.
It's overwhelming, wonderful, and an easy way to start my wish list for the holidays next year.
As an Intel Insider, it's my responsibility to not only stay current with innovation, but also to live and breathe all that inspires the next trends as well as those that also should have, but didn't. Technology is part of us now and while living the digital lifestyle was once a prediction, the truth is that tech is literally an extension of who we are and what we do.
As the curtains of 2009 draw to a close, I wanted to share some of the tech that propelled me through the year. So while this is less of a top gadget list, I am sharing the very products that I use and rely upon daily.
Beats by Dr. Dre
Bose has dominated the high-end, noise canceling headphone market for quite some time. It would take an unlikely alliance between Monster and Dr. Dre to create a product that rivaled Bose and also delivered the balance fidelity and noise suppression necessary to achieve a satisfying and intimately level of audio ecstasy. In fact, I was introduced to these headphones at CES last year and remain a loyal user.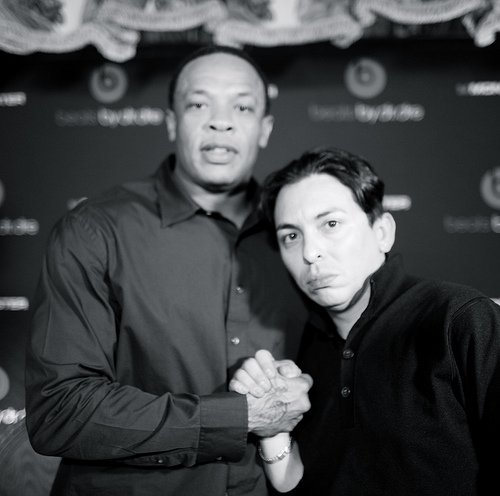 Canon 5d Mark II
I carry this camera with me practically everywhere I go. In fact, this camera is, by DSLR standards, quite possibly the most incredible camera I've used yet – so much so, that I ended up buying a second body.
It captures stunning, detailed images with it's 21.1 megapixel full-frame CMOS sensor featuring a DIGIC 4 Image Processor, a ridiculous ISO Range of 100-6400 (expandable to ISO L: 50, H1: 12800 and H2: 25600). The other feature that inspired me to spread my wings is its ability to shoot jaw dropping, dramatic, and absolutely beautiful HD video.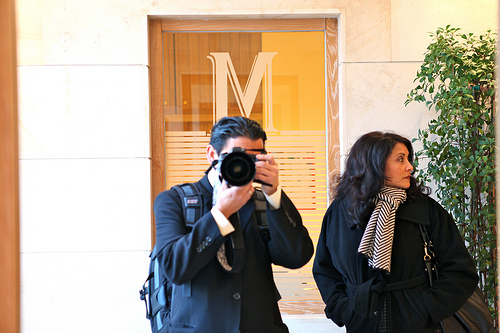 To see samples, please visit my album on Flickr.
RODE Stereo VideoMic
I'm exploring the HD video capabilities with the new Canon 5D Mark II, but one thing I've noticed is that the internal microphone doesn't quite match the level of cinematic beauty recorded by the camera.
After much research, I opted to purchase the Rode Stereo VideoMic to provide portable, studio-quality stereo audio while on the road. It mounts directly on the camera body using the camera-shoe mount. For those shots where you need a bit of distance between the camera and the subjects, I purchased an inexpensive cable extender and mount the mic on a stand closer to the sound source.
The X/Y configuration enables the StereoVideoMic to capture the true ambiance of the recording space, while still offering a high level of rear rejection and low noise. The StereoVideoMic offers 9V battery operation, an LED battery status indicator, high pass filter switch, and a -10dB pad switch.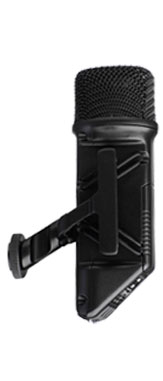 Dell Adamo XPS
At only 9.99 mm, the Dell Adamo XPS is the thinnest laptop in the world. It's simply unbelievable. This is by far the most elegant notebook running Windows. The only other laptop in the world that rivals its design is, of course, Apple's Macbook Air.
The Adamo XPS features a 13.4-inch widescreen HD display, a full-size keyboard that seemingly disappears inside the display when folded, and a one-touch capacitive latch release that unlocks the notebook to unfold simply by sliding your finger.
It features a 1.4GHZ Intel Core 2 Duo ULV processor, runs Windows 7 flawlessly powered by 4GB 800MHz DDR3 dual-channel memory, and includes a 128GB solid state drive. Note to the potential suitors however, this notebook requires the optional extended battery which offers up to 5 hours in comparison to the sub 2 hour performance with the included slim battery.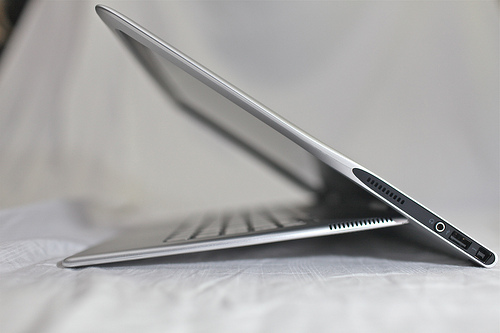 iPhone 3GS
The iPhone 3GS is in my opinion, the first iPhone to have everything it should've included looking back to the first generation of phones. However, I've remained begrudgingly loyal over the years as it is by far the most integrated experience on the market, one that keeps up with me in everything I do, everywhere I go – almost anyway.
I wholeheartedly depend on many of the new features that are now standard in the 3GS such as the faster processor, video camera, internal compass, and also voice control. Now all we have to do is focus on improving the actual "phone" part which is something AT&T will have to address sooner than later.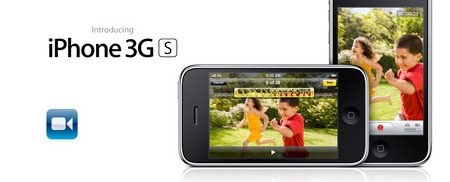 HyperMac
The Dell Adamo XPS is not the only laptop in my arsenal of content creation devices. I also travel extensively with a Apple Mac Air and a 17-inch Macbook Pro. One of the greatest strengths is also one of the most challenging hurdles. The integrated batteries maximize life however on a longer flight, they're irreplaceable. Dimming the screen and turning off wifi and Bluetooth only goes so far…I still frequently found myself without power with an hour to spare on coast-to-coast flights (mostly westbound). On international flights, I actually brought two notebooks as a means to ensuring consistent productivity.
Enter the Hypermac, an indispensable solution for keeping Macs online while on the road or in the field. Available in four different models, the Hypermac is essentially an external battery for Macbooks providing anywhere from five to over 20 hours of additional life per charge. I picked up the MBP-100 and it travels with me everywhere I go. One charge, for example, lasted from San Francisco to Frankfurt, 3 hours at the Frankfurt airport and an additional flight from Frankfurt to Stuttgart with room to spare.
Oh, and a bonus for you, it includes a USB port to power any device that can power-up via USB.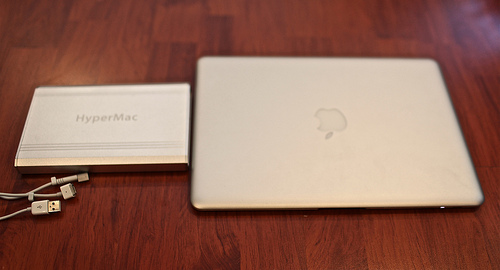 Sprint MiFi
I've been a vocal supporter and user of USB-attached broadband devices for portable access to the Web. The problem, if there really is a problem with having anywhere, anytime access to the online connectivity, was that the tethered devices drain precious laptop battery life.
Now that MiFi devices are becoming commonplace, do yourself a favor and get one. They are essentially portable wifi hotspots. They provide portable broadband connectivity for up to five PCs, each accessing the device via wifi. The MiFi fits in the palm of your hand and boasts its own internal, rechargeable battery.
If you want to be a popular person at the airport bar, fire it up and offer free access to all of those who buy you a drink!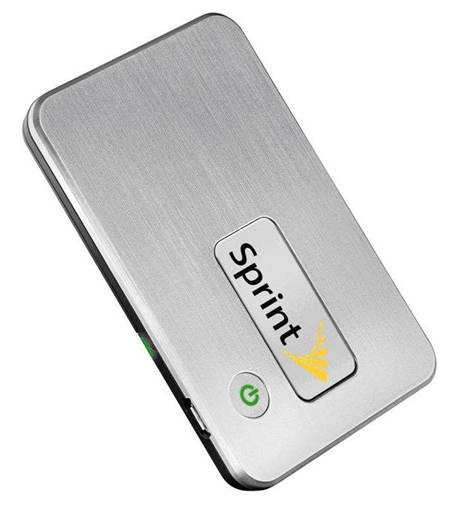 iMax IMP500
Perhaps by now, it's become quite clear that I spend a great deal of time travelling. As such, I'm an avid iPhone user, spending as much time talking on the phone as I am sending email and surfing the Web. One thing about the iPhone 3GS that you can count on is that its battery will not make it through the day with constant usage.
So, like the HyperMac for MacBooks, I picked up the iMax IMP500 as a referral from good friend Paul Greenberg. It is an external, high capacity battery that can power an iPhone for days on end. It's a bit bigger and heavier than the iPhone, but it works. It works extremely well.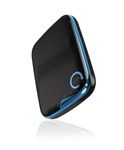 Kodak Zi8
When I can't carry the Canon 5D Mark II around everywhere, I do carry the Kodak Zi8. Similar to the FlipCam HD, the Kodak Zi8 shoots high-definition (HD) video in a highly portable, palm-sized device featuring a pop-out USB dongle to connect content instantly to any PC. The camera includes editing software onboard to edit upon connection. And, I also use my RODE mic when I need to combine excellent video with crisp and audible audio.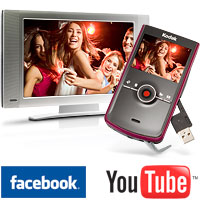 Amazon Kindle 2
Say what you will about the new Barnes and Noble book, I still prefer my Amazon Kindle 2, for the time being. Why? Well first off, I was able to get one. Second, the Kindle is already in its second generation, having worked out many of the bugs and hiccups over the years.
The Kindle is thin, light, and ready to download books and blogs almost anywhere there is access to 3G, in and out of the U.S. Now if we could get airlines to amend their no electronics rule for ebook readers during takeoff and landing, I could spend more productive time reading what I want versus what lies in the seat pocket in front of me.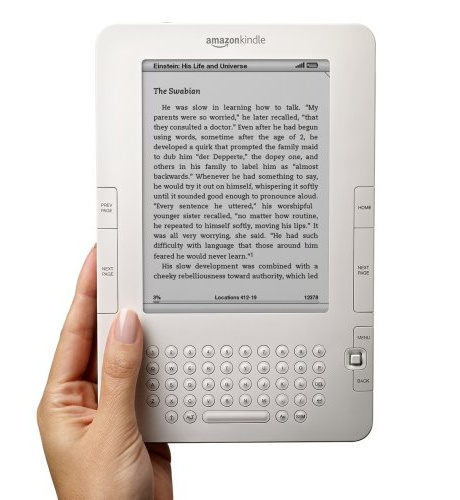 2nd Generation Pogoplug
If you've ever contended with a VPN, the idea of plugging in a drive directly to a router and accessing it from anywhere a Web connection is present might seem like fairytale. However, Pogoplug is an incredibly affordable and easy to use device that let's you access and share the content from an external drive – even a USB drive – over the Web. Think music, movies, files, etc. It's all there, ready when you are.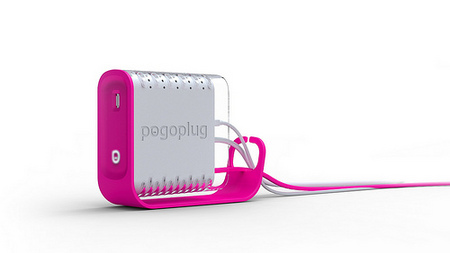 Sonos S5
The Sonos S5 is an all-in-one wireless music system. One system. One jukebox. One experience. Now you can play a world of music–from iTunes and the Internet–throughout the house or office. This little box can fill the room with rich sound and warmth. Sound travels from one device to multiple devices without wires. Each system can either play music simultaneously or serve as its own musical hub in each room.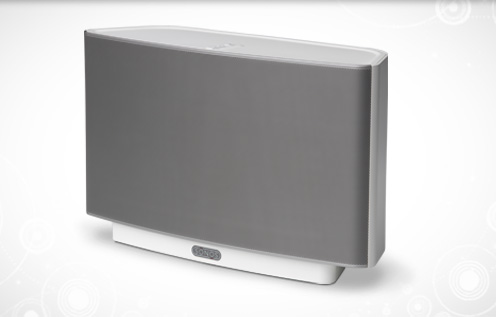 Jawbone
Believe it or not, I purchased a handful of Bluetooth devices this year to test for a few things. 1) I needed a greater volume than standard headsets usually produce, 2) Noise and wind reduction are important as I'm always on the road, and 3) I need the person on the other side of the conversation to hear me equally as well I hear them. In fact, it's the third point that was most critical. If you your mic reduces the quality of your call, it reduces the quality of the conversation. People want to connect with you through a pleasant experience.
The ONLY device that passed the test is the new Jawbone Prime. Needless to say, I have a desk full of bluetooth gadgets that are collecting dust.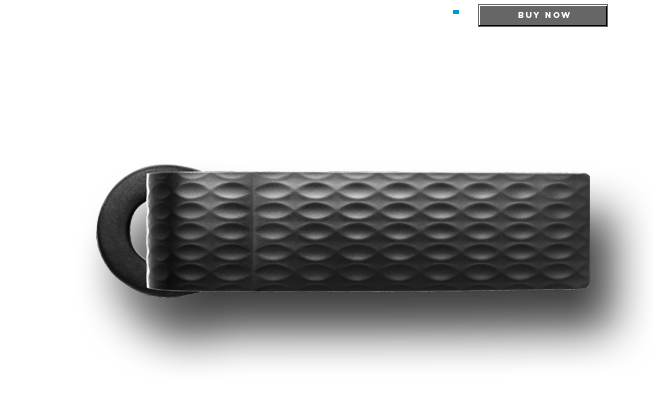 Belkin F5L001

OK, this might seem a bit strange, but similar to the bluetooth experience, I've become an expert on notebook coolers – I'm not kidding.
This year alone, I purchased over a dozen coolers trying to find "the" one that would serve as a perfect complement to a Macbook Pro 17″ and a Macbook Air. The one thing they share is that they both can run hot, very hot. The one thing they don't share is their footprint and the angle that suits a comfortable, prolonged typing position. I experimented with portable, ultra compact, off-the-wall, and traditional coolers.
For the MacBook Pro in a fixed position on the desktop as connected to a monitor, mouse, keyboard, the Belkin F5L001 cooling pad keeps things nice and cool. Since it lifts the front of the laptop up by over an inch, I can't really use this as the primary cooler when I type directly on the MacBook.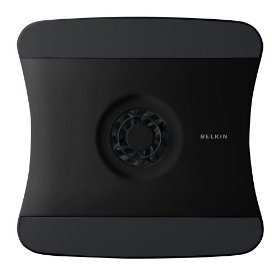 NotePal U2 Notebook Cooler
When I need to type directly on the laptop, the NotePal U2 Notebook Cooler works perfectly for the MacBook Pro 17 and the MacBook Air. The fans underneath the grate are moveable to match the heat output of the notebook, which are different for the Air and Pro and most importantly, the front of the pad touches the desktop without unnecessary lift. This allows me to type in a comfortable position and it's also portable enough to take on the road.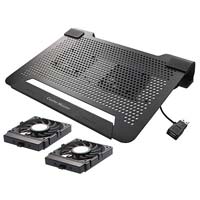 Connect with Brian Solis on Twitter, LinkedIn, Tumblr, Plaxo, or Facebook
—
Get the new iPhone app
Read BrianSolis.com on your Kindle
—
Click the image below to buy the book/poster: