In the first post, we explored the meteoric evolution in online video, dating back to Web 1.0 with JenniCam, We Live in Public, and DotComGuy and now in Web 2.0 with the launch of the incredibly popular Justin.tv.
In the next chapter we dove into ustream.tv, which is the first online network to combine Youtube with 24/7 livecasting capabilities aka lifecasting aka livestreaming, a la Justin.tv.
Since the last article, You.tv continues to blossom into a full-blown media category that is rich with tools, networks, and people looking to share their life on camera with a few friends or the rest of the world. This post will explore the rapid evolution of the lifecast and the current ecosystem that supports it.
You.tv, as I call it, is the celebration of online video and the ability to share ideas, realities, and creativity, not only the web, but also on iPods, multimedia players and cell phones. You.tv is everywhere and it is a phenomenon that is transforming everyday people into producers and a new generation of reality TV stars.
After all, this is a snapshot in time where we are all stars in our own mind. It's the way we (the majority) are conditioned to go through life each and every day. Almost everything we consume, view, participate in, demand, evaluate, share, or even how we view ourselves, is driven by a fundamental reliance on popularity and our secret or public desire to be liked more than other people. Whether it's fame, narcissism, vanity, or just a genuine enthusiasm for the new technology, lifecasting is making it almost too simple for everyday people to command an audience. And, as the rise of social networks made stars out of regular people, lifecasting will also produce a new crop of uploaded talent, whether you're ready or not.
As you.tv makes it way across the bell curve, it will also contribute to the conditioning and stroking of our ego until the impending need to ctrl-alt-del our perspective.
But lifecasting doesn't stop with people. The technology and the infrastructure that drives it will also influence how traditional media, Hollywood, sports, Corporate America, and all related industries broadcast and share content. Yes, expect the Tiger Woods cam, the UPS driver cam, the Rosie O'Donnell cam, and the CNN cam.
There are already live shows that are demonstrating the breadth and potential for lifecasting – which for the most part will all be categorized as livecasting because the only difference is the content, not the tools used to broadcast it.
Within the last two weeks, Justin.tv officially launched a lifecasting network with four new shows, including the very popular Justine Ezarik (iJustine) and SF hip hop radio station, Wild 94.9, which also represents first sign of potential business applications.
Tech influencers, including Robert Scoble and Jeremiah Owyang have leveraged the technology to livecast from prominent events. Chris Pirillo, The Technology Evangelist, New Media expert Robin Good, and Tech juggernaut Leo Laporte livecast their tech shows. Photo sharing site, Zooomr recently launched their new product over a series of livecasts and also continue to use it as a community relations tool. We've also experimented with it to send livestreams from some of the many events we attend.
There are countless examples already out there, many of which will now see the light of day as each of the existing and emerging companies spotlight their successful customers and usage applications. It's the early adopters who show the rest of the world how to embrace and leverage new technology after all.
With that, let's take a look at the new set of livestreaming platforms that facilitate You.tv.

Kyte is TV out of the box, which is less about 24/7 lifecasting and more focused on episodic reality content. With kyte, you create your own live TV shows and broadcast them on your own interactive channel, on your website, blog, social network or mobile phone. You can share your channel with your friends and collaborate with them so that they can also be a part of your shows, by adding their own content, voting and chatting live with other viewers.

Veodia positions itself as a live TV studio in your brow
ser. I've used Veodia li
ve from recent events and it is a close comparison to the functionality of ustream.tv. Both facilitate 24/7 or episodic lifecasts on the Web and through mobile applicances, however Veodia is concentrating on bloggers and businesses with a focus on professional quality, whereas, ustream.tv is appealing to the masses.
Using MPEG-4 / h.264 technology, Veodia's high-end video broadcasting service caters to both professional bloggers and business users in search of a simple way of creating and distributing TV-quality video while preserving full control and ownership of their content. For business, it is ideal for livecasting training sessions, HR and executive announcements, product reviews, marketing events, lectures, conferences, speeches, panels, etc. For professional content producers or broadcasters, it could be a killer way to live cast independent TV shows, interviews, performances, etc., since the stream is portable.

Like Kyte, Magnify.net also lets people build their own online TV channels for lifecasts. However, it takes some snooping to really find out that, not only is it so much more, it really seems to be the first video network that allows you to share your videos and the videos that you like – even if they're hosted on other networks – on through your own online channel. Not only can you create your own content, but it also helps you discover other related videos across other networks, allowing you to build a full-featured channel in a community environment. And, they share the ad revenue with you. Magnify stands in a space unto itself combining the best features of Youtube, del.icio.us, and Myspace.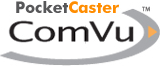 PocketCaster is an interesting application that will have interesting implications. In a sense, it enables livecasting from any broadband-enabled cell phone.
Much in the same way that camera phones impacted citizen journalism, PocketCaster will create a new regime of mobile, anywhere, any time news and event casters. I was introduced to PocketCaster by Rafe Needleman of Cnet's Webware at a recent Web 2.0 event. I was talking about the You.tv market and he pulled out his phone and started livecasting the conversation. Send out the URL and people can watch the cast streaming from your phone.
It also allows you (as the director) to monitor video feeds from several sources, live and archived, to select which feeds to webcast to viewers. You can also embed GPS information which is displayed on a Google map next to the video.

blogtv is a new network that directly competes with ustream. In a sense, it allows anyone with a Webcam to start lifecasting through their own online channel. People can watch the live stream or watch archived videos. I first heard about blogtv on Twitter when Jeff Pulver announced a series of lifecasts. Blogtv also breaks down the content into several channels, which are more like categories, including, My Life, Music, News, Travel, Comedy, Arts, How to, Sports, and Tech.

YourTrumanShow is an upcoming reality online TV channel that picks up where the movie left off. While they haven't officially launched yet, it gives people the ability to create their own online video channel to broadcast their own reality programming, while also providing an intelligent network to link fans and other similar producers together. It combines the movie premise, TV guide, lifecasting, and social networking, all in one entertainment community. Disclosure: YourTrumanShow is a client.

Mogulus is a full blown web TV studio, giving users the power to create live, original television programming, all done on their own global broadcasting channel. Before the online live video movement, the production control room was one fixed location, and all collaborators and video had to either be in the same building or remotely connected via satellite or other high speed expensive connections. With Mogulus, the production team can be in any location with broadband connectivity and still work together as if they were in the same room.
While this has appeal to the You.tv crowd, it more than likely will better service prosumer, education, and business markets. You can mix videos, add animated television graphics, employ multiple producers from different locations,
References:
– You.tv Part I
– You.tv Part II
– GigaOm's NewTeeVee captures the latest trend setters in online video. Liz Gannes is one of the leading authorities in this space.
– Also Shel Israel recently wrote an insightful post on why he believes ustream will change the mainstream. He's right. While ustream does have a pretty incredible head start, I'll step back and say that ustream, Justin.tv, combined with the services listed above, will and are changing the mainstream collectively and how we watch, share, and produce new content.
Add to: | Digg | del.icio.us | Yahoo | BlinkList | Spurl | reddit | Furl |