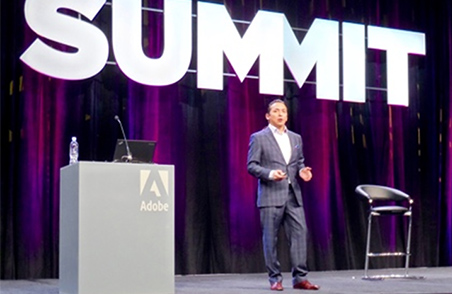 Customers today are accidental narcissists.
Tomorrow is an entirely new game brands, CX strategists and marketers.
Disruption is a gift either given to you or by you.
Knowing this, we are still making mistakes in creating meanignful experiences to a new generation of connected, impatient and demanding customers. We get stuck in legacy thinking, playbooks and metrics rather than innovate and disrupt to fully capitalize on new digital opportunities.
Following my presentation at Adobe Summit, I had the opportunity to join my dear friend Giselle Abramovich of CMO.com for an extensive conversation about the importance of experience design and the future of brand in a digital economy.
Giselle has a way of bringing out the best in someone. In our discussion, I share my latest research, work and ideas about how every company should re-imagine brand for an era of digital Darwinism.
The questions and answers cover a broad range and will get your mind running and hopefully inspire you to blaze new trails for others to follow.
Questions covered in the video:
How does digital transformation and experiential marketing intersect?
What does it take to be an experience-driven business?
What is the role of data in crafting these experiences for consumers?
Every brand claims they are experience-led. How do you get everyone on board?
Which consumer trends should marketers pay close attention to?
How should brands think about experience?
What else are marketers prioritizing?
How did you become a digital anthropologist?
Related Links:
The State of Digital Transformation
The Six Stages of Digital Transformation
The O.P.P.O.S.I.T.E. Approach to Digital CX
The Digital Change Agent's Manifesto
Brian Solis
Brian Solis is principal analyst and futurist at Altimeter, the digital analyst group at Prophet, Brian is world renowned keynote speaker and 7x best-selling author. His latest book, X: Where Business Meets Design, explores the future of brand and customer engagement through experience design. Invite him to speak at your event or bring him in to inspire and change executive mindsets.
Connect with Brian!
Twitter: @briansolis
Facebook: TheBrianSolis
LinkedIn: BrianSolis
Instagram: BrianSolis
Youtube: BrianSolisTV
Snapchat: BrianSolis