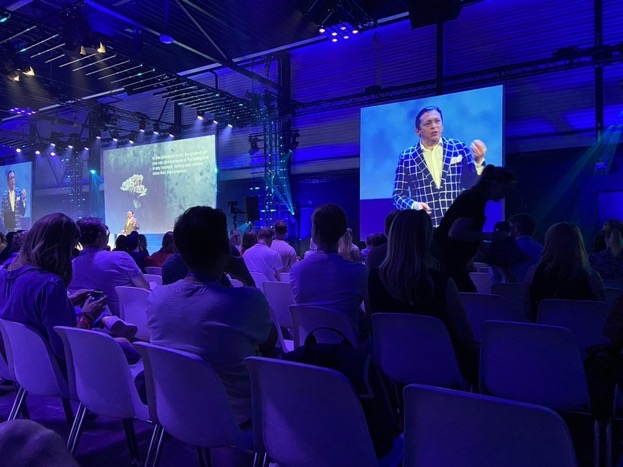 via Kim Pot, Frankwatching
De ontwikkelingen in tech-land gaan sneller dan we kunnen bijhouden. Dat is heel spannend, want het brengt ons letterlijk verder dan ooit, en dat is niet alleen de ruimte in. Tech dringt ook onze levens, en zelfs lichamen, binnen. Het maakt het leven veelal makkelijker, productiever en creatiever, maar het is belangrijk te blijven letten op de ongezonde kanten. We moeten als mens balans zien te vinden in de omgang met tech, want voor je het weet houden de algoritmes je non-stop aan het scherm gekluisterd. Op de The Next Web Conference 2022, signaleerde ik 5 tech-trends én verzamelde ik handvatten die je helpen om een gezond evenwicht te behouden.
Nieuwe routines in een digital first world
Hoe spannend alle nieuwe tech-ontwikkelingen ook zijn, in een digital first world moeten we op de één of andere manier in balans blijven. "Digital is rewiring your brain and body", zegt Brian Solis, Global Innovation Evangelist bij Salesforce. We krijgen 200 notificaties per dag en het kost 23 minuten en 15 seconden om na zo'n afleidingsmoment weer in je flow te komen. Daardoor leven we steeds minder in het nu en zijn constant aan het multitasken. Daar zijn we als mens niet voor gemaakt.

We kunnen de afleidingen die op ons worden afgeschoten niet controleren, maar wel hoe we ermee omgaan. In een digital first world moet je nieuwe routines ontwikkelen die zorgen dat je in balans blijft. "Don't let society or algorithms strip away your imagination, individuality or potential", sluit Solis zijn keynote af.
Lifescale in US
Lifescale in the Netherlands