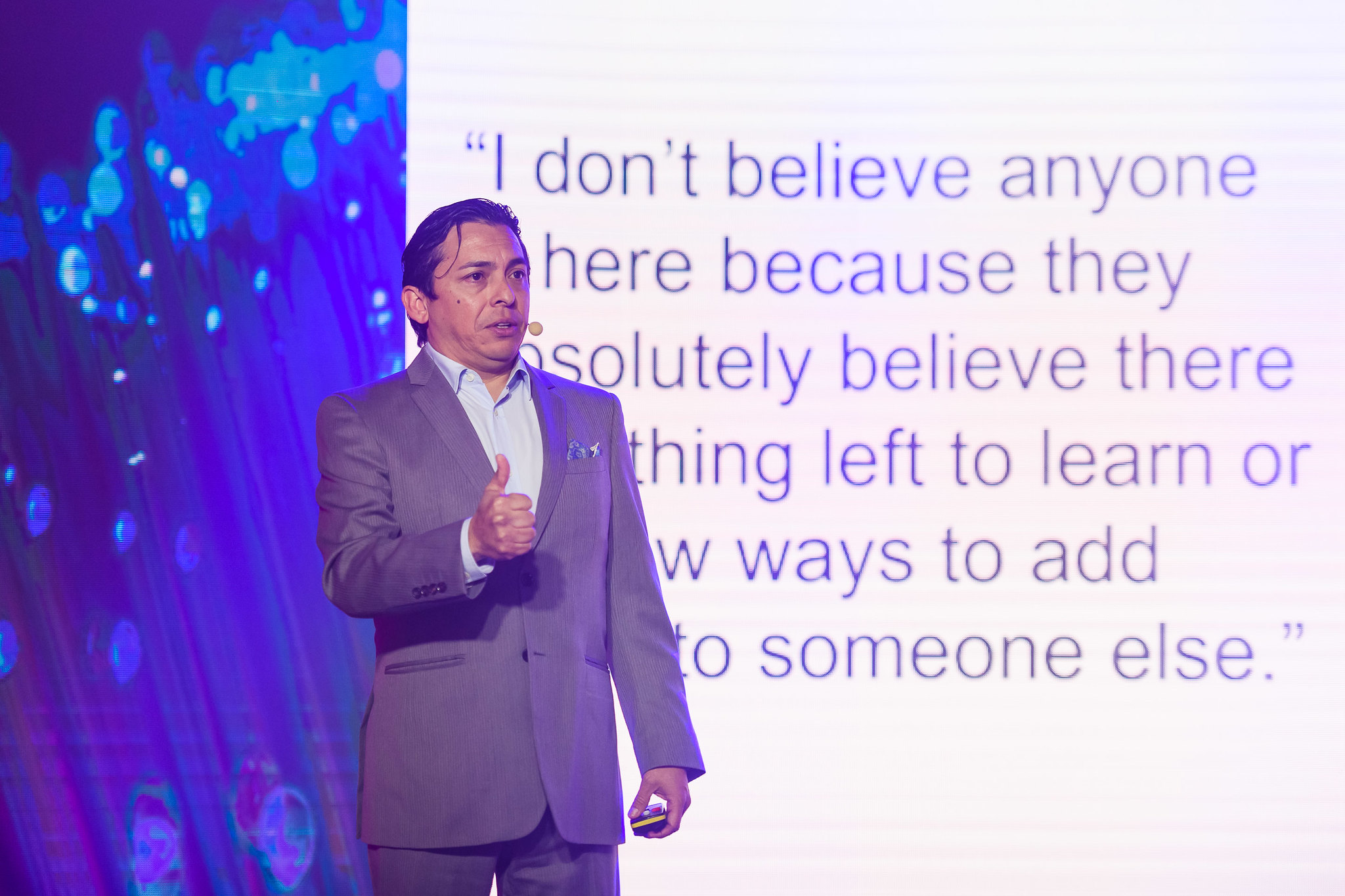 We're living in a very disruptive time. Digital disruption is all around us. It's happening to us and because of us.
So my message today is really about a choice. You have a choice as to what role you want to play in the future of the digital economy.
Do you want to shape it? Or do you want to be affected by it? It's a matter of "adapt or die."
All of the disruptive technology that's happening in the post-pandemic world…ask yourself, how does that play out next year, in two years, or in 5, 10, 15 and 20 years from now?
Because you have to make decisions about that, especially since we don't change overnight.
You play a role in defining the future. Those who react to it, will be left behind.
"Leaders must reassess how digital technologies and information can create new customer value. The alternative is to try to succeed in a digital economy with a pre-digital value proposition." – Jeanne Ross, organizational theorist, principal research scientist at MIT Sloan School of Management, MIT Center for Information Systems Research
New Keynote Speaker Topics
 Welcome to the Novel Economy: Embracing a New Mindset for Leadership and Innovation.
Welcome to the Novel Economy, a time without precedence or a playbook for navigating disrupted and uncharted paths forward.
Novel means new and unusual and as such, we must reorganize for the next era of the economy and the role we want to play in it. This isn't a "new normal" nor are we actually striving to the "next normal." This is an interim normal. This is a once-in-a-lifetime event, our Ctrl-Alt-Del moment. Now's the time to create the future we've always dreamed of. This is a time to learn and unlearn. The Novel Economy is yours to shape.
In this inspiring session, Brian will…
Share how we each play a role in the future of our organization.
How customers and our teams can learn from one another to open new doors and create new value to survive and thrive in the #NovelEconomy.
Highlight market dynamics already taking place since March 2020.
Introduce the three phases that define the next 36 months and break down how to organize digital transformation and digital innovation initiatives to drive resilience, relevance, and growth.
The Rise of 'Generation-Novel', the Connected and Conscious Customer Created by the Pandemic.
Many customers were already embracing digital rituals in every facet of their lives, but modern disruption in world affairs, the uncertainty and shifting climates of a pandemic, and the evolving economy has expedited the rate at which customers of all types and ages have become digital-first and conscious.
With the evolution of consumer habits and psychology comes adapted behaviors, preferences, and expectations, as well as a resetting of values and a willingness to experiment with other brands, retailers, and services.
In this session, Brian will…
Introduce Generation-N and their behaviors and characteristics changing the game for CX, business models, and products and services.
Humanize the new customer to inspire innovative strategies in CX, sales, service, and marketing, and business models.
Focus on how digital empathy and human-centered design will help you build resilience as markets continue to shift and evolve in new directions.
WTF (What's the Future) of… Web 3.0: Introducing the New Wave of Business Opportunities.
In 2011 Brian Solis authored a book on how Web 2.0 would signal the beginning of the "end of business as usual". Now in 2022, it is the end of business as usual all over again. Yes, the pandemic accelerated the need for businesses to finally upgrade analog mindsets, processes, and success metrics with digital operating customers. With Web 3.0, we'll need yet another upgrade.
This next iteration of the web, along with decentralized technologies and assets such as cryptocurrencies, NFTs, DAOs, blockchain, (and the promise of a metaverse), are already resetting the new normal while creating unprecedented market opportunities for not just startups, but also savvy and ambitious incumbents.
In this compelling and approachable session, Brian will…
Make sense of Web3 and every term defining it.
Visualize what innovative products and services can look in business.
Outline practical approaches to develop and market Web3 innovation.
Introduce the roles everyone can play in defining this next chapter of the web.
Every Business is Now a Digital Wellness Company: In a Work from Anywhere, Hybrid World, Employee Engagement Takes on New Significance.
In 2022, employee experience is becoming as instrumental in driving business growth as customer experience. New research shows that when companies invest in both EX and CX, they significantly outperform peers. But before we can design innovative employee experiences, leaders must first focus on employee wellness and wellbeing.
While advanced technologies such as AI and automation can improve employee productivity, understanding the impact of remote and hybrid working on employees will reveal a lot more than we realized about mental health, welfare, and performance in work. As Brian notes, we are not just working from home, we are at home, during a pandemic, trying to work and blend life and responsibilities without an instruction manual or guide. Even as the world opens up and new hybrid work models evolve, we're still in uncharted territory. Brian Solis literally wrote the book on the human effects of living in an always-on digital world and how creativity, purpose, and wellness unlock potential.
In this highly motivational session, Brian will…
Help employees and leaders understand that changes happening to us and our teams
Help audiences get a firm grasp on navigating the difficulties, insecurities, and opportunities arising in these novel times.
Help attendees walk away with confidence in taking control of their days, devices, and habits.
Help people visualize a new and brighter future for themselves and their teams (and loved ones).
More popular speaking topics here.
Please reach out if you'd like me to  speak at your next event or have me speak with your executives and teams to challenge and inspire new perspectives and approaches that drive radical innovation.