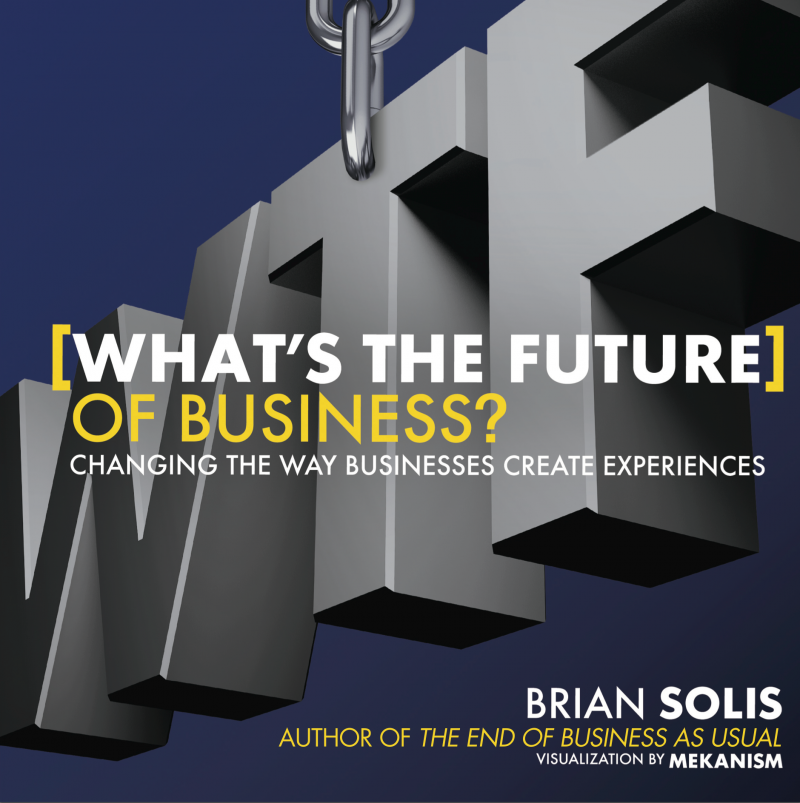 It is with great pleasure that I share with you the details of my next book published again by Wiley, What's the Future of Business: Changing the way businesses create experiences. The book debut at SXSW on March 8th and will be officially available in stores on March 11th.
What's the Future of Business is not a question. It's an answer.
This new book continues where my last book, The End of Business as Usual, left off.  What's the Future of Business focuses on the importance of experience design. It explores the evolving landscape of new consumerism and how business and customer relationships unfold and flourish in four distinct moments of truth.
What's the Future also takes readers on an uplifting "hero's journey" to help them bring about change from the inside out. The end result demonstrates how experience design amplifies customer relationships, drives word of mouth, and fosters organic advocacy. The point is that experiences can often trump your product or service.
Here's the exciting part…
The book is also an experience in of itself. It's a visually rich, four-color journey…think digital app but in an analog format.
To bring the experience to life, I reached out to my friends at Mekanism, a well-known creative agency in SF and NY. Additionally, acclaimed artist (and also a good friend) Hugh Macleod (@gapingvoid) joined the team to add a witty and personalized touch to each chapter.
The result is, well, something I hope you will find engaging, entertaining and also useful.
#WTF