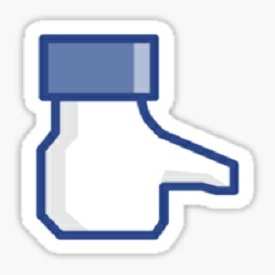 Facebook recently introduced the ability for brands to increase reach for important posts and updates, but that reach comes at a cost. The prices varies depending on how many fans you have in your community. This new feature coincided with changes to the company's Edgerank algorithm, which is how Facebook automagically filters posts in and out of your stream. Similar to how Google's PageRank sorts results to better match your search intention, Facebook uses Edgerank to ensure that engagement is optimized and spam is minimized.
Following these events, many marketers and business executives have claimed a sharp decrease in unpaid post reach. Naturally, accusations of greed and corruption were hurled at Facebook as marketers believed that Facebook's sole motive for this update was to force brands into a paid position to guarantee reach.
The controversy hit new heights when billionaire Dallas Mavericks owner Mark Cuban launched an offensive charging Facebook with a shakedown and thus threatening to move all of his community efforts to other social networks.
"FB is blowing it!" Cuban howled in a Tweet. He continued with a warning Facebook, one that he's pursuing, "This is the first step. The Mavs are considering moving to Tumblr or the new Myspace as [sic] primary site." He shared a telling screenshot in his Tweet of the Mavericks's Facebook page showing a cost of $3,000 to reach one million of the team's 2.3 million fans. If you do the math however, you'll see the potential PPM of that equation is more than reasonable at $0.003 per person. Unfortunately, many experts missed this point.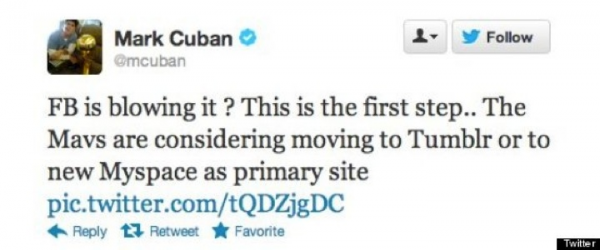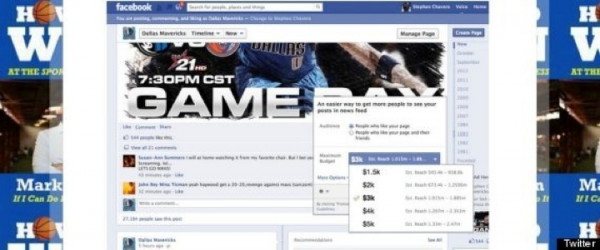 The pile on continued though. We Are Social, a social media agency, and Socialbakers, developing of social network monitoring and tracking tools for analysis published findings that showed the average, organic post reach had dropped by 40% following the update to EdgeRank.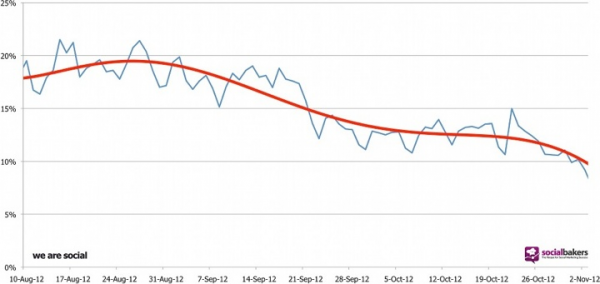 So, is overall organic post reach down?
Yes.
Is overall spam down as a result?
Yes.
Did Facebook purposefully change its EdgeRank algorithm to reduce reach and sell more ads?
Hardly.
If everyone reacted in similar fashion to Mark Cuban, not only would the business lose, fans lose as well. This is something I examined at length following GM's famous pullout of its Facebook advertising budget earlier in 2012.
EdgeRank Explained
It's important to understand how EdgeRank works before passing judgment or sparking fruitless debates. Whether you're leading a paid, earned, or owned strategy, making informed decisions about goals and proper metrics starts with knowing the real challenges and opportunities.
In all honesty, Facebook should do a better job helping businesses understand not only EdgeRank, but how to better leverage the network as a whole in ways that are more meaningful for businesses and the community at large. But, we have to start somewhere.
In a post entitled, "News Feed, Engagement, and Promoted Posts: How They Work," Facebook Ad Engineer Philip Zigoris aimed to bust myths while educating marketers. It tells the story of engagement and optimization:
Monitoring what types of posts are getting good responses is key, and always has been. Use Page Insights to determine what types of content – videos, posts, questions, etc. – are getting good engagement versus what types aren't. Take a look at our Page Publishing Guide for posting best practices, and make sure to use our Page post targeting features so that you reach the audiences most likely to respond to your messages. And for posts that you see are getting a lot of responses, you can promote them to extend your reach to more news feeds.
What are the underlying EdgeRank factors that define whether or not someone sees a post in the news feed?
1) Facebook looks at whether or not you've previously interacted with an author's posts or whether or not your friends are engaging around those posts.
2) If content is or isn't engaged by your social graph and the network at large affects what you see and what you don't see.
3) EdgeRank also examines whether or not your have interacted with similar types of posts in the past, i.e. photos, videos, polls, etc.
4) If content or page hosts have received complaints by other users, chances are that you will not see it.
Social Media Optimization is the New SEO
Engagement is the key to amplifying reach.
The debate unfortunately masks a much more important and productive discussion. Businesses confuse Facebook as a utility or service that's there to help broadcast messages much in the same way businesses pay wire services to distribute press releases or brands buy advertisements on TV or radio to reach as many people as possible. Facebook is a social network to help people communicate, share, and discover. With over one billion people calling Facebook one of their digital homes, a social economy is a natural byproduct. Therefore, businesses must learn that relationships are earned and earned again and communities are built upon a foundation of mutual value, entertainment, and empowerment.
A like isn't an opt in or subscription for marketing spam. It is an expression not a representation of a captive audience. Regardless of your community size, people are not idly waiting for your marketing messages. The reality is that only a small fraction of your overall community will see your posts. People may have Like'd you, but they're also following friends, family, other brands and important organizations and events. With everyone publishing content, you're competing for attention in real-time. Instead, consider competing for attention with the right content at the right-time.
Approach EdgeRank with a philosophy of contributing relevance to merit resonance. You can increase reach by optimizing posts, whether paid or organic, through social media optimization (SMO). If engagement drives reach, then design content to not just be consumable, but also shareable. Likes, comments, shares, tags, et al, spark a social effect and extend the life and volume of your updates. Simply publishing or paying for each without considering shareability or SMO is done so in vain.
This is true for any social network.
Whether you pay to play or you invest in organic engagement, the intention behind each strategy must be the same. Be relevant. Make it count. By striving for relevance, you will increase probability for resonance, which will over time contribute to your EdgeRank significance (RRS).
Originally published at AT&T's Networking Exchange
Connect with me: Twitter | LinkedIn | Facebook | Google+
The End of Business as Usual is officially here…