It is with great pleasure that I share with you some exciting and hopefully helpful news. Salesforce and Altimeter Group recently collaborated on a special project to help executives understand the real impact of social media and in turn how to lead meaningful and lucrative transformation. The result is The Little Blue Book of Social Transformation, a free ebook that outlines 20 principles to lead change. It is available today as a complimentary download here.
Now, the backstory…
Executives are Less Moved by Technology and Instead Moved by Business Objectives
Here are a few questions for you to consider…
1) How specifically does social media impact your organization, by function, department, and overall?
2) How is social media affecting customer behavior?
3) How can your strategy address these answers while accelerating new and existing business priorities and objectives?
Executives for the most part don't get social media. But it's not their fault however. After all, many executives don't even read their own email, so how are they expected to realize the benefits of new platforms if many don't use them personally? But it is in the way that social is often presented from the inside the organization that doesn't make the case.
It's no secret. Facebook, Twitter, Pinterest and the like can contribute to the bottom line of most businesses. The challenge lies though in the ability to link business objectives, social media strategies, and results that tie to the bottom line. That's just the beginning. Executives need to see how social fits in to the overall vision and goals of the organization in order to lead a top down charge that changes how employees and customers connect and collaborate. There must be a purpose coupled with tangible results.
To help, I recently worked with Salesforce to develop a guide to help executives understand the impact of social media and how to lead social transformation. The result is, "The Little Blue Book of Social Transformation" and it outlines 20 principles for leading change while focusing on business goals. You can get it as a free download here.
Losses are Red, Profits are Blue
The future of business has thankfully veered toward a direction that explores customer and employee centricity. Driven in part by technology combined with the thrust and centralization of digitized human expressions and expectations.
The Golden Triangle of disruptive technology formed by social, mobile, and real-time enveloped by the cloud and all it both represents and enables has ushered in an era of transformation. Executives have no choice but to take notice. As I believe it's time to adapt or die or said another way, expand from a ritual of business management to that of business leadership. It's a key shift in philosophy that unlocks the door to competitive advantages.
Executives are awakening to the importance of stepping outside of their comfort zones. But what they do when they step onto the stage of transformation isn't prescriptive at all. In fact, those who can help them uncover their next steps will earn a position of recognition and trust to help steer the organization in the direction of persistent relevance.
That's the inspiration behind the Little Blue Book. See, change is in the air and there are more questions than answers. The future of a social business however, is embodied in five key pillars that serve as the foundation for tomorrow's infrastructure…
1. Vision and leadership
2. Engaged customers
3. Empowered employees
4. Collaborative innovation
5. Internal agility in processes, systems, and decision making
With the foray of disruptive technologies storming the halls of business, social media has been among the most aggressive. The voice of the customer wasn't only given a platform for self-expression, networks organized customer sentiment, created active communities around interests and experiences, and optimized the web for a new era of digital influence. Indeed this genre of connected consumerism gave rise to a not so quiet consumer revolution. Perhaps more importantly, businesses were given the gift of feedback and an opportunity to listen and equally engage. Social media represents the great bridging of customer expectations and business assumptions.
Salesforce CEO Marc Benioff is no stranger to the power of social media. At Dreamforce 2012, the company's annual conference about technology and business, Benioff shared that this "social revolution" is already giving way to a "trust revolution." He cited IBM's recent CEO study that shared insights from over 1,700 executive interviews from around the world. To earn trust, takes resolve inside and outside the organization. Otherwise, embracing social media isn't very social at all if all you do is broadcast messages at people.
To that end, IBM found that CEOs are investing in the following three organizational attributes:
1. Ethics and Values = 65%
2. Collaborative Environment = 63%
3. Purpose and Mission = 58%
Equally, CEOs are pursuing an extensive evolution and overhaul in systems and processes that introduce agility into the organization and enable relevant and timely responses to markets and individuals:
Improve understanding of individual customer needs = 72%
Improve response time to market needs = 72%
Adoption of social media isn't just important, it's now becoming homogeneous in its incorporation into the enterprise. But, what most fail to recognize is that social media is a series of channels that facilitate a more dynamic form of person-to-person connection and discovery through a powerful undercurrent of two-way engagement. Social isn't just technology, it must become part of the corporate DNA. In its second annual Global Student Study conducted in conjunction with its Global CEO Study, IBM surveyed 2,400 college and university students to better understand the opinions, perceptions and aspirations of tomorrow's employees and customers.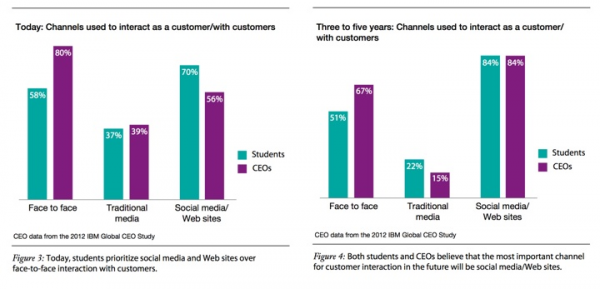 One of the key findings in the report was the contrast in student and CEO views on customer engagement and where it does and will materialize. Only 56% of CEOs use Web sites and social media for customer relationships today compared to 70% of students who believe businesses should do so. On the bright side, students and CEOs are in agreement with its importance in three-to-five years at 84% equally. As you can see in both cases, face-to-face remains significant. The only question I have is what is the difference between Web sites and social according to IBM's study. In the real world, it's the difference between the static and social web. Dividing it as such could be telling and also beneficial.
GE Aviation Merges Social and Innovation
GE Aviation sought to build closer connections to customers. To do so, the company focused on first connecting sales and marketing people. Something as small as introducing an enterprise social network such as Salesforce Chatter and empowering employees to interact with one another to answer questions and solve problems streamlines customer engagement and improves relationships overall. As GE CMO Beth Comstock notes, "What might've taken a team—in the best case—a week, can now be done in minutes."
GE Aviation is also looking to social media to modernize its brand image while showcasing innovation to a new connected generation of consumers. Using Facebook, Instagram, and Twitter, consumers are given a behind the scenes peek at innovation at work.
But to see innovation at work takes something more than mere social networking between brand and customers. GE is making its engines social too. The new GEnx jet engine—currently flying on Boeing's new 787 Dreamliner—features the ability to broadcast an activity stream providing service teams with up to date newsfeeds on their mobile devices.
"The idea of connecting a machine to a social network is really exciting," says Comstock. "We can build a community of service professionals around a machine to help reduce maintenance costs and increase engine lifespan. Social will help us deliver a better engine than ever before."
Blue Skies Ahead
This is more than social media marketing. Social media is impacting customer and employee behavior and it is forcing businesses to adapt. Now is the time to get serious about social and put your business fully on the path to becoming a socially connected enterprise. Get the Little Blue Book of Social Transformation today and help put your organization's leadership on a path toward relevance. Remember, social media isn't changing the world because it gives businesses a new way to market at or talk to people. Social media is transformative because it changes the way the world communicates and connects. You must do the same in order to not just react, but lead customer experiences and relationships in the future.
Alternate version published in Forbes
Connect with me: Twitter | LinkedIn | Facebook | Google+
The End of Business as Usual is officially here…