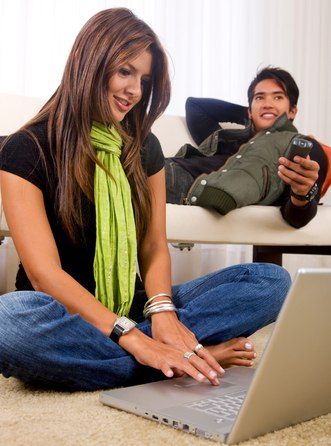 Source: Shutterstock
Online video continues to capture the attention of producers and viewers, with the market as well as industry leaders, leading us into a more pervasive form of video entertainment, communication and education.
With YouTube quickly transforming from a user-generated video network into an invaluable repository for content, the associated behavior for creating, uploading, discovering, and watching online videos is evolving.  What many have yet to realize are the effects YouTube has aroused. It is where many online experiences begin and end.
As the Web turns, everything begins with search…
Just last year, YouTube made headlines when searches performed in the network surpassed those actions in Yahoo, positioning a video social network as the second most active and popular search engine, second only to Google.
Now the industry for online video is maturing and expanding, and with it, our attention is shifting away from traditional information sources and our appetite for creating and watching social video is only burgeoning.
With Social Media-ready video cameras such as the ever-popular Flip and Kodak's Z-series, as well as the integrated Web cameras in most notebooks shipped today, the ability to quickly and easily shoot and share continues to lower the barrier to entry.
Nielsen released its latest report for online VideoCensus numbers for October and it documents a continued rise in engagement.
The total number of video streams was up from 11.02 billion in September 2009 to 11.2 billion in October. The number of video streams per person was also up in October, increasing to 81 in October over 79.1 in September. Time spent per viewer also jumped from 195.2 minutes in September to 212.5 minutes in October.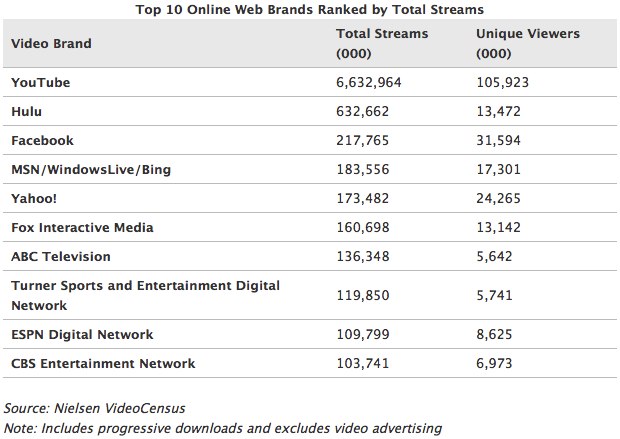 Source: NewTeeVee
One of the most interesting revelations to emerge from Nielsen's latest study was the rise of Facebook to the third most active video network. In fact, Facebook surpassed Hulu in terms of unique viewers, but trailed in total streams viewed. According to Facebook statistics, more than 14 million videos are uploaded each month. However, YouTube is the dominant player and remains in a league of its own with over 6 billion viewed streams and over 100 million unique viewers in October.
As online video continues to reflect the culture of our society, we can expect the ascendancy of video in social networks, ranging from not only consumer-created content, but also that of exclusive studio content, programming and feature-length movies.
As engagement evolves, the convergence between the small screen (your desktop) and the big screen (your TV) is inevitable.  Online content, combined with the trends driving the social, mobile, and real-time Web is forging a Golden Triangle that is already a pervasive foundation in the lives of many everyday consumers.
Connect with Brian Solis on:
Twitter, LinkedIn, Tumblr, Plaxo, Posterous, or Facebook
—
Click the image below to buy the book/poster:
pr pr+2.0 pr2.0 public+relations marketing advertising interactive social+media socialmedia brian+solis social media media2.0 media+2.0 2.0 smo social+media+optimization marcom communication publicity advertising expert interactive spin brand branding guru social+architect