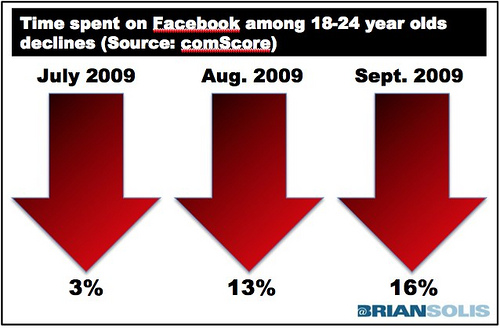 comScore recently released a report that triggered nothing short of a "sky is falling" media panic. Led by Adweek asking if Facebook is getting uncool for the 18-24 year olds, the media is speculating as to whether or not a mass exodus is underway with much of the blame focusing on parents "ruining the party" for younger demographics.
Here's what we do know…
comScore is reporting that time spent on Facebook by 18-24 year olds is waning. In July 2009, minutes spent on Facebook dropped by 3%. In August, it plummeted 13%. By September, minutes spent on Facebook crumbled by 16%.
What we don't know…
Are other factors at play here?
For example, do the summer months affect the data?
How much of that time was documented on desktops versus mobile phones? After all, the Facebook iPhone app represents the almost "perfect" mobile interface for engaging within a 300 million strong social network. Remember, even Twitter reminds us that its greatest growth is currently within the mobile front.
Onward…
Right here, right now, Facebook is beyond relevant, regardless of age group. Not only are we changing how we form relationships in the social web, how and where we're engaging is also evolving. Do not underestimate the extent of mobile and other vertical platforms. In just the last week, the Microsoft Xbox network opened up access to Facebook, and almost immediately, 2 million gamers jumped on board.
Adweek asks if Facebook is becoming uncool among 18-24 years olds.  I suppose it's an interesting question when the basis for documenting cool and uncool is rooted in the amount of minutes you spend within a social network. Facebook proudly states that more than 8 billion minutes are spent on Facebook each day (worldwide). And, with the recent news regarding Xbox, how many of the two million gamers fall within the 18-24 age group?
The reality is that our attention is thinning, testing its elasticity with every pull of a shiny new network, service, or application.
A three month drop in time however, is nothing to ignore. It's also not a reason to sound the alarms.
Certainly comparisons can be drawn between MySpace and Facebook. Although MySpace still boasts a network of over 260 million users, its status resides in the rear view mirror of Facebook.
While MySpace gave free reign to users over design elements on their pages, mostly with disastrous effects, Facebook's architecture and design is clean. To some though, it might feel a bit ordinary or even lackluster.
But uncool? That's a state of psychology that I can't analyze. Nor do I think it's possible to discern from the data contained within the comScore report.
Mark Potts, North American managing director for consumer insights at Mindshare, believes Facebook is losing its cool with this demographic, "There's a 'parents turn up at the party, the party's over' kind of thing going on."
But there's more to the story…
Social Media Expands Our Social Networks (and Horizons) in Real Life
The trend that isn't discussed in these doomsday articles is the transformation in how we forge and maintain contacts in the social web. We're no longer limiting ties to those we know. We're expanding our connections based on those we know, those we want to know, and those who want to know us.
Mark Potts discussed this trend in his discussion with Adweek:
We began getting comments like they didn't know how they acquired 300 friends when they didn't know half the people on the list. They talked about using it more to coordinate events and gatherings but less so overall because of something lacking in the quality of the friendships.
There's something to be said about quality over quantity. However, there is also value in learning how to adapt based on how the users within the network interact with one another. In many ways, we're building and joining communities around our online persona. Or as Seth Godin states, many are building Tribes.
Just for the record, Facebook states that the average user has 130 friends on the site.
Mindshare surveyed 1,200 consumers in August 2009 about their social-networking habits.  51% of the 18- to 24-year-old respondents agreed that "social-networking sites like Facebook are diluting the quality of relationships."  40% of that group said they now visit social networks that are based on particular interests, such as TV, music or movies.
As Mindshare observes, but stops short of formally acknowledging, is that in this current state of social networking, we are forming contextual networks that link us through common interests, aspirations, and events. This is a study I would love to conduct with Mindshare.
What's important to realize is that we are in control of our social graph and our experience within ANY social network simply by selecting those we choose to follow and connect.
I'd argue that the value of Facebook has yet to be realized by those who simply interact in a recreational capacity. It's the reason why I maintain more than one account (sorry Facebook, I know that goes against your policy). But, I needed to divide personal interaction from professional connections. In that action however, I concede to the potential of Facebook. It is vibrant, growing, and immersive, and it requires cultivation and direction. But this is true in every burgeoning network.
One profile will not serve all – not in Facebook, not in Twitter, not in any social network.
The true dilution is not in relationships, but in how we choose to invest in and also manage them. We will eventually need to embrace a "multiple personality order" approach as the lines blur between who we are personally and professionally.
And, as our personal brands are affected by how we use social media, constructed by each individual update we post within every social network, we need to take the reigns on how we share and steer our online persona. Indeed, we cast digital shadows, but what works against us, can work in our favor.
Casting digital shadows is more powerful and promising for the 18-24 demographic than they realize today.
The Untapped Value of Facebook is in the Social Graph
As comScore observes, Facebook has gained a broader audience, it has triggered a decline in usage among the older teens and twentysomethings that drove Facebook's initial popularity. According to Facebook stats, the fastest growing demographic is those 35 years old and older.
But what Facebook misses in design aesthetics is overcompensated by the human algorithm – the resonance that transpires with every interaction as it traverses across the individual social graph as well as the friends of friends (FoF) network.
Perhaps family is partly to blame for instilling an uncool factor. It's one of the reasons that now popular sites have sprung up to document the awkward moments in public family interaction. But as we've discussed, the potential for extending our personal brands as well as our experiences and knowledge lie in the quality of our social graph.
While the debate may seem futile, it has its effects on social marketing and advertising planning and budgeting for 2010.
As Adweek observes:
The numbers have fueled a debate among agencies about the implications for marketers. For some, it has raised a warning flag that if the trend continues, clients may have to revise their social-network marketing strategies. Others believe Facebook's broader growth outweighs any declining usage by the college-age crowd.
Right now, MySpace is currently planning a renaissance and will emerge as a more focused, rewarding experience for those focused on media and entertainment.
Concurrently, Facebook has created an infrastructure for users to weave together relationships into a powerful and productive human network. It pulls activity from internal applications and also updates from other social networks (including Twitter) into one news feed to serve as the primary source for all Web activity. The news feed is what connects us to our friends, family, peers, and mentors. It's how we learn, share, discover, and interact.  In that sense, Facebook is unrivaled.
As a conduit to coveted demographics, Facebook is powerful. As a looking glass and bridge to invaluable psychographics and the networks that connect them, Facebook is without an equal.
Connect with Brian Solis on:
Twitter, LinkedIn, Tumblr, Plaxo, Posterous, or Facebook
—
Click the image below to buy the book/poster:
pr pr+2.0 pr2.0 public+relations marketing advertising interactive social+media socialmedia brian+solis social media media2.0 media+2.0 2.0 smo social+media+optimization marcom communication publicity advertising expert interactive spin brand branding guru social+architect