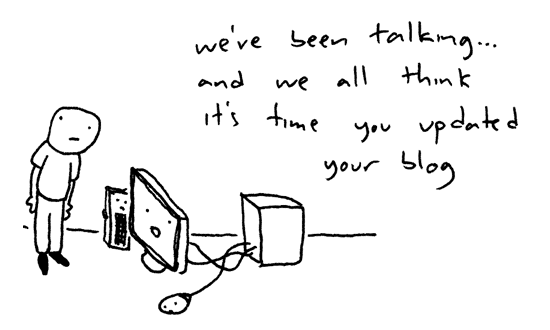 Source: feministing
Each year at Blogworld Expo, Technorati CEO Richard Jalichandra presents The State of the Blogosphere as one of the event's prestigious keynotes. For those who are unfamiliar with Technorati, it serves as a directory and search engine for the blogosphere as well as a benchmark for the ranking of blogs worldwide.
While there has been much discussion about the relevance and even demise of blogs as the statusphere and micro updates gained traction in addition to earning prominence in the mainstream spotlight, the reality is that blogs are a vital ingredient to the media ecosystem.
Released as a five-part series, Technorati provided a looking glass into the blogosphere and revealed the true shape and promise of this important medium.
Demographics
Analyzing the demographics of bloggers, we learn that they're not necessarily similar to that of the Social Web. Where in Social Media, women rule, in the blogosphere it appears that men represent the majority of active blog authors.
Two-thirds are male
60% are 18-44
The majority are more affluent and educated than the general population
75% have college degrees
40% have graduate degrees
One in three has an annual household income of $75K+
One in four has an annual household income of $100K+
Professional and self-employed bloggers are more affluent: nearly half have an annual household income of $75,000 and one third topped the $100,000 level
More than half are married
More than half are parents
Half are employed full time, however ¾ of professional bloggers are employed full time.
The Technorati survey was distributed in English, however bloggers from over 50 companies responded which equated to almost half of all total responses. The other half of responses were sourced from the United States.

Within the U.S., the states with the highest concentrations of bloggers include:
California: 16%
New York: 9%
Florida: 5%
Texas: 5%
Washington: 5%
Massachusetts: 4%
Virginia: 4%
Experience
When reviewing the span of time respondents claimed to blog, the majority boasted at least 2 – 6 years experience.

Citizen Journalism
Citizen Media or Citizen Journalism is blamed or credited for the erosion of traditional media and its supporting financial support system. However, as Technorati discovered, the blogosphere is populated with new influencers, but also rich with traditional journalists who may or may not blog as part of their profession.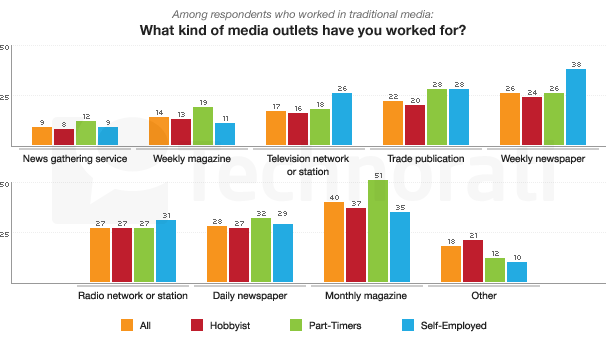 Technorati observed that respondents did not regard the rise of online media and blogging as the death knell for newspapers or other traditional media. Personally, I would simply say that choice and the democratization of media is actively luring the attention of a once devout and loyal media audience. Blogs, for better or for worse, are cutting into the attention share of those seeking information, making traditional news outlets rethink how and where they publish information. However, as you can see below, the consensus is grim for newspapers, but burgeoning for blogs and micro media.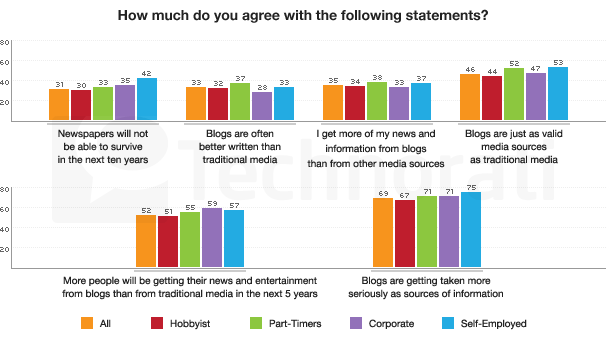 Media Consumption Habits of Bloggers
When they're not contributing to the world of media, they're are indeed captivated by other mediums. Across the board, bloggers attested to watching television upwards of 9 hours per week, reading blogs on average of 8 hours weekly, and engaging in Social Media between 7 – 8 hours each week.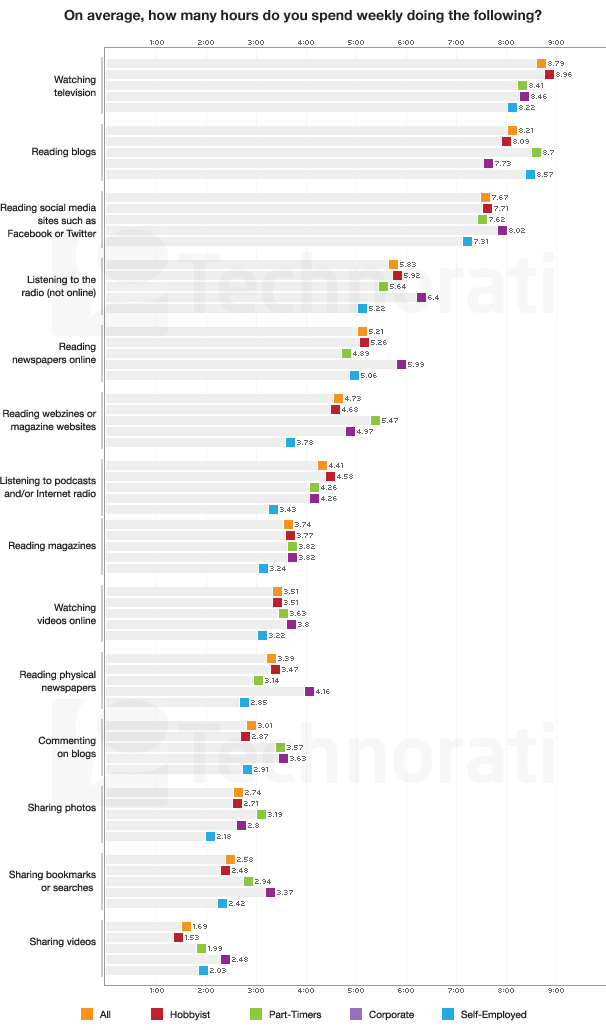 Why Do Bloggers Blog?
Self-expression and sharing expertise are among the primary motivations for bloggers. 70% of all respondents claim that personal satisfaction a primary form of measurement in the success of their blog. Pros, however, look to the number of unique visitors as a leading metric of success.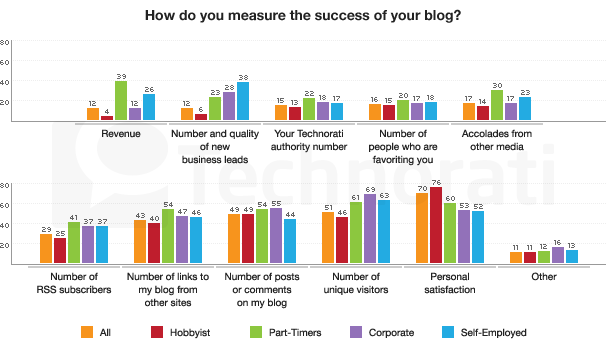 Blog Topics
When reviewing the topics that bloggers most often discuss, politics, business, technology and personal musings ranked supreme.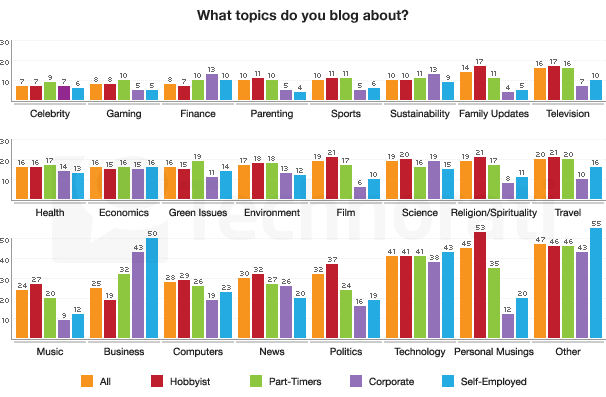 Why Do Bloggers Blog?
Technorati asked an important question, one that, in my opinion, unlocks a very human aspect associated with blogging. Technorati asked quite simply, "Why do you blog?" Not surprisingly, 71% say they blog in order to speak their minds.  Part-timers, on the other hand, are driven by sharing their expertise (72%) and also supplementing their income (61%). What came as a revelation to Technorati is the repsonse that Pros were less interested in supplementing their income (17%), instead attracting new clients for the businesses they work for (53%) proved pervasive. Entrepreneurs were also most interested in attracting new clients (72%).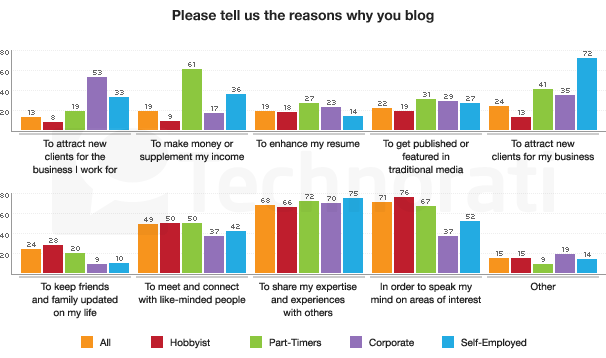 Blogging Cultivates Communities and Business
One of the primary reasons 59% bloggers claim to blog more is because they feed off of the greater interaction that results from their commitment to quality of frequency of content. Perhaps more importantly, 74% of self-employed bloggers claim that blogging has proven valuable for promoting business services and capabilities.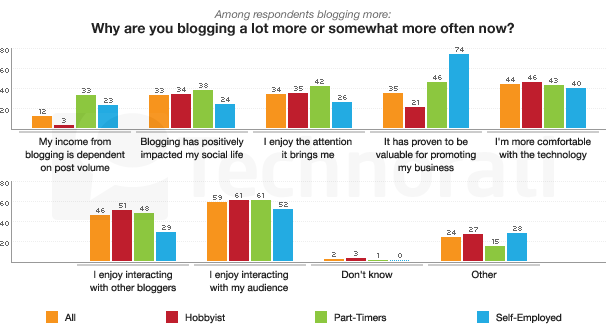 Frequency = Authority
There was a time that I could only seem to commit one post per week. Over time, I've struggled to post 2-3 times per week. closing out 2009 and heading into 2010, you will notice an increase in activity here, posting as many as 4 -5 posts per week. If I could, I would blog much more often. However, reality is what it is.
Technorati found that authority is tied to investment of time, energy, and activity. The most read and highest ranking blogs publish more posts than the average blogger. 15% of bloggers spend 10 or more hours each week blogging. This number goes up dramatically as we look at those who benefit directly from their posting with 24% of Part-Timers, 25% of Pros and 32% of Self-Employed bloggers spending 10 or more hours blogging.

One in five bloggers report updating their blogs daily. On average, the most common rate of posts ranks ats 2-3 times per week. On the whole, entrepreneurs update more often than other category of bloggers.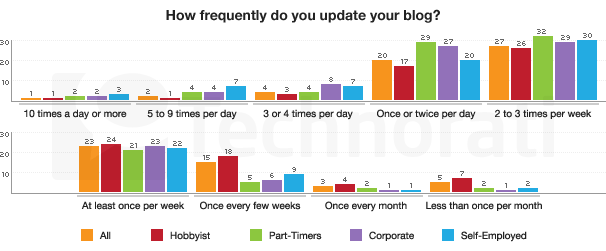 The distance between elite bloggers and those who aspire to join them is tied directly to prolificness. Those bloggers who rank among the highest according to Technorati Authority post nearly 300 times more than the lower ranked bloggers. Perhaps a goal for each one of us in 2010 is to blog more.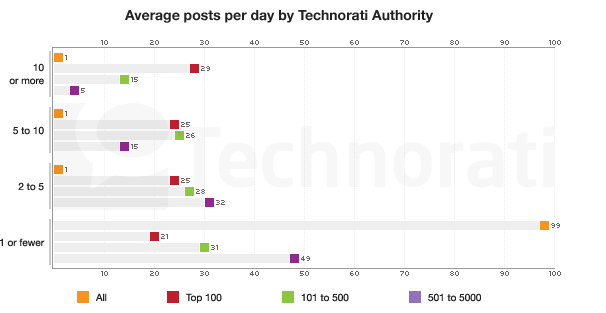 Did you know…The number of blogs in the average Blogroll is 47, a surprisingly high number. Source: Lijit
Mobile Blogging
20% of all bloggers report updating their blog from a mobile device with 59% reporting that they do so this year over last year.
Driving Traffic
Of course many of those who responded, upwards of 76%, claimed that they list their blog in the Technorati directory to attract a greater audience – those usually seeking new blogs or posts related to keywords.  In addition, many bloggers, 83% of pros for example, add "tags" to their posts, which lends to the social media optimization (SMO) and ultimately the discoverability of each post in the search results at Technorati. Also, bloggers are versed in the art and science of content promotion. On average bloggers engage five separate activities to drive traffic including listings in directors, tagging, commenting on other posts, linking to key blogs, and contributing content to other sites.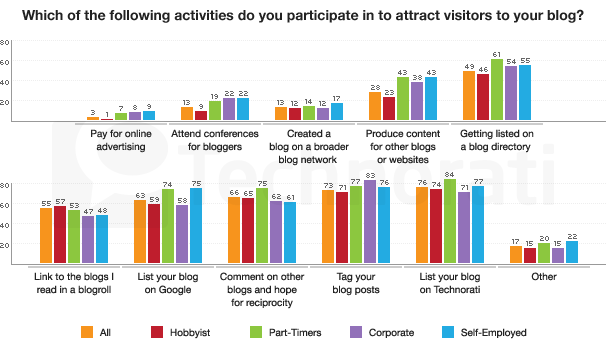 The most popular tags include:
politics
blogging
video
writing and poetry
technology
business
friends
blog
romance and relationships
sports
family
travel
entertainment
movies
personal
internet
books
art
photography
games
Traffic
Organized and optimized search plays a large role in the views of a blog post, contributing on average, 27% of total views from a horizontal search engine. This insight emanates from analytics, which are instrumental in the traffic analysis of 74% of all bloggers.
The three most popular third party services reported by bloggers are:
Google Analytics: 55
Sitemeter: 15
Statcounter: 14
Revealing the magicians secret to traffic is one thing, but understanding the volume of activity is the truth that ushers perspective and reality. While many of us understand or at least recognize the power and wonder of a-list blogs, most overlook the value of the Magic Middle, the class of bloggers that earn between 1,000 and 50,000 monthly unique visitors. It is the Magic Middle that out numbers the a-list and for that, provide an almost endless array of opportunities in and around news and trends.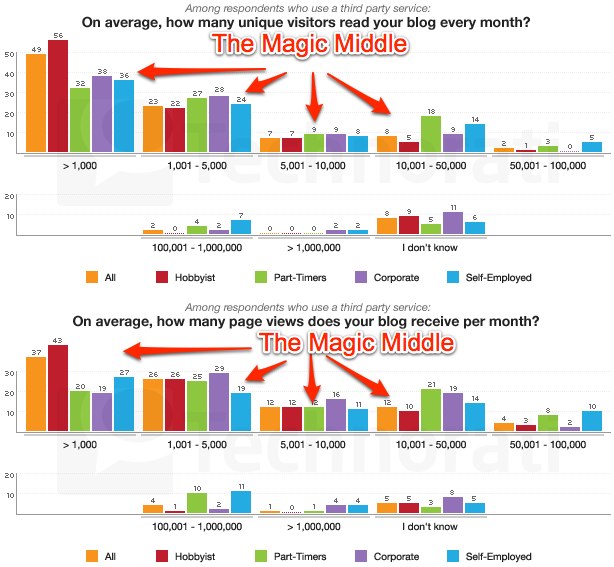 Monitezation
Blogging may or may not contribute to a direct correlation between posting and earning revenue. In many cases, it is blogging that indirectly leads to other financial opportunities.
72% of respondents are classified as Hobbyists, meaning that they report no income related to blogging.
Of those who have monetized their blogging to at least some extent:
• 54% are Part-Timers
• 32% are Self-Employed
• 14% are Corporates
Among Pro and Self-Employed bloggers, 17% of the total respondents derive their primary income from blogging.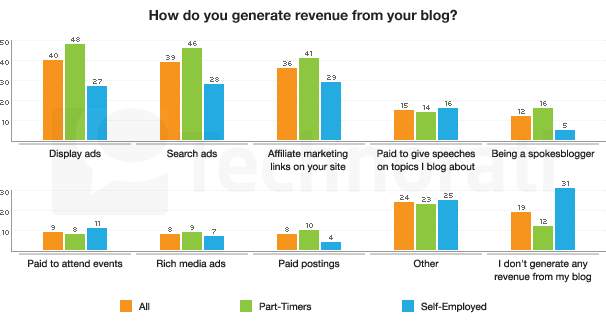 Note that the majority of revenue is derived from direct revenue such as display ads and search ads as well as affiliate marketing links to the site. Indirect income is also a factor, stemming from opportunities that arise in the form of paid speeches, spokesblogging (paid conversations) and appearance fees.
Technorati asked part-timers and self-employed bloggers how much annual revenue they generate through advertising (roughly 40% of such bloggers). Self-employed reported as much as $120,000 with part timers documenting under $15,000.

51% of corporate bloggers, which equates to about 58%, reported earning a salary for blogging.

The breakdown of direct and indirect revenue tied to blogging breaks down as follows:

However, generating revenue isn't necessarily the end-goal in blogging. Demonstrating expertise or simply sharing perspective is satisfactory. And, in some cases, the infusion of money only taints the process.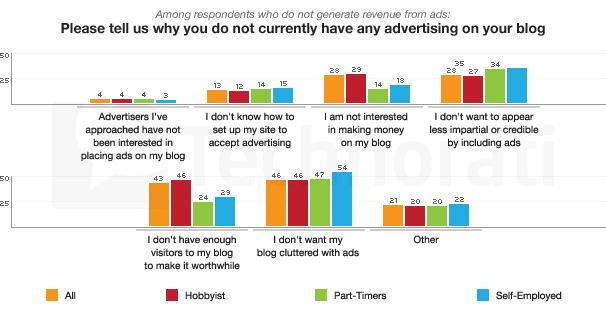 Brand Presence in Blogs

One in five tweets on Twitter is related to a brand. In the blogosphere, 70% of bloggers refer to them. 46% of bloggers post about the brands they love or hate, while and 38% post brand or product reviews. Part-Time and Self-Employed bloggers refer to brands at a much higher rate (80%), with one in three posting reviews at least once a week.



Company Blogs
Last year, Forrester Research documented that only 16% of consumers trusted company blogs. One year later, I would argue that the trust barometer now measures an increase in the establishment of trust and collaboration.
71% of respondents who maintain blogs for a business reported an increase in visibility within their industries as a result of blogging. 56% claim that their blogs helped their company establish as a thought leadership position within the industry.

Blogging also appear to have to experience positive career benefits ranging from industry eminence (58%) to increased internal visibility (15%). This is among the most consequential data to emerge from this report. Effective blogging creates a lift for brand presence and correlating value propositions as well as individual illustriousness.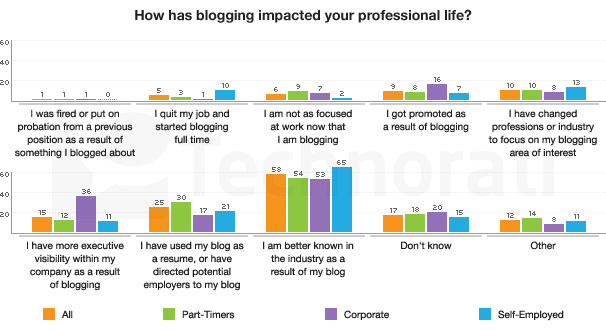 Micromedia Meets Blogging
When I wrote a post defining how the Statusphere can help save journalism, I could have easily discussed the same principles describing how tools and networks such as Twitter and Facebook improve awareness and increase activity around blogs and blog posts.
According to the Technorati report, bloggers use Twitter much more than the general population. In a poll conducted by Penn, Schoen & Berland Associates in May 2009 for The Wall Street Journal's All Things D conference, 14% of the general population reportedly use Twitter, but 73% of respondents in Technorati's survey do, which includes 83% of Corporate and 88% of Self-Employed bloggers). Bloggers cite Twitter as a form of content promotion, business marketing, and information curation as well as a mechanism for tracking trends.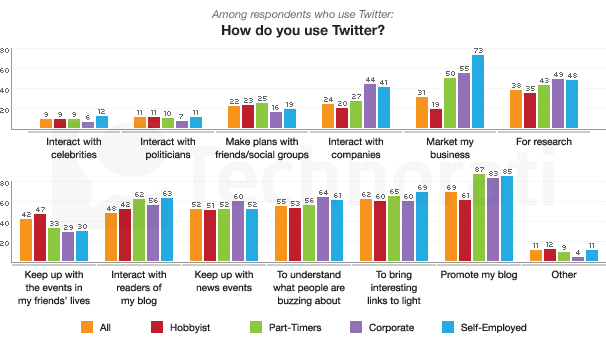 52% of responding bloggers reported that they syndicate their blog posts via their Twitter account and 41% also post tweets that are not associated with their blogs.

Depending on which blogger you speak to, I believe these answers will vary. In a discussion with Jay Rosen of NYU during Blogworld Expo, we recognized that Twitter may well borrow available time previously allocated for blogging. In some cases, the frequency and depth of posts has plummeted in favor of micro updates and responses posted on Twitter and Facebook. On the contrary, I personally and going to make a conscious effort to boost activity on multiple platforms as I believe that they will have positive impacts on many of the business aspects discussed above.

The Future of Blogging
As the study mostly observes, blogging is on an upward trajectory. With the introduction of new, mobile, and streamlined blogging platforms such as Posterous or even proven networks such as Tumblr, blogging will only grow in prominence as the preeminent form of sharing thoughts, opinion, and insights in way that's impossible in other micro networks. 57% of bloggers predict that their future holds a greater level of blogging (including 74% of 18-24 year olds). Personally I can attest to this stat, 35% overall, with upwards of 43% of part-timers, plan to publish a book. As well, mobile blogging will continue to expand as well, as 20% plan to do so in the future.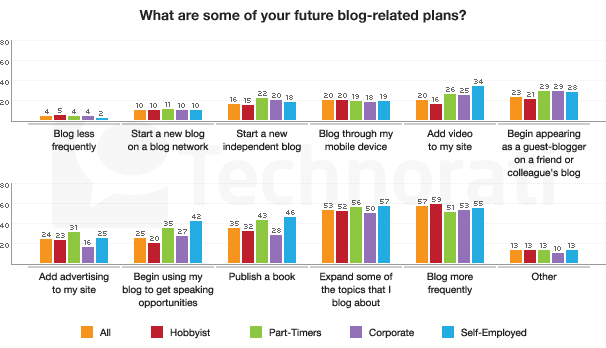 Blogging over the years has impacted many industries leading with politics, technology, celebrity, and business.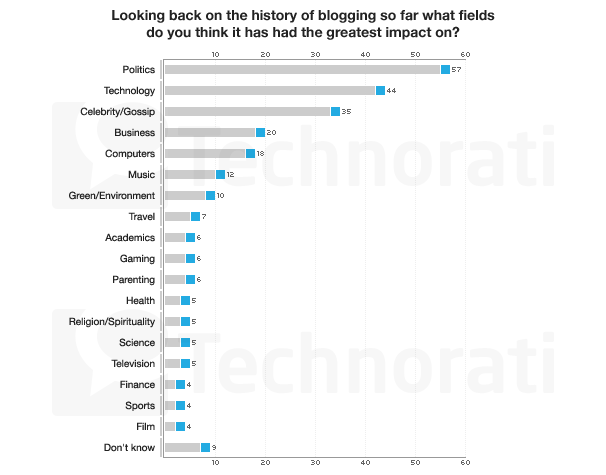 The future of blogging is expected to affect the same top three industries, politics, technology, and business, however, celebrity/gossip gives way to green/environment.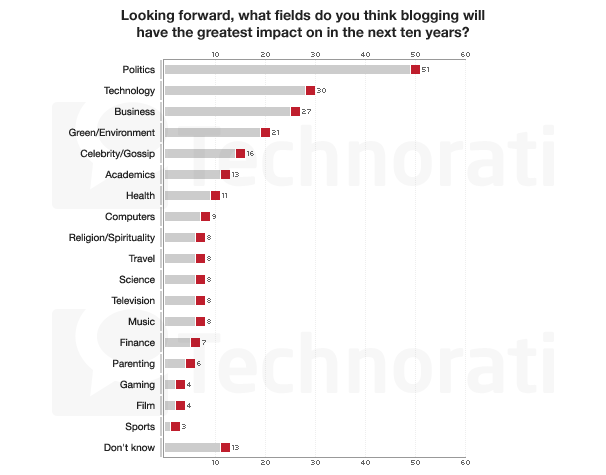 As Technorati observes, "The Internet in general and blogging in particular have expanded the marketplace of ideas into the global community."
Blogging continues to deliver a rich, interactive, entertaining and fulfilling experience that transcends traditional print, radio, and TV. It simply provides a sophisticated framework for facilitating the real-time exchange of information and community interaction. And, it is the community response that fuels the evolution of ideas as they spread globally giving rise to a new genre of influence and movement.
Perhaps it's as simple as Mike Shinoda of Linkin Park observes:
Technorati believes that the next generation of blogs will be more action oriented, not just documenting real time happenings, but driving actual events.
Indeed, action speaks louder than words. But in the blogosphere, it is our words that inspire action.
Connect with Brian Solis on:
Twitter, FriendFeed, LinkedIn, Tumblr, Plaxo, Posterous, or Facebook
—
Click the image below to buy:
—
pr pr+2.0 pr2.0 public+relations marketing advertising interactive social+media socialmedia brian+solis social media media2.0 media+2.0 2.0 smo social+media+optimization marcom communication publicity advertising expert interactive spin brand branding guru social+architect