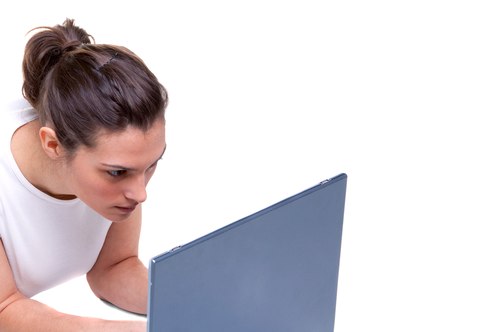 Source: Shutterstock
The attention dashboard is rapidly emerging as the online hub for sharing and discovering information, connecting us to people, content, and events in real-time. According to research, we're already spending more time in social networks than we are in email. New studies are only fortifying these findings, documenting an increase time spent specifically in Social Media and blogs.
In fact, the Nielsen Company reports reports that time spent on social networks and blogs accounted for 17 percent of total time spent on the Internet in August 2009. Most notably, but not surprising, however, is that this discovery represents nearly triple the percentage of time spent using Social Media just one year ago.
As a result of our online interaction, advertisers are following our activities attempting to capture our attention where it is focused. The same report also found that online display advertising in top social networks has more than doubled year-over-year, increasing 119 percent. The jump represents an increase in spending from approximately $49 million in August 2008 to roughly $108 million in August 2009. Also of note, the share of estimated spend in social networks as also increased, expanding from seven percent in August 2008 to 15 percent in August 2009.
Unfortunately what's missing from Nielsen's report is data related to user interaction with ads. Although, we know that on Twitter for instance, users are twice as likely to click on ads, review products and visit brand profiles online according to a recent study by Interpret. The company surveyed over 9,000 Internet users in August 2009 and found that 24 percent of respondents that use Twitter reviewed or rated products online while only 12 percent of people who use other social networks, not Twitter, did so. Along those lines, 20 percent of Twitter users were also more likely to visit company profiles while non-Twitter users accounted for only 11 percent.  In advertising, the numbers were also interesting. 20 percent of Twitter users over nine percent of non-users reported that they would click on ads or sponsored links.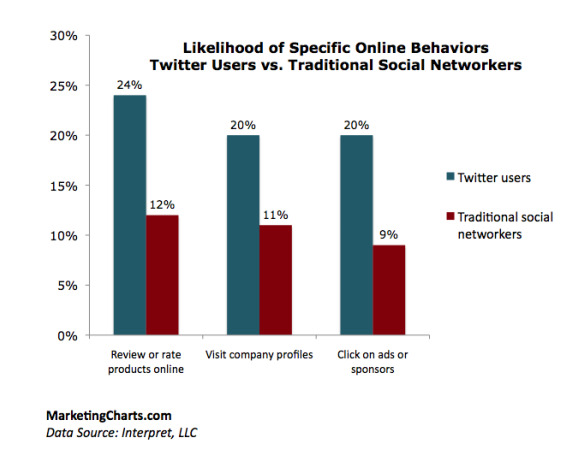 Source: MarketingCharts.com
Nielsen captured the industries leading the way for spending in social networks with entertainment, travel, business-to-business, automotive, and health representing the top five respectively.
Chart 1: Year-over-Year Percent Change in Online Advertising Spend by Industry (U.S., August 2009)
Estimated Spend on Top Social Network Sites*

Year-over-Year Percent Growth

Industry

Aug-08

Aug-09

On Social Network Sites*

On All Sites

Entertainment

$1,097,700

$10,012,800

812%

40%

Travel

$473,700

$2,198,200

364%

-11%

Business to Business

$683,400

$1,941,700

184%

-8%

Automotive

$1,110,200

$3,085,800

178%

-26%

Health

$1,131,500

$2,754,900

143%

8%

Web Media

$11,231,800

$26,855,700

139%

30%

Software

$526,400

$1,202,500

128%

-29%

Financial Services

$3,233,900

$6,415,900

98%

-10%

Public Services

$6,836,500

$13,203,100

93%

13%

Telecommunications

$12,449,500

$23,550,300

89%

-1%

Consumer Goods

$1,913,400

$3,349,200

75%

8%

Hardware & Electronics

$654,000

$1,022,900

56%

-47%

Retail Goods & Services

$8,101,400

$12,556,800

55%

-12%
Source: Nielsen AdRelevance
Connect with Brian Solis on:
Twitter, FriendFeed, LinkedIn, Tumblr, Plaxo, Plurk, Identi.ca, BackType, Posterous, or Facebook
—
Have you bought the book or the poster yet? (click below to purchase):