Guest post by Michael Brito. Follow him on Twitter, add him on Facebook or read his blog.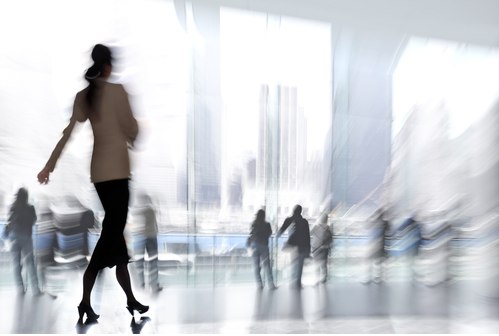 Source: Shutterstock
This post is a reflection of my personal experiences working in the enterprise and does not reflect the point of view of previous or current employer.
Reality #1: Consumers already get it; brands are still trying to figure it out
Consumers use the social web to talk about everything including products. Sometimes they are praiseworthy, sometimes not. There are no strategic meetings or secret gatherings where consumers discuss which products to talk about and when. They just happen, and happen organically. And at times – at the demise of some brands — these conversations can reach the mainstream media as it did with Motrin.
Brands want to be involved. They want to influence and change behavior. Some listen to the above conversations and some don't. The smart ones not only listen but act on the collective feedback from the community. Unfortunately, some organizations aren't structured internally to effectively manage social media externally. This makes it extremely difficult for brand marketers to take action. Brands are still learning; and are beginning to change internal processes in order to keep up with external market conditions, in this case the social web. The brands that are proactive like Starbucks and Dell are one step ahead of the brands that take a more reactive approach.
Reality #2: Brands should focus on the people first, tools last
Over the last 6 – 12 months, many brands have created Twitter accounts to engage with their constituency. While this isn't a bad thing, I believe that brands should be trying to figure out which tool(s) their consumers will be using tomorrow. The reality is that social media tools and technologies change everyday. People change and the way people use these tools change everyday. Not everyone uses Twitter other than early adopters, influencers and celebrity stalkers. Brands today can now bypass influencers and engage directly with consumers, especially if they pay close attention to where they spend their time online.
I wonder how many brands are engaged in conversations in relevant blogs, forums and discussion boards. I believe that the conversations here may be even more valuable than the ones in Twitter, since they are probably closer down the purchase funnel. The Best Buy forums are a great example of where a multitude of conversations are taking place about various products.
Reality #3: There is no such thing as a social media expert quite yet
Yup, I said it and I believe it. First and foremost, social media is about humanity. It gives brands the opportunity to step from behind the corporate shadow and engage in real life dialogue with others. With that said, being an expert in human behavior is not something one can accomplish just from blogging, tweeting or speaking at conferences.
One form of an expert is a sociologist; and they spend many years researching human behavior, creating surveys, acquiring and analyzing data and then using the information to base logical predictions, conclusions and hypothesis. And, they usually have patients too. Not followers or subscribers, but real life patients. A two-minute video on how to increase your twitter followers and use Bit.ly links is probably not a viable comparison to an expert.
Additionally, branding one's self with social media is much different than helping a brand connect with people online. Every organization has a different culture, business processes, policies & procedures, web infrastructure, perspectives on customers & marketing, human capital, etc. Not to mention that they have different products and services; and let's not forget that the regulated industries too. Unless you have ever worked behind the firewall of an enterprise, you can only imagine the chaos that can ensue when trying to find the right opportunity to begin using social media and then doing it the right way. It's a learning process and yes, there are times when you fail. I've been there.
A true "expert" in mind is someone who is always learning how consumers behave and interact within the social web; and then figuring out how a brand can leverage that moment in a meaningful way to create a memorable brand experience. And even then, they are still probably not an expert.
If you want to get to know me a little better, you can find me hanging out on Twitter for most of the day or writing in my social media blog.