Source
Is 2009 the year you finally dive into the world wide web of blogging? Or, is it the year you switch blogging platforms or services? It is for me. In fact, I'm exploring the near-term migration of PR 2.0 from Blogger to WordPress (both self-hosted).
Make no mistake, even with the popularity of micro communities such as Twitter, aggregated streams/lifestreams such as Strands and FriendFeed, and tumblelogs (Tumblr), blogging is still one of the most effective and visible stages to spotlight your expertise, thoughts, advice, opinions, and insight (for you and your company.) It fuels discovery and it conveys adeptness and reinforces participation.
So how do you determine which solution to support?
For the rest of us who are overwhelmed with choices and recommendations, perhaps there's guidance in the curated platforms that other top bloggers have embraced. We can assume that they have tried and tested multiple solutions, settling on a blog formula that allows them to customize and publish content efficiently and effectively. At the very least, our choices are narrowed into a palatable array for quicker dissemination.
To help, Pingdom released an interesting study that reveals the numbers behind the most popular blog platforms and the most linked-to bloggers using them.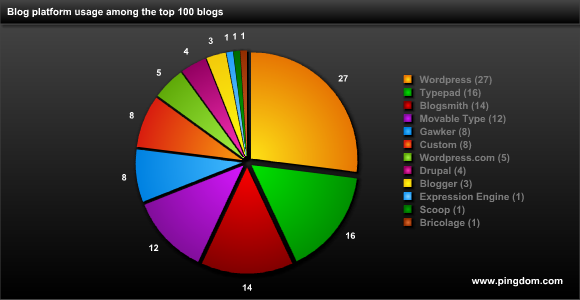 Blog Software (Self-Hosted Blogs)
According to the study, Pingdom identified WordPress as the top choice among the most "popular" bloggers according to Technorati's Top 100, powering 27 out of 100 blogs.
Movable Type was second with 12 out of 100.
Only 8 blogs use a custom-made blog platform.
Drupal, a general purpose CMS, boasts 4 blogs.
Blogging Services (Third-party service providing blog software and hosting)
While WordPress is the more popular solution among those who self-host their blogs, Movable Type's Typepad excels to the top of the list for bloggers using services based on blog platforms (Typepad on Movable Type, WordPress on WordPress, Blogger on Google's Blogspot, etc.)
It's important to note that more than 1/3 of the top 100 bloggers use a blogging service.
Typepad powers 16 of the top 100 blogs.
AOL-owned Blogsmith (used by Weblogs, Inc.) drives 14 of the top 100.
WordPress.com is used by 5.
Blogger (Google) fuels 3.
—
Top Blogs and the Corresponding Platforms
Blog Name, Technorati Rank, Platform
In order to maximize the full opportunities and benefits that strategic blogging can yield, it is highly recommended that you use blog software or a service that you personally (or with the help of experts) customize to match the brand and the persona you wish to covey – from the design aesthetics to the URL – and everything in between.
—