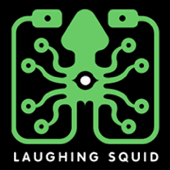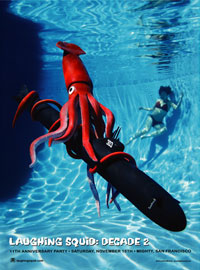 Scott Beale, primary tentacle at Laughing Squid, will fuse tech, culture and community tonight at the highly anticipated Laughing Squid: Decade 2 at Mighty in SF. There will be three main areas, the big room inside, a smaller side room (chill lounge area) and the outside area.
This is a must-attend event.
Master of Ceremonies:
mikl-em
Performances by:
– Mr. Lucky & The Cocktail Party featuring Ralph Carney
– Twilight Vixen Revue with special guest Anita Cocktail
– $25,000 Pyramid Scheme Game Show by RICK! and David Calkins
DJ's
– DJ Big Daddy
– DJ tOaD & DJ timmmii

Slide Show:
– Inside Mighty there will be a slide show projection featuring 1300 of Laughing Squid primary tentacle Scott Beale's photos from the last few years.

Art Cars:
– Oh My God! by Harrod Blank
– VainVan & MondrianMobile by Emily & Ken Duffy
– Flivver by Joy Johnston
– Drala Dragon Wagon by Bruman Bjerke
– Eartha Karr by Blake More
– Grooovalicious Purple Princess of Peace by Avril Hughes
– Legojeep by Kevin Mathieu

Also Outside:
– Lights by Coil
– Fire Cannon by Jon Sarriugarte
– Mars Rover, R2D2, Chapok, The Andoroid's Bartender by David Calkins (RoboGames) and Simone Davalos (Suicide Bots)
– BuddaHCookieS by Gaspo
– The Popcorn Guys
– Cyclecide is bringing and assortment of bikes to ride
– The Doggie Diner Dog Heads of The Holy Trinity of the Dogminican Order
Safety services donated by Mutual Aid Response Services (MARS)
The event tag is: laughingsquid11
Tags: scottbeale scott+beale laughingsquid laughingsquid11 mighty sf sanfrancisco events photos Potrero Hill Laughing Squid Brian McCarty robots Harrod Blank Ralph Carney Doggie Diner posters fire David Calkins Simone Davalos mikl-em Mighty slide show Big Daddy Freakotronic Twilight Vixen Revue Anita Cocktail Mr. Lucky The Party DJ tOaD timmmii Justin Credible BuddaHCookieS Gaspo Photoboof popcorn kettle corn Neverwas Runabout Mars Rover Laughing+Squid