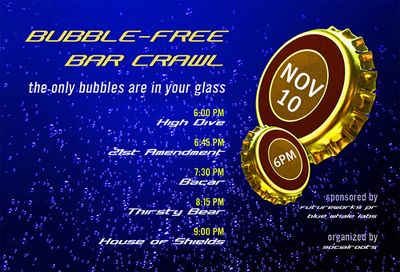 My good friend Greg Narain and I are hosting a "network free" and "bubble free" bar crawl in San Francisco on 11/10.
The Crawl will take place on November 10th, 2006 at 6pm.
Here are the details:
The Bubble-Free Bar Crawl is a celebration of our sacrifice. This event is for everyone toiling late at night to launch their own startup and take a piece of the pie. Most importantly, it's a time for you to bring all those who are supporting you out for a good time and a thank you.
The Crawl will focus on the emerging tech corridor in downtown SF. There seems to be a huge number of startups cropping up and down 2nd Street. We're starting at the Embarcadero and moving our way towards Market.
We'll be hitting these places:
6:00 pm – High Dive
6:45 pm – 21st Amendment
7:30 pm – Bacar
8:15 pm – Thirsty Bear
9:00 pm – House of Shields
Hope to see you there. RSVP here.
Tags: web2.0 web+2.0 socialroots socialtwister greg+narain gregnarain barcrawl sf sanfrancisco futureworks briansolis brian+solis