Yesterday on Rocketboom, host Joanne Colan surprised us with her closing statement, or actions rather, by turning around and ripping down the famous wall map that has served as the backdrop faithfully since episode one. Yes, we knew that this was inevitable – especially since this is Rocketboom 2.0.
News? Hardly. Fun? Sure.
The interesting thing here however, is that they claim to be responding to growing viewer complaints that the map needed to go. And even more interesting, was that they opened up the suggestion lines to "us" to help them determine a new backdrop to "rocket" Rocketboom to the next level – excuse the pun.
So, I took the opportunity to create my suggestion for their first episode with the new and improved backdrop…helping them make ammends with Amanda Congdon so everyone can move on and live happily ever after.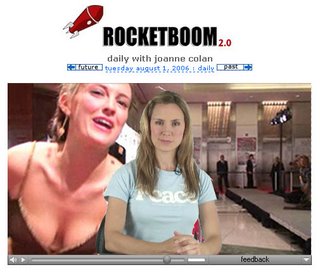 Tags: rocketboom, joanne colan, amanda congdon, brian solis