Recently, the fastest, most expensive production car on the market was unveiled in Los Angeles — the 2006 Bugatti Veyron 16.4. At $1.3 million, it will be available to only the elite (many of whom probably reside in Silicon Valley). Don't be surprised if you see this bad boy on Sand Hill Rd. or Santana Row.
It's definitely not for the weak of heart. The Veyron has a top speed of 250 mph and launches from zero to 60 in 2.5 seconds. That has to shatter existing records for production car performance. I would love to try this between SF and LA…at full speed, I could make it in an hour-and-a-half.
The Veyron 16.4 is named for racing driver Pierre Veyron, who won the 24 hours of Le Mans in 1939 while driving for Bugatti. (The 16.4 refers to its 16 cylinders and 4 turbochargers.)
Building the fastest production car ever is no easy task, and making it street legal, up to emissions code (especially in California), luxurious, and dependable is near impossible. Dependable? It's a race car. But, such was the unique challenge of engineering this land rocket meets luxury touring coupe.
The Veyron's interior is, let's just say, over-the-top: dove-skin upholstery, a lacquered bonsai shift lever topped by a solid-gold knob inlaid with narwhal horn. Options, such as a Swarovski crystal windshield, can drive the Veyron's seven-figure price even higher. Come on, a crystal windshield?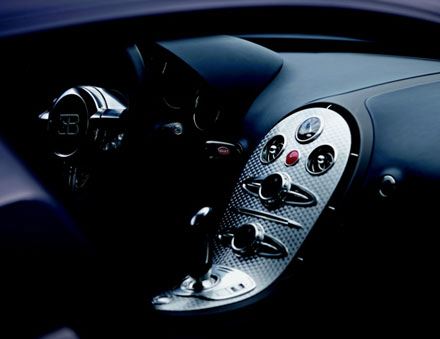 If you're ready for one of these, you'd better get in line. There is a one-year waiting list and Bugatti requires a small deposit of $400k. Also, while you're at it, you should buy a gas station to go along with it. This beauty gulps gas with 7 mpg city and 10 mpg highway. If you punch it to its max, you'll enjoy 3 mpg at 250 mph!
If you work in the marketing department at Bugatti, feel free to contact us for a test drive and a full review 😉 I'll try to schedule it in.
Tags: bugatti, sandhill, sports car, exotic, brian solis