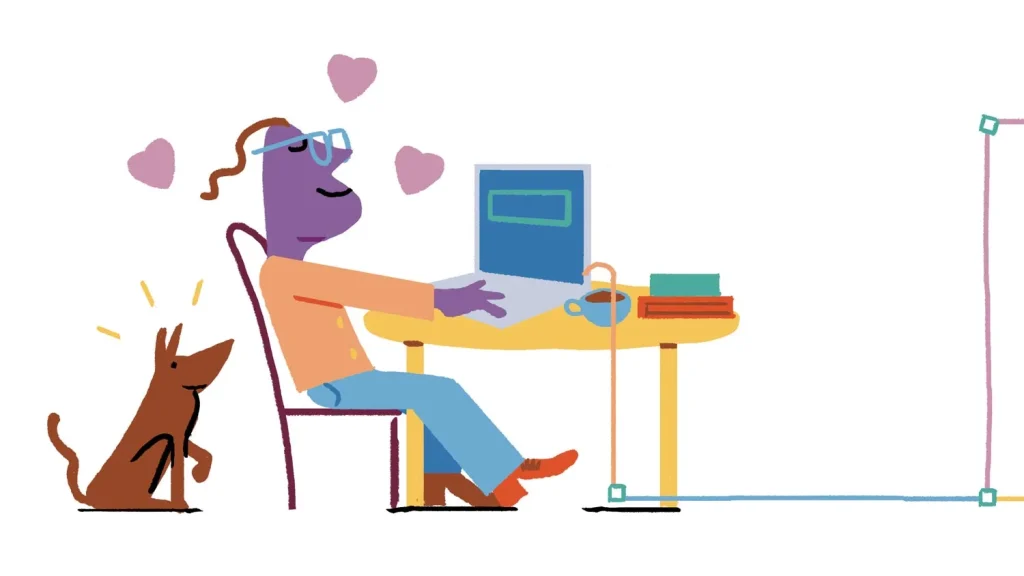 Originally published on the Salesforce "360 blog"
Customers care about end-to-end experiences, not how your company is organized. Business leaders are quick to say that a connected customer experience is a major business priority. But the truth is that they are struggling to do it well. New data captures the gap between business and digital transformation and the integrated experiences customers desire.
Countless growing departments, new services abound, and the truth remains: Customers have to see you as one company. This is why a connected, personalized, and seamless customer experience (CX)can make or break your brand. But telling this to executives is preaching to the choir. Eighty-eight percent believe a complete and consistent view of their customers is crucial to the future of their business. But fewer than one-third say they currently have that unified view. And for those 31% executives who have a single 360-degree view of customer data? Half say they lack the organizational structure to actually make use of those customer insights.
Those are a few insights from 1,000+ global senior leaders on how to meet the future of customer experience from new research conducted by Harvard Business Review Analytic Services sponsored by Salesforce (and led by me!) The research points to a clear discrepancy: Business leaders are quick to say that establishing a seamless and connected CX is a major business priority, but by and large, they are struggling to do it well. This is because, going back decades, organizational design didn't account for customer or data-centricity. But that was a different time. Customers now demand otherwise, and technology makes the shift to a unified, customer-centric model a reality today.
To materialize true CX potential, companies need to make significant changes to how they operate. They need to ensure that all functional leaders – even those whose roles have historically been disconnected from customers – feel a sense of CX ownership. They need to guarantee a level of company-wide proficiency when it comes to analyzing and acting on data insights. And they need to look beyond the traditional functions of their CRM, shifting its use from a system of record to a platform for more effectively managing customer relationships with artificial intelligence (AI) and predictive capabilities over time.
But perhaps most importantly, business leaders will actually need to pause, look around, and spend some quality time learning directly from the customers themselves.
It's about organizing, connecting, and scaling quality customer data. It's about uniting cross-functional counterparts to own roles in collecting data and surfacing critical insights, at every stage of the customer journey, to help key decision-makers learn what customers really need.

Make CX function-agnostic
Companies are more likely to consistently deliver great customer experiences when employees across the organization have a customer-centric mindset. After all, it is the customer's experience that matters. And unless employees get a sense of what customers experience, CX becomes more about facilitating transactions than about the meaningful, relevant engagement that customers value.
A great personalized shopping experience, for example, can be undercut by an onerous checkout process. An automated customer service portal or chatbot function will be of no use if the company doesn't train customer-centric teams to humanize it at every step. The customer's experience is the sum of every touchpoint, and every component of that journey must work together. Now more than ever, finance and HR, along with other back-of-house functions, will be as crucial to the CX equation as many of their customer-facing counterparts. In fact, about a fifth of business leaders who responded to the survey expect both finance (21%) and HR leaders (19%) to be significantly involved in their companies' CX efforts over the next two years, with nearly twice that many expecting them to be somewhat involved.
"No matter how good your product or service is, all touchpoints through the customer journey must come together, or the customer experience will be bad," said Michael Krigsman, industry analyst and host of executive discussion platform CXOTalk. "To deliver a great customer experience, your infrastructure must work properly."
Get comfortable with data
Knowing who your customers are, how they behave, what they want, and why they want it is critical to designing a game-changing CX strategy. Getting there starts with sourcing and unifying data that's seamlessly aggregated from previously disparate (or missing) sources and silos in real time.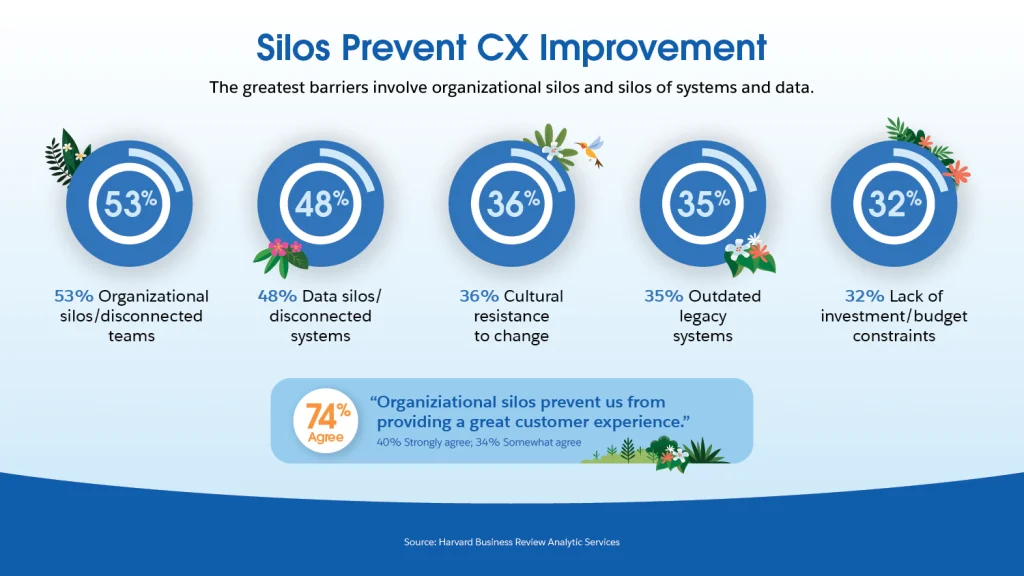 According to data from the Harvard Business Review Analytic Services survey, "Making Customer Experience the Heart of the Enterprise, sponsored by Salesforce," 74% of respondents agree that organizational silos prevent teams from providing a great customer experience. The silos that prevent CX improvement include disconnected teams (53%), disconnected systems (48%), cultural resistance to change (36%), outdated legacy systems (35%), and lack of investment (32%).
"The hardest part in this is getting the data science muscle built to ensure that we have the opportunity to uncover those data signals," said Josh Blacksmith, senior director of global consumer relationships and engagement at Kimberly-Clark Corp.
Employees can only respond to customer trends or make decisions based on the information they have on hand. Given the right information, employees can act more successfully and with autonomy, which ultimately improves their own experience at the company.
Most survey respondents ranked the oft-cited overall customer satisfaction measure (CSAT) as the top metric for their organization's success. But that metric doesn't tell us a whole lot about how customers' satisfaction influences their next purchase. Instead, businesses should be looking at other metrics, such as customer lifetime value (CLV), which the most customer-centric organizations in our research ranked as their priority.
"It's really easy to sell something once. It's difficult to secure that second and third order," said Rob Birse, head of global B2B ecommerce at Kellogg's, who has used CLV to better predict customer orders. "The metric you want to focus on is the repetitive purchasing patterns."
Push your CRM to the limit
Historically, in times of normal business, sales leaders have relied on their CRM software to keep tabs on prospects and update the status of pitch meetings. But the modern CRM is capable of so much more – it's just that most business leaders don't know it.
This is especially true in a volatile post-pandemic transition period, when many big businesses are struggling to smoothly transition into untested hybrid or remote-work models.

A well-integrated CRM can serve as the central hub that helps teams avoid the coordination and communication hiccups brought on by distributed work. It can also be an engine for bridging internal silos and discombobulated customer experiences.
Birse from Kellogg's sees a future where customers can scan a product on the shelf, prompting the Kellogg's system, using AI, to recommend a quantity for their order based on everything it knows about that market and consumer demand.
"That's where we need to be," he said.
But as companies build out these data-driven capabilities, they should not forget an equally-important ingredient: Their teams and employees. Indeed, as much as data represents customers and clients, it's the employees who need to feel empowered to read, analyze, and act on that data.
As companies become more data-driven, CRM systems will evolve into a unified, single source of customer truth. This is the key to empowering all teams with relevant, value-added insights to prioritize the R in CRM – customer relationships.
[simple-author-blog]