via Safeguard Cyber
For many businesses, the use of social media and collaboration apps is essential for staying connected to customers and employees alike. From Facebook to LinkedIn to Slack, these apps let us connect on any device and are especially important in the new age of remote work.
Every business needs social media. It's a critical part of transacting in the modern world, whether you're selling on Facebook or networking on LinkedIn. And while social media is critical to customer engagement and growing a business, it also opens an organization to security risks. These networks are among the easiest platforms to exploit.
Cybercriminals routinely use social media for carrying out spear-phishing attacks or conducting research into potential victims for use in targeted social engineering. While social media is a powerful, important force in growing a brand, it can create a cybersecurity liability.  To protect themselves, businesses must manage the new digital risks on social media by gaining enhanced visibility into official and unofficial channels as part of an overarching security strategy.
What are some of the ways you can secure your social platforms and everything connected to them? Here's what five industry experts and thought leaders have to say about protecting your brand's social media accounts.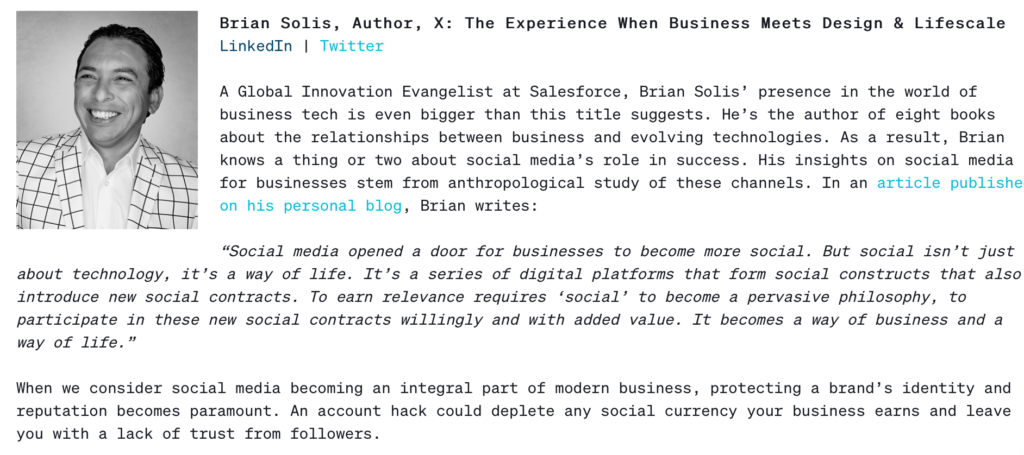 Brian Solis, Author, X: The Experience When Business Meets Design & Lifescale
LinkedIn | Twitter
A Global Innovation Evangelist at Salesforce, Brian Solis' presence in the world of business tech is even bigger than this title suggests. He's the author of eight books about the relationships between business and evolving technologies. As a result, Brian knows a thing or two about social media's role in success. His insights on social media for businesses stem from anthropological study of these channels. In an article published on his personal blog, Brian writes:
"Social media opened a door for businesses to become more social. But social isn't just about technology, it's a way of life. It's a series of digital platforms that form social constructs that also introduce new social contracts. To earn relevance requires 'social' to become a pervasive philosophy, to participate in these new social contracts willingly and with added value. It becomes a way of business and a way of life."
When we consider social media becoming an integral part of modern business, protecting a brand's identity and reputation becomes paramount. An account hack could deplete any social currency your business earns and leave you with a lack of trust from followers.