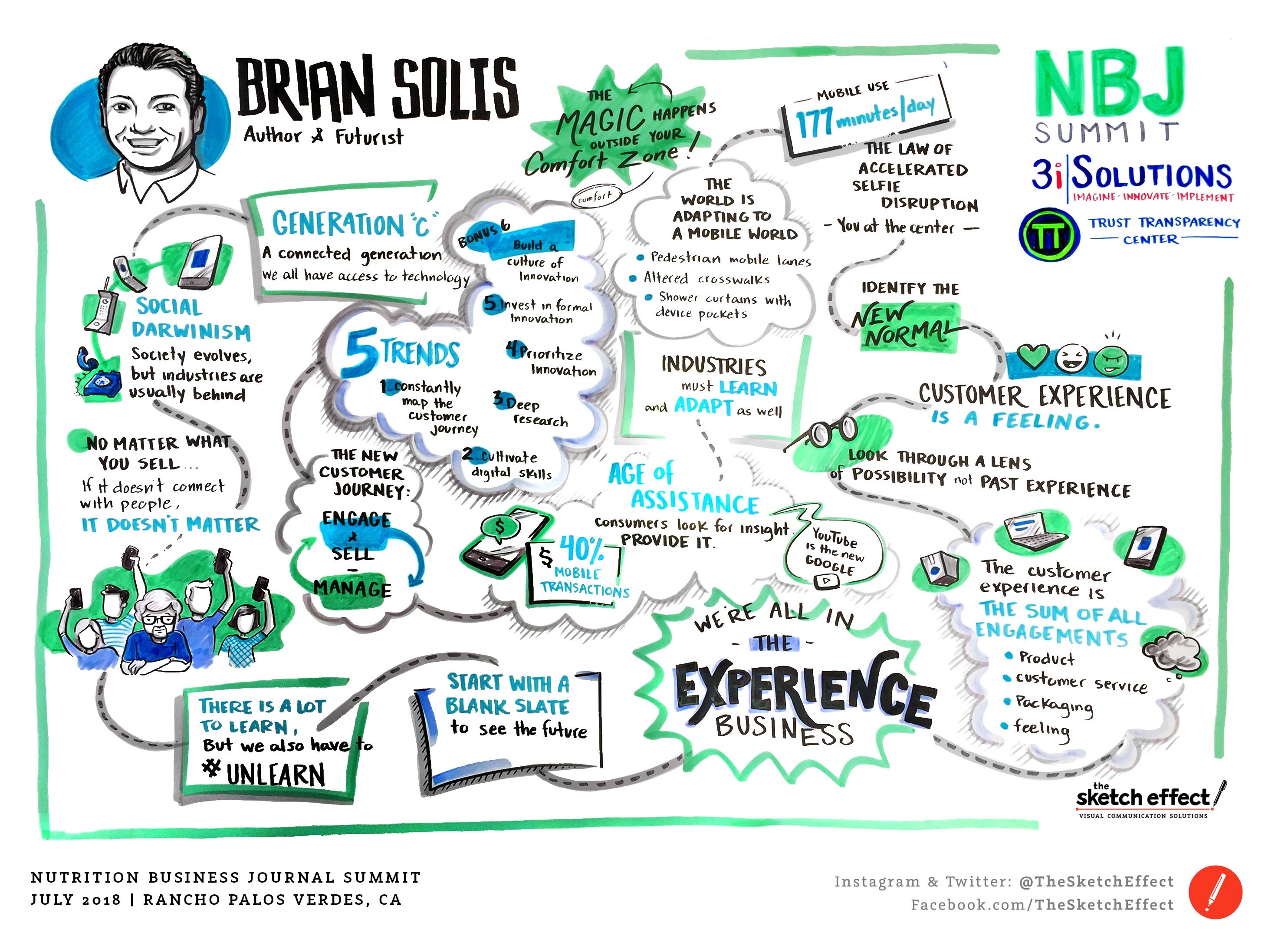 In July 2018, I had a chance to speak in Rancho Palo Verdes at the NBJ Summit. I think I would move to the area given the opportunity. It's a wonderful oasis in between the [INSERT ADJECTIVE/S HERE] of Southern California and the serenity of a beachside community.
Before walking off stage, I noticed a graphic recording by The Sketch Effect off to my left. I missed it during my presentation, but was more than curious about what was captured following the event. Then, like all of us, I got busy. I forgot all about it until I found a rare moment when I could dig through past emails. And, there it was! It was interesting after all this time, to revisit the conversation, what I hoped to communicate and what the artist captured.
I was impressed and I wanted to share their work with you here.
It almost looks like a board game you can play right now, representing the journey we must all take in understanding and engaging a new generation of customers and employees.
There's a new normal. There's a new market based on this new normal. I refer to these customers as Generation-C (connected). It's not based on age, it's rooted in a connected lifestyle.
Digital Darwinism represents the evolution of society and technology. Generation-C represents the rising market in an era of digital Darwinism. Their behaviors, expectations and values introduce a "new" normal. Their center of reference is evolved and it operates away from the norms of everyday businesses. It (they) also represents the core of human-centered design in all of our work to stay relevant, deliver value and discover ways to innovate.
This is a time where a new mindset, value proposition, service models and products are before us. It's an opportunity to not only improve what exists, how we work  and what we can do better, but also learn, unlearn and introduce new value for a new generation of customers (and employees).
The magic happens when we step outside of our comfort zone. But there's less magic to it when you take a look behind the curtain. It's really a matter of perspective and thinking and acting differently. To unleash this magic starts with setting aside legacy perspectives and our fortified beliefs based on past experiences. To innovate, to introduce new value, to see what we didn't or couldn't see before, takes looking at the world through a lens of possibility.
I always say that if you're waiting for someone to tell you what to do, you're on the wrong side of innovation. That's the thing about the future…it's unwritten. No matter how many books and reports exist visualizing new possibilities, someone has to lead the way. Someone has to have a vision and passion to challenge conventions and take new risks. Someone has to take the steps in new directions.
Why can't that be you?
I'm curious to hear what you see in this image and how your journey is playing out. We're in this together.
_____
Brian Solis
Brian Solis is principal analyst and futurist at Altimeter, the digital analyst group at Prophet, Brian is world renowned keynote speaker and 7x best-selling author. His latest book, X: Where Business Meets Design, explores the future of brand and customer engagement through experience design.
Please, invite him to speak at your event or bring him in to inspire colleagues and fellow executives/boards.
Connect with Brian!
Twitter: @briansolis
Facebook: TheBrianSolis
LinkedIn: BrianSolis
Instagram: BrianSolis
Youtube: BrianSolisTV
Newsletter: Please Subscribe