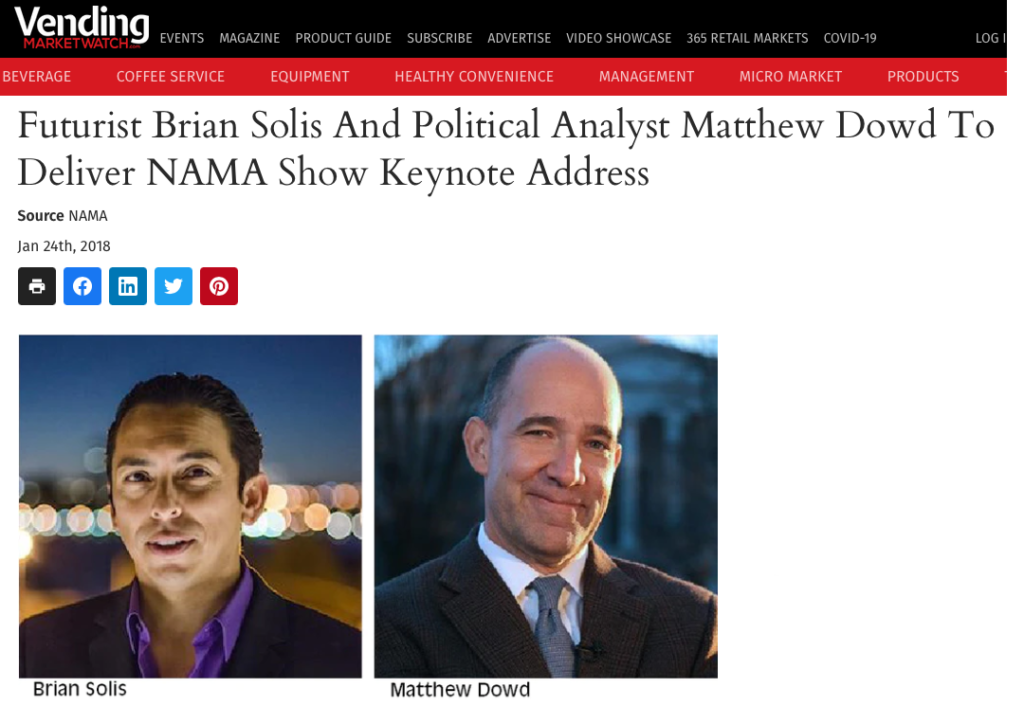 (CHICAGO) January 24, 2018 — NAMA will welcome futurist Brian Solis and political analyst Matthew Dowd to share the general session stage, delivering two impactful keynote talks at The NAMA Show 2018, taking place March 21-23 at the Las Vegas Convention Center. 
In this new, dynamic, side-by-side format, Solis and Dowd will challenge conventional thinking and provide attendees with two distinct, but interrelated perspectives on how to navigate this period of uncertainty and accelerated change. 
Using insights and lessons from key moments in history, as well as the current social landscape, Solis and Dowd will make sense of political, societal and consumer trends, providing a broader context for interpreting current reality and inspiring a renewed sense of hope and empowerment for businesses and individuals alike. The General Session is sponsored by PepsiCo Foodservice. 
About Brian Solis 
Brian Solis is a 8x best-selling author, digital anthropologist, and has been called "one of the greatest digital analysts of our time." He studies digital transformation and how businesses are investing in new models and strategies to design the new digital customer experience (DCX). Additionally, he studies corporate and startup innovation to learn how to disrupt markets before being disrupted. A digital analyst, anthropologist, and futurist, Solis has studied and influenced the effects of emerging technology on business, marketing, and culture. His research and his books help executives, and also everyday people better understand the relationship between the evolution of technology and its impact on business and society and also the role we each play in it. As a result of his work, Solis also helps leading brands, celebrities, and startups develop new digital transformation, culture 2.0, and innovation strategies and that enable businesses to adapt to new connected markets from the inside out. 
About Matthew Dowd 
Matthew Dowd is a well-known and respected political consultant, commentator, and strategist. For the past 30 years, he has helped shape strategies and campaigns for CEOs, corporations, foundations, governments, candidates, and presidents. He is currently an analyst with Bloomberg, ABC News, and ABC's This Week, and a columnist for National Journal. With triumphant political campaigns under his belt, he uses his wealth of experience to provide audiences with an insider's view of the processes and players in American politics today and dishes out shrewd, tried, and true guidance for a better business and a better political brand. 
Source: Vending Marketwatch