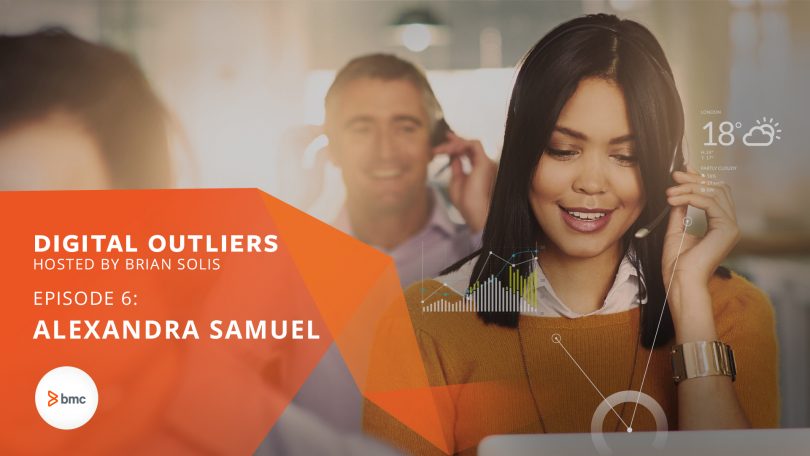 We live in a world where where information and misinformation is prevalent and weighted equally all too often. As human beings, we are learning how to use social media effectively to communicate and connect. At the same time, we're drowning in abundance, complexity of choices and and unfortunately, the misappropriation or misdirection of influence. Concurrently in professional realms, many leadership teams are overwhelmed with trying to keep up with the sheer scope and scale of the digital evolution. For many of us, social media, and the accelerating pace of new devices, social media scheduler and apps hitting the market continues to impact our work and life.
On this episode of Digital Outliers, I'm joined by Alexandra Samuel, technology futurist and author. Not all things social media are created equal. Functionality on different platforms leads to different kinds of conversations, and these tech-driven interactions carry significant impacts on the way we communicate and evolve as a society.
Technology can enhance the way we communicate within our organizations, but with so many screens that can take many, many different forms, where do we start? Samuel suggests we start by asking ourselves, "What are the technologies that are going to serve me, and what are the technologies that are going to distract me?"
If you're struggling with technology and technology infrastructures, start by giving your technology efforts a purpose and a focus, positioning technology as an enabler versus something that is going to drown you. Truly, companies driving the most innovation in the digital workplace are moving away from the standing trend of "bigger is better," and learning to decentralize; providing front line people with more autonomy and the ability to respond effectively.
Please tune into episode 6 of Digital Outliers, where Alexandra Samuel and I discuss how an organization can identify their unique internal goals, and find the tools to power those needs.
Brian Solis is principal analyst and futurist at Altimeter, the digital analyst group at Prophet, Brian is world renowned keynote speaker and 7x best-selling author. His latest book, X: Where Business Meets Design, explores the future of brand and customer engagement through experience design. Invite him to speak at your event or bring him in to inspire and change executive mindsets.
Connect with Brian!
Twitter: @briansolis
Facebook: TheBrianSolis
LinkedIn: BrianSolis
Instagram: BrianSolis
Youtube: BrianSolisTV
Snapchat: BrianSolis