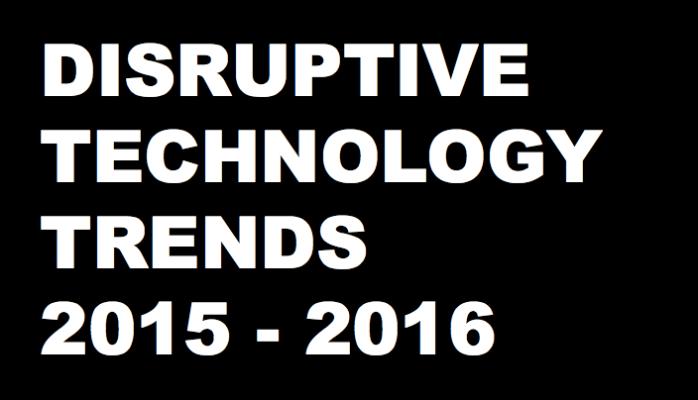 With every new year comes a landslide of predictions and trends to guide us into the new year. While the year advances, rarely do such transformative trends or changes take place in alignment with one of the top calendar apps. Not even Y2K could do so 😉
Now with that said, I was asked to present my thoughts on what lies ahead in Vegas during CES at Brand Innovators "Mega Trends" event. By the first week of January, there were already some tremendous thoughts already shared by some of the best. So, I thought about and thought about some more. What I assembled was a list of the most notable trends that brands and consumers need to know this year and next.
Consider this list v 1.0. It represents technologies and trends that I'm paying attention to and also high level thoughts around them. It's not complete as there's more to add on each topic or new topics to introduce of course. But this list is definitely worth exploring. I also invite you to share your ideas and the technologies you're watching.
The trends are visualized and explained in the embedded Slideshare. I also touch upon each below…
1) Social Media 1.0 is dead.
Social media becomes part of a digitally transformed ecosystem Real-time and content marketing becomes more sophisticated and portable Social becomes key hub for shaping customer experiences Social connects the Zero Moment of Truth and the Ultimate Moment of Truth
2) The future of search and SEM also lies outside of Google.
More than 88% of consumers are influenced by other consumers' online comments. Customers are also starting searches in places such as Youtube, Pinterest and also in apps directly.
3) Messaging apps become the new social media.
4) Asia and other foreign competitors will compete to gain share and push messaging forward.
5) Notification windows introduce a thin layer for rapid engagement.
Apps such as Yo, while a novelty at first, will redefine what an app is and will be…no kidding.
6) Chinese innovation is going to disrupt the U.S. from the outside in and the inside out.
7) The Internet of Things is a hot and beautiful mess until it becomes the Internet of Everything.
By 2020, the number of devices connected to the Internet is expected to exceed 40 billion. We're just getting started.
8) Wearables will struggle to find their place in everyday life.
While cute and seemingly on the wrists, necks or fingers of all of our friends, wearables as an industry and market are incredibly immature. The Apple watch will start create a rising tide. Wearables are all over CES, but most are single purpose, redundant, cute or just plain useless. They need a killer app!
9) Virtual and augmented reality experiment with killer apps for consumer and vertical markets.
In 2015, Google Glass gets a ctrl alt del.
2015 represents the consumer introduction of Oculus Rift. Vertical industries along with gamers will drive early adoption.
Companies such as Skully are creating killer vertical appls for augmented reality.
10) Focus on the kids! Generation Z is mobile first and mobile only and they're nothing like Millennials.
11) Youtube, Vine, etc., represent "a" new Hollywood.
Youtubers and Viners and the financial ecosystem emerging to support them is reminiscent of Hollywood in the early 1900s. More kids can name online celebrities than they can traditional movie and music stars. To capture attention, advertising and content will require an entirely new approach.
12) Cyber security becomes paramount to prevent the next #Sonygate.
Nothing creates a sense of urgency like an emergency. Sony sat on advice to upgrade security. They're hardly alone.
13) Some companies are still greedy and believe the internet should not be open for the sake of profitability. This will impede innovation unless we fight back.
Debate over Internet regulation positions it as either a utility or a premium service.
14) Music streaming will continue to undermine the music business and artistry. Artists will fight back.
Streaming services condition consumers to seek out their favorite music and play it for free. Sales of music continues to freefall.
Artists feel they're underpaid for stream plays.
Spotify, Pandora and the like compare payment models to radio stations.
Artists such as Taylor Swift, Garth Brooks, ACDC, et al, believe artistry is worth more than appreciate today.
I argue that streaming services teach people to listen at will because they can whereas radio stations encouraged consumers to buy.
15) Wall Street becomes influential again forcing brands to trump customer experience for revenue.
Stakeholders and investors find it difficult to assess the ROI of customer experiences and the impact of positive reinforcement on the bottom line. I guess you can't trade on something so fluffy. Instead, Wall Street analysts and shareholders alike accused JetBlue of being "overly brand-conscious and customer-focused." Wall Street has spoken and JetBlue CEO Dave Barger will be replaced by someone willing to embrace extra fees, narrower seats, and diminished customer experiences…unless they're willing to pay for something better.
16) Crowd capitalization accelerates disruption…everywhere.
Everything is subject to creative destruction because ideas can now be crowdfunded. Every product. Every industry. Innovation is democratized.
17) Bitcoin and other cyrptocurrencies lose value but teach us about how to think differently about money.
There are 163 cryptocurrencies in circulation. Bitcoin is widely known. Though its market cap is down, The Bitcoin Stack will revive the movement. h/t Joel Monegro and Fred Wilson.
18) Mobile payments early today, but will soon skyrocket.
In late 2013, just 6% of US adults said they had made a payment in a store by scanning or tapping their smartphone at a payment terminal. It will go up to 8% this year. Apple's introduction of the Apple Pay will be the key factor that will drive this percentage up.
Mobile payments are already gaining traction. Nearly 15% of Starbucks customers already pay with their phones. And, 60% of consumers use their smartphones to pay because of loyalty benefits.
19) The Sharing Economy is really about renting or borrowing. Everything will become "on-demand" and available through a mobile apps that connect idle or new supplies with new or organized demand.
New supply will stimulate new demand. Mobile platforms combined with geoloco will continue to bring everyday people and businesses together to do interact with trust and efficiency serving as facilitators.
"Technology has made renting things (even in real time) as simple as it made buying things a decade ago" – Fred Wilson
20) New enterprise drone management platforms change the game for logistics.
It's not about whether we get pizza or Amazon packages to our homes. First, drone delivery will impact B2B. Over time, the concept of a personal mail box will be upgraded with dedicates codes that will facilitate new types of drove deliveries.
21) Cyber Warfare: Political battles will play out in the 5th dimension.
22) Your privacy is Gone: It was traded for perceived security and also better customer experiences.
Older generations think about privacy differently.
Younger generations use privacy as a currency.
23) Big data and beacons: Connect online, in-app, and in-store experiences. Also opens the door to new forms of engagement.
– Footfall, visits online, visits through apps
– Regency and frequency of visits, behaviors and transactions
– Brand affinities
– Favorite products
– Demographics
– Location
– Loyalty program utilization
– Service quality, queue and abandonment
– Capacity planning and resource utilization
Beacons provide businesses with endless opportunities to collect massive amounts of untapped data, such as the number of beacon hits and customer dwell time at a particular location within a specified time and date range, busiest hours throughout the day or week, number of people who walk by a location each day, etc. Retailers can then make improvements to products, staff allocation in various departments and services, and so on.
24) Webrooming becomes more common than showrooming (69% to 46% respectively), according to Harris poll.
– Millennials prefer webrooming.
– Amazon remains #1 destination for both showrooming and webrooming.
– Emerging connected in-store experiences link online and offline, leveraging both.
25) Mass personalization and full funnel marketing suites reset vendor landscape and change how brands "think" and work.
Brands and agencies start to think about" full funnel marketing" and new "experience cloud" suites will take shape to unite marketing, service and CRM.
New adtech companies will focus on strategy + programmatic context, content AND ads.
Optimized mobile affiliate tracking capabilities.
Publishers will offer in-house capabilities for behaviorally programmatic targeting of premium advertising.
Omni-Channel finally becomes mainstream. Brands must think like their customers to create seamless omni-channel shopping experiences that keep customers engaged at all stages.
Connect with me… Twitter | LinkedIn | Facebook | Youtube | Instagram | Pinterest