The state and future of Twitter is passionately debated as users and industry pundits explore whether or not the platform and the relationships that connect one another are in danger of slowing or worse, regressing.  Over the last year, Twitter experienced its most phenomenal growth to date, fueled by the adoption of the communication network by highly visible and influential personalities that attracted legions of new users to establish one-to-many and ultimately many-to-many connections. But, then the meteoric ascent practically leveled-off…
HubSpot released a new report that captures the state of the Twitterverse, opening a window that instantly transforms speculation into analysis and setting the stage for informed discourse and exploration.
According to the report, Twitter's user growth peaked at 13% in March 2009 falling to just 3.5% in October 2009. And while this is the most recent date for which HubSpot has access, it is revealing nonetheless.
The steep decline, as I've said many times, has less to do with exposure and more to do with the initial Twitter experience for prospective users. Millions upon millions of new prospects are introduced to Twitter everyday by brands and media properties who place Twitter center stage in broadcast, print, and in person.
Follow us on Twitter.
Send us a Tweet.
Tweet us to win.
Receive special discounts, promos, and coupons just by following us.
Once they arrive at Twitter, there's very little instruction or incentive to take the steps to not only create an account, but also adopt it as a form of daily or even weekly communication.
Although user adoption is slowing, existing users appear more engaged. According to the report, the average user is following a greater number of people and earning a greater reach through an increased number of followers. Existing users are also posting more content.
Once engaged in Twitter, the seduction of response, by a stranger or someone we know, combined with the allure of popularity is enticing and intoxicating. Many people fall victim to its addictive qualities as you are rewarded with feedback, connections, and presence through engagement. As such, Twitter is a rich network of opportunity to increase stature as measured through online social capital. Experienced users realize that the value of participatory media is powered by so much more than just simple tweets or conversations.
Paying it forward, reciprocity, and recognition are the investments we make in earning attention and awareness for the value we bring to the table.
When we realize that Twitter is far more than a tool to enliven self-actualization, "I Tweet therefore I am," we uncork the essence of who we are today and who we wish to become tomorrow. As such, we embrace nuances of self-branding by presenting ourselves through bios, locations, and outbound profile links. Users are making the connection that they can define and shape the experience of those who clickthrough to their profile in order to better present the persona they wish rather than the personality left open to interpretation and perception.
Social Media is making this world a much smaller place, linking us through the words we place into action and the topics, interests and passions we share. We're forging highly focused and expansive networks that engender opportunities for collaboration, education, and entertainment and as a result, we're finding comfort outside of our comfort zones. We are now citizens of international provinces where we establish the governance and culture and set the course for our new found freedom.
Relationships are seemingly evolving into relations, where we invest in connections of those we know and also wish to know.  However, while many users maintain following and follower networks numbering in the thousands, 82% of Twitter users maintain a network of less than 100 followers and 91% follow less than 100 people.
The Twitterverse is a living and breathing ecosystem that moves and adapts to current events and the moments of opportunity when someone is prone to sharing, responding, or viewing the activity of their friends and contacts.  Dan Zarrella and I previously discussed the art and science of retweets, and in this report, HubSpot examined user characteristics and patterns of use.
What, when, and how we share, read, and bookmark tweets is governed by what I call the attention aperture. Our attention aperture opens and closes to match our daily regiment. We are only susceptible to learning at different times than we are to sharing. And through the analysis of the greater collective, we can observe patterns in this activity.
HubSpot observed that Thursday and Friday are among the most active days on Twitter, with each accounting for 16% of total tweets. Furthermore, 10 – 11 p.m. is the busiest hour on Twitter, accounting for 4.8% of the tweets in an average day.
HubSpot also documented the distribution of Tweets per day to get an idea of when people are updating their status, but also most likely, ready to be introduced to new, relevant content.
In the report published in collaboration with Dan Zarrella, we observed that Monday and Friday were among the greatest opportunities for retweeting as those windows represented ideal time frames for when the attention aperture was wide open.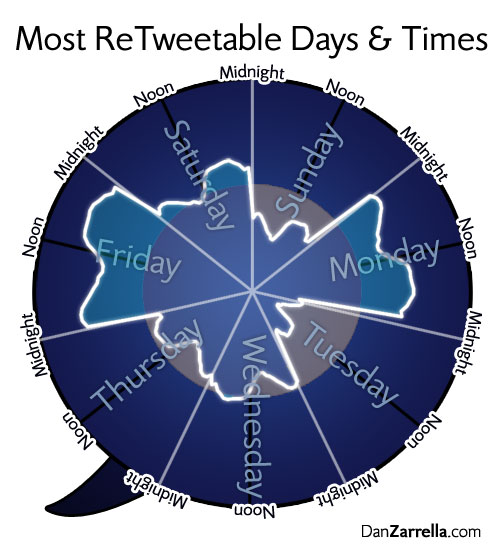 Believe it or not, I'm often asked, "what's the secret to retweets." People are often introduced to formulas and methodologies that are questionable at best, but presented otherwise. My response is direct and honest, "say something worthy of retweeting." And for good measure, I always throw in, "120 is the new 140. If you leave room at the end of your tweet for @username and potential commentary, you make it effortless for someone to RT you."
Billions of Tweets Now Served
According to the data, it appears that the growth of Twitter is indeed leveling. However, existing usage is only skyrocketing among the core group of users who didn't necessarily need Twitter to tell them how to get value out of ongoing engagement. According to recent research conducted by Pingdom, Twitter is serving more than 40 million tweets per day.
Most notably, on January 12th, 2010, Twitter co-founder Evan Williams published a Tweet that marked the company's busiest day…
Across all metrics that matter, yesterday was Twitter's highest-usage day ever. (And today will be bigger.)
In reviewing the astronomical rise of Tweets published by existing users, we see that Twitter is now serving more than one billion tweets per month – crossing over for the first time in December 2009.
From January 2009 to January 2010, the growth is practically blinding. Tweets, in just one year, ballooned 16x.
In the last three months, Twitter experienced month-to-month growth close to 17%.
November 16.8%
December 16.6%
January 16.9%
Pingdom estimates that Twitter will process around 1.4 billion tweets as soon as February 2010.
50,000,000 Tweets Per Day
We can't help but feel like we're running on a perpetual treadmill of rapid evolution courtesy of the blurring pace at which the real-time is Web is accelerating. When reviewing the recent Pingdom data, the first thing that comes to mind is, that was then, this is now.
Why?
In February, Twitter added its data to the mix revealing the magnitude and velocity of tweets. As of today, more than 50 million tweets are published in the statusphere, not to mention the distribution and syndication of those tweets across multiple social networks. According to the Twitter team, that's an average of 600 tweets per second.
For perspective, in 2007, Twitter hosted 5,000 tweets per day. In 2008, the number climbed to 300,000 per day. In 2009, Twitter was publishing an astounding 2.5 million per day and over the course of the year, it soared to 35 million, up 1,400%
Folks were tweeting 5,000 times a day in 2007. By 2008, that number was 300,000, and by 2009 it had grown to 2.5 million per day. Tweets grew 1,400% last year to 35 million per day. Today, we are seeing 50 million tweets per day—that's an average of 600 tweets per second.
The state of the Twitterverse or the Twittersphere if you will, has less to do with what "is" and more to do with what's possible. I'm focusing my time on the latter. However, it takes Twitter, as a technology and as a business, to realize that what it is and what it wants to be, is distanced only by the actions it takes today. Meaning, the user experience starts upon the initial visit to Twitter.com and it continues long after registration. There's much to be done – especially as Twitter has yet to truly demonstrate its value as an independent network for the masses.
I Tweet, therefore I am…part of a larger movement to expand awareness, literacy and connections that escalate causes and conversations that are greater than, but still complement, my purpose for engaging online.
Connect with Brian Solis: Twitter, LinkedIn, Tumblr, Google Buzz, Facebook
—
Please consider buying my brand new book, Engage!

—
Get Putting the Public Back in Public Relations and The Conversation Prism: