Guest post by Jennifer Leggio, Read her blog | Follow her on Twitter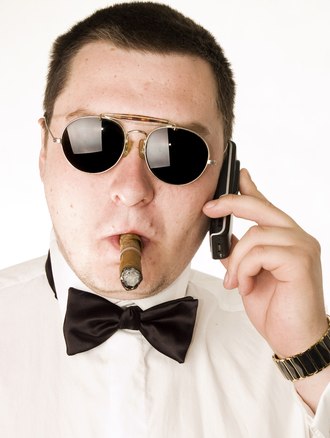 Source: Shutterstock
If you're dubbed a social media expert these days it's almost like getting marked for professional death. It's become even more popular to deny social media expertise as it has to claim faux expertise. Which means that the snake oiliest of the social media expert types have tried to give themselves a bit more oomph: they use the term consultant.
Social media expertise in general has become a joke, sadly, as there really are people out there who understand social media and how it relates to business. Unfortunately they get buried by the noise of the fakers. So I'm here to pick on those fakers, those consultants who make it harder on the good guys. Not all consultants are bad. Some of them actually do good work – Maggie Fox and Olivier Blanchard are two folks who do good stuff. But there are thousands of others who are simply… online.
The best quote I've heard came from the host of this blog, Brian Solis, at a Girls In Tech event I participated in this summer. He told Kara Swisher that the way some consultants talk, "you'd think they invented the conversation." It's true. Many consultants these days are making a fortune telling companies that they need to (gasp) talk to their customers. And because these consultants have a strong social media presence of their own these poor schmucks (aka companies) are listening.
You know the types. They call themselves innovators because they created a Twitter hashtag or have thousands of followers. They throw around buzzwords like "authenticity" and "transparency" and "presence." They think that all social behavior occurs on popular social networks. They've never lead a business.
What separates the good from the bad? A few simple things:
Proof of experience and demonstrated results. This comes in the form of a case study that shows how social media tied into the larger business strategy. It is not a discussion around tools. It's not just a marketing discussion, either.
Business leadership, not necessarily thought leadership. The latter is wonderful but it is abstract and not always completely applicable. How does it apply to your business?
Dig deep into a consultant's background and social media presence. Is he or she simply good at promoting him- or herself?
It's overwhelming, isn't it? You wouldn't think it would be so hard to find a consultant with those three things, but it is. And those are the only ones to which companies should give their money.
So I'd like to issue a challenge to you, good consultants. I would like each one of you who claim to be savvy and really helping businesses with their social programs, to tell us here in the comments why you're a viable option for businesses. Either link a case study or talk about your proven results or your business acumen. If you read this and think, "I have nothing to prove," well, you're wrong. You need to prove everything in order to be a bona fide, non snake-oily consultant. What's stopping you?

—
Jennifer Leggio aka Mediaphyter claims only to be an expert at causing a ruckus at hockey games. She writes ZDNet's social business blog and is an active member of the network security community. She can be found on both Twitter and Facebook.