I'm just returning from yet another year at the SXSW Interactive festival. The Geek Spring Break as its called is where thousands of digerati storm Austin Texas to learn, share and celebrate what I call the Social Economy. It's something so special that I often struggle to truly capture and convey the emotional essence and inspirational spirit that brings together innovation, ideas, and the people who galvanize change and evolution.
While the economy has crippled or altogether eliminated travel to the conferences and tradeshows that serve as the catalysts for IRL engagement, SXSW represents a spiritual and intellectual journey for many of us, fortifying the strength and future of the Social Economy and the relationships that bind us. SXSW represents something truly significant and meaningful – perhaps recession proof – and will rouse, enliven, and unlock an inner intellectual beauty that will make you even more remarkable than you are today.
The news surrounding the conference will focus on the hottest companies that launched at the show as well as the tools that powered the exchange of information. This micro-focused attention will eclipse the very thing that actually enabled those tools to succeed in the first place, the people and those whom they rely upon for affirmation, influence, and emotional stimulus.
Yes, Twitter, Facebook, FourSquare, and social media dominated the panels and hallway dialogue. It's also these and many other social tools that helped determine which parties were rocking and those that were not after the sessions. But it is the use of these tools that bring us closer together in the real world. And, social media will prove to become the single most talked about topic at SXSWi in the years to come.
When we peer into the looking glass into what truly made SXSW Interactive a unique and successful culmination of culture and real life networking, we see something very different and exceptional. The lessons learned here are prevalent to all who use the social tools to facilitate interaction with friends, associates, influencers, tastemakers, brand ambassadors, and your community.
The real story is the human network and the Social Economy that fosters the conversations that serve as its currency – on and offline.
But it's not just about the tools…it's about the emotional and psychological connection between people and our investment in the personal traits that others find irresistible.
Relationships….RELATIONSHIPS…count for everything here, and they're measured by the mutually beneficial rewards that all parties experience over time. We invest in each other and harvest the fruits of our collaboration and interconnection.
I follow you on Twitter!
We're Facebook friends!
I "like" you all the time on FriendFeed!
I subscribe to your RSS feed!
It may seem surreal, but it's fascinatingly real and momentous.
We're forging new and relevant links online. It's the metamorphosis from online to offline that validates and certifies connections and symbolizes true opportunity to develop genuine relationships.
We're putting faces to avatars while in person exchanges of emotions and sincerity replace emoticons.
I guess that's the point of this post. It's less about SXSW and more about the magic that transcends online relationships into real world friendships – whether professional or personal. And, it drinks like a glass of wonderfully aged, rich red wine that flirts with our senses, soothes our soul, makes us a little smarter, and tantalizes our being with every sip.
Each smile, hug, debate, gesture, token, handshake, nod, and conversation, dictates the potential and direction of that bond.
Take it in. This is your chance to build something wonderful and it's intoxicating.
We're bound by context and the digital conversations that we weave transpire through the physical collective and exchange of ideas and contact. Events centralized around your interests and passions, and the people that unite those around them, are omnipresent and ripe for your participation. Find or host a local tweetup or meetup. Attend or organize a local barcamp. Find professional conferences designed to help you improve how you engage.
Easier Said Than Done?
Andrew Keen, author of the best-selling book, "The Cult of the Amateur," asked a simple, but incredibly poignant question, "But, what if you're shy?"
It's a question that resonates with many as it's difficult for most of us to approach a complete stranger to strike-up a conversation.
Fear is an inhibitor in any economy.
This isn't traditional networking as we've known it. People and shared ideas and experiences are now at the forefront of architected congregation. An absence of information is not a factor in live, in-person dialog. Our interaction online has already removed many of the barriers the discourage physical introduction.
Remember, we're bound by context. Chances are, we already have something in common through the direct or indirect exchange of content on the social web. Our reputation precedes us and fosters a primed opportunity to further the dialog and value associated with the topics that envelope us.
Smile, extend your hand, and just say hello…
Courage is the minimum ante to excel in the Social Economy. However, the reward for each unique instance incrementally strengthens our confidence and is measured by the prosperity of our social capital. The return far outweighs the risk and fear associated with engagement.
Ask yourself, what are you going to do to make that exchange mean something, now and in the future and don't let it slip away.
Our actions online and in the real world define our character, establish authority, and attract corresponding personalities and personas that elucidate our social graph. It's what we represent in this world that determines our place within it.
The Social Economy is rich in collaboration and friendship. We are defining a new era of society and how we ultimately communicate with one another. The tools may affect how we correspond, but the dynamics of human relationships are constant and live and breathe through the sincere nuances of our actions. This is about the art of building, converting, and fostering meaningful relationships online > offline > and online again – in between the next physical encounter.
And all at once, you look up and find yourself surrounded by those who inspire you. This is your time to shine.
I'm thankful for meeting you in person and I hope I can one day meet those of you whom I've not yet enjoyed the opportunity to engage in the real world.
Connect with me on:
Twitter | Facebook
—
Now available: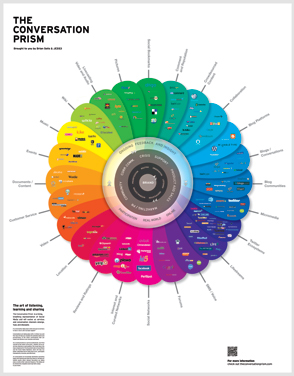 —