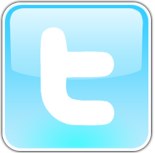 Twitter has us in a flutter.
Ev Williams, Biz Stone and team have created something so significant, that it's changing how millions of people communicate with each other – and it's only growing beyond imagination.
Twitter boasts a substantial community that is emphatically hyperactive, evangelical, and religiously loyal – all in productive and positive ways. The first two legitimate competitors, Jaiku, acquired by Google, and Pownce, a company co-founded by Digg's Kevin Rose, ultimately learned that Twitter's momentum was untouchable. Jaiku is migrating to an open source model to allow developers to roll-their-own microblogging services and deploy them on the Google App Engine. Pownce was acquired by Six Apart and shuttered, in its current form, for the time being.
In just a couple of years, Twitter has soared to new heights reaching 4.5 million visitors – that's a 752.9% increase in just one year.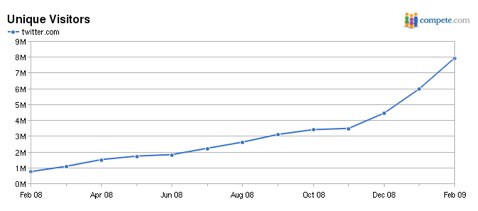 At its current volume of traffic, Twitter recently surpassed Digg according to Hitwise.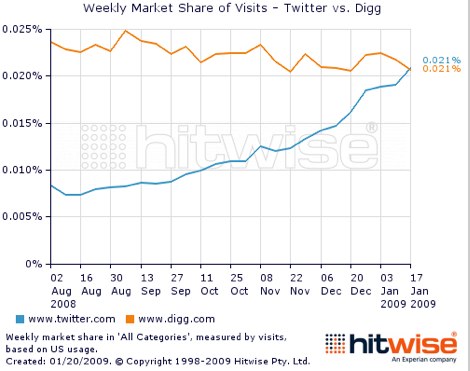 Twitter not only represents a detour in human interaction, its community is building highways, roads, cities, and a support infrastructure to power this new direction. It has created its own vibrant and flourishing ecosystem known as the Twitterverse.
From this point of view, Twitter already has created an important and promising new conversation platform.
Twitter has influenced how:
– Media connects with audiences
– Businesses listen to and respond with customers
– Communications professionals, marketers, and advertisers connect with the new world of influencers
– Journalists, bloggers, analysts, event organizers can get help and answers from the community, instantly
– Everyday people can create an in-demand personal brand to open new doors and create new destinies
– People are made aware of news and important information from all over the world
As Twitter gains in relevance and prominence, its conversation platform will ring the alarms of any business that monetizes relationships, connections, and information exchange.
Simultaneously, another company is also building a conversation platform that will force an intersection with any direct and perceived competitor and further reshape the mechanics of human interaction.
Facebook is a dominant player in the world of social networks and reports show that Facebook is now nearly twice the size of MySpace worldwide.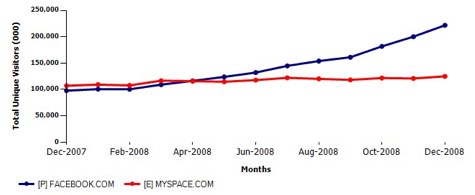 According to Comscore, 222 million people visited Facebook, representing a 10.8% monthly growth rate. Facebook boasts nearly 100 million more worldwide users than MySpace, which welcomed 4 million new users in December – bringing the total user base to 125 million. Perhaps more noteworthy, Facebook served 80 billion monthly page views in December with MySpace only serving 43 billion, receiving 22% of the total Internet audience in December. 22%!
Facebook's news feed combined with the new Facebook Connect infrastructure is setting the stage for a global conversation platform that may go unrivaled.
For those who aren't yet familiar with Facebook Connect, it is a technical bridge that grants access to partner communities using your Facebook profile/identity. Not only can you log in using one ID, it also sends the associated activity from each respective network back to your activity feed within Facebook for review and commentary from those within your social graph and the corresponding network of your contacts.
For example, if you're commenting on a blog hosted on the Moveable Type platform, you can now login with your Facebook details and not only will your comment and link to your Facebook profile appear on the blog, the activity of commenting is also linked back into your activity feed for your friends and colleagues to see. Facebook Connect partners already number in the hundreds of the most popular networks worldwide. Twitter is one of them.
Facebook is already hosting channeled conversations sourced from Twitter, FriendFeed, and many other notable communities with an audience that is undeniably substantial, captive, and vigorous.
Recently, Facebook quietly explored the prospect of acquiring Twitter, which resulted in both companies concluding discussions without alignment.
As a conversation platform, Facebook will only gain in importance, creating a precedence that may prevail as it aggregates the ability to share, read, and respond across multiple communities, from one centralized social hub.
In the meantime, Twitter will also continue to increase its stature as both a category-defining conversation platform and also an illustrious community that will further influence the dynamics of engagement and dialog, while attracting new users en masse.
UPDATE: Kara Swisher on whether or not Facebook, or someone else, should take another run at Twitter.
Connect with Brian Solis on:
Twitter, FriendFeed, LinkedIn, Tumblr, Plaxo, Posterous, or Facebook
—
Click the image below to buy the book/poster:
pr pr+2.0 pr2.0 public+relations marketing advertising interactive social+media socialmedia brian+solis social media media2.0 media+2.0 2.0 smo social+media+optimization marcom communication publicity advertising expert interactive spin brand branding guru social+architect