Mark Zuckerberg at Web 2.0 Expo

Evan Williams at TechCrunch50
Kara Swisher has written a tremendous post on Facebook's quiet attempt at acquiring Twitter. It inspired me to share my thoughts on the subject.
During the Web 2.0 Summit, John Batelle interviewed Facebook Founder Mark Zuckerberg, and if you listened closely enough, it was clear that Batelle was prodding Zuckerberg to validate the rumors that Facebook was exploring the possibility of acquiring Twitter.
With a teasing smile, Zuckerberg described Twitter an "elegant model" and professed that he was " impressed by what they've done."
Following the session, attendees poured into the hallways dissecting the dialogue to support or discount the prospect of such a bold acquisition.
Kara Swisher has confirmed the rumors, however, an acquisition is not imminent – at least not yet.
For the record, I had heard the rumors and was pretty confident that the discussions were taking place. What I couldn't fathom was how Facebook would leverage Twitter's unique model and culture as its community is radically more liberal and protective than that of Facebook. And, with Facebook Connect looming, it seems that Twitter, which is already appearing as an opt-in service in the Facebook News Feed, is only one of the many distributed communities that can collectively position Facebook as your central dashboard for managing the relationships that define your social graph and the information, content, and insight that defines, strengthens, and elevates it.

Mark Zuckerberg at F8 announcing Facebook Connect
For those who aren't yet familiar with Facebook Connect, it is a technical bridge that links your Facebook profile with other online identities and associated activity back to Facebook. It enables seamless integration between Web sites, pages, communities, and networks and the Facebook identity system. For example, if you're commenting on a blog hosted on the Moveable Type platform, you can now login with your Facebook details and not only will your comment and link to your Facebook profile appear on the blog, the activity of commenting is also linked back into your activity feed for your friends and colleagues to see. Digg will also allow Diggers to log on using their centralized Facebook ID and for each story they digg, the activity is documented back on their profile. Facebook Connect partners already number in the hundreds.
Did I mention that Twitter is one of the original Facebook Connect partners?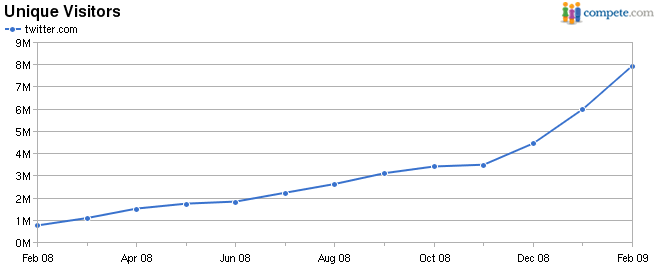 Twitter has grown by over 600% in one year. From a business perspective, I can understand why Facebook would consider engaging in negotiations. Twitter is currently reporting six million registered users and last month, the micro community experienced its greatest traffic to date – bolstered by the 2008 Election.
The deal was close to finalization, but (thankfully) fell apart for very valid reasons.
According to Kara Swisher's post, Facebook was attempting to acquire Twitter for $500 million in a pure stock deal based on Facebook's heavily disputed $15 billion valuation. Analysts peg the true estimate of Facebook's market value closer to $5 billion, which would have positioned Twitter's sale price at roughly $150 million – a number that investors, the board, and the company's founders believe is far too low. Just for the record, Twitter's investments total ~$20 million with a valuation of $98 million.
Twitter preferred a cash deal, perhaps with stock, and that's understandable in this market. And there's a pervasive sentiment that the company might just have a successful run at generating revenue while continuing to grow the community and redefine how its users communicate with each other in the process.
From Facebook's perspective, the stock offer was a conservative approach that reflects the business state of Twitter. The company is not only generating $0 revenue, but its basically a substantial cost centert. Among salaries and other expenses with innovating and managing the service, Twitter pays for SMS fees associated with each text-based update. Facebook estimates that this could cost the company upwards of $75 million annually if Twitter was rolled out to its 120 million users.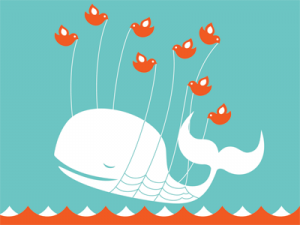 While this deal might equal a Fail Whale for the moment, it potentially could have equated to a Fail Whale had it closed. I'm not privy to the integration strategies the companies discussed had the acquisition completed, but I can attest to the Twitter pushback that would have immediately surmounted. In simply tweeting Kara's post this morning, I was confronted with an overwhelming sense of relief that the deal fell apart. This isn't to say that Facebook won't eventually acquire Twitter or perhaps one of its eco-dependent services that also enhance and centralize the distributed micromedia experience, something like FriendFeed perhaps.
When Facebook Connect rolls out Web-wide, the terms of any acquisition discussion will dramatically change as personal Facebook News Feeds will only increase in value as they connect disparate services from across the web, your updates and the updates of your friends, to a centralized social dashboard.
—