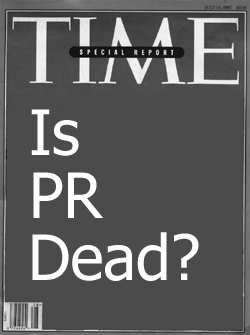 Source
Stop the presses…there's another "PR is Dead" meme that's circulating the blogosphere again. This time, all that's new is that many bloggers are revealing that they prefer discovering new and interesting products on their own and breaking the news before anyone else.
Welcome to the news business.
Any print or broadcast news reporter would say the same thing, and honestly, it's the competition and desire to break news first that's driven the business for over 100 years.
Did that kill PR?
Nope.
Does that mean that PR didn't play a role in the business of breaking news?
Hardly.
Perhaps the most troubling theme of this discussion however, is a very dangerous insinuation, disguised as expert advice, that suggests great products and services do not need PR. Certain bloggers are implying that "if you build it, they will come." While others imply that if you're great, people will notice what you do.
If you run a company and are considering DIY (do it yourself) PR, understand that it's not impossible to do so without an agency or consultant, but resting on the expectation that market leaders and influencers will discover it and create a surging groundswell of visibility and demand for your product is as likely as winning the lottery.
Yes it happens. People win lotteries all the time.
But do you, as the leader of the company's brand, responsibly gamble strategic opportunities to increase visibility and revenue for your business?
Of course not.
Hope and luck are not viable, effective or intelligent strategies for marketing any new product or service. Even the best products need help rising above parity and cutting through the noise.
It's proactive versus reactive. And, in a fast-paced world where attention is a precious and ever-thinning commodity, sitting on the sidelines waiting for someone to discover you or solely relying on experimental grassroots campaigns may cannibalize your opportunity to generate industry-wide attention, your way.
Let's not forget that some of the very bloggers who are suggesting that great products or people don't need PR are also among the first to tell you that they will not cover your news once the first person has already written about it, citing that it's "old news" – even if it's only a few minutes old.
There are some incredibly adept PR professionals who can help companies do the right thing, the right way. There are also many more PR people simply working the grind and dispassionately pumping out garbage and tarnishing the PR industry in the process.
With that said, there are some new, clever, and innovative ways to break news nowadays and any smart executive would be unwise and practically irresponsible to issue news without first researching published strategies or consulting experts prior to releasing potentially momentous information – whether they ultimately do it on their own, do nothing, or contract a consultant or agency.
PR after all, is much more than press releases, canned pitches, and email blasts.
Now that doesn't mean that Public Relations isn't broken.
It absolutely is…
Traditional Public Relations is old and most of the principles, methodologies, practices, and tactics have gone unchanged for decades. But, what has changed is that these processes are no longer as effective as they once were.
The reality is that the Web (1.0 + 2.0) has forced the transformation of the PR business from the edge toward the center – albeit slowly. Make no mistake, it's improving.
As I wrote earlier this year in "PR 2.0 = The Evolution of Public Relations, Nothing Less, Nothing More," the reinvention of public relations was sparked ten years ago and its just now gaining momentum.
1) PR as an industry is in dire need of evolution in order to not only stay relevant, but also prove that in the social economy, it can be one of the most effective forms of marketing that cultivates customers, ambassadors, and enthusiasts.
2) Social Media is not New PR. It is a classification of "socialized" media and it is inspiring new PR, but they are not one in the same.
3) Darwinism will weed out those who don't get it as well as those who pretend to get it (even if they don't realize they don't get it).
Those PR professionals that get it, will understand that much in the same way bloggers have created and earned notoriety and influence, that they too can harness the democratized, Social Web to cultivate an influential platform for which to help businesses generate strategic mindshare and presence. However, it requires an entirely new approach, mindset, commitment, and re-dedication to improving your craft, and with it, the rest of the industry will follow in your footsteps.
Welcome to what just may be the greatest evolution in the history of PR.
Connect with me on Twitter, Jaiku, LinkedIn, Tumblr, Pownce, Plaxo, FriendFeed, Plurk or Facebook.
UPDATE: Robert Scoble supports good PR and shares his tips for improving the landscape for PR 2.0. Thank you for the kind words!
Highly Recommended Reading for Startups:
Putting the Public Back in Public Relations
Free eBook: PR Tips for Startups
New Rules for Breaking News Part I and Part II
Addendum:
Some of the best in the business shared their insight on Robert Scoble's post, "PR-less launch kicks off a stack overflow of praise."
Jeremy Toeman, "My point was really about your comment that implies PR is useless. You'd never have heard of either Bug or Sling if it wasn't for PR…I completely agree with you re building good products, and I completely agree with you re 'me too' products. But neither statement should be interpreted as not needing PR… If anything – it's the really good ones that need the best marketing work done, to help position and distinguish them from the crowd…"
Francine Hardaway, "Wait, everybody! Define PR. PR is not a press release, or a crappy pitch. It's the process of letting the right people know something is available — the public for the product. so Robert and Jeremy, you are both correct. Ideally, word of mouth is best, but it's not fast enough for some publics (the tsunami is coming, run for the hills, quit eating Mexican peppers because they are causing salmonella). For those, press conference and press releases are best. –signed, Tired of Fighting to Explain This."
Miiko Mentz, "I love controversy, but I must admit this topic is getting old. It's as tired as the lame-ass pitches you are bombarded with on a daily basis."
Noteworthy:
Marshall Kirkpatrick wrote an excellent and well-balanced post on ReadWriteWeb that explores whether good tech needs PR.
Michael Arrington of TechCrunch explores the challenges of PR in a new media world.