Engaging with and empowering your customers as an extension of your marketing efforts isn't new. However, in the era of Social Media, there are new tools and philosophies to more effectively listen and engage with customers and in turn, cultivate a more significant community, enhance your brand, build relationships, and hopefully create evangelists along the way.
Participation is marketing.
Intention is everything.
Actions speak louder than words.
Don't get me wrong. This isn't about spam or doing what marketing seems to do best, "market at" people instead of creating dialog or contributing value. This is about honest and genuine engagement and how to do so through a new level of PR, Social Marketing, community management, and customer service using social tools driven by a meaningful, value-oriented two-way program. It's the only way to earn trust, incite word of mouth, and encourage loyalty.
To help, I've released a new free ebook, "Customer Service, The Art of Listening and Engagement Through Social Media."
Thank you to Becky Carroll of Customers Rock!, who contributed several chapters.
I'd also like to thank Connie Bensen for her sharing her ACDSee case study as well as Freshbooks and Frank Gruber of AOL.
You can download the ebook as a PDF or Word document here.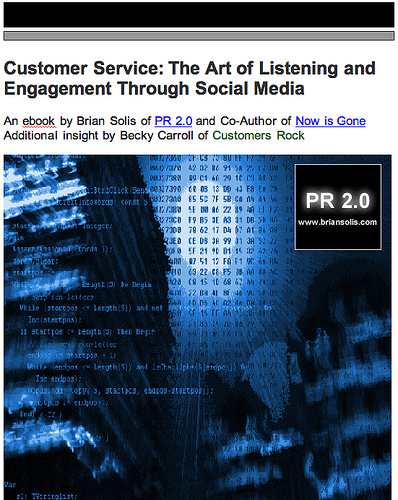 The ebook will be updated with contributions from some of my favorite voices on the subject. Stay tuned.
Also, make sure to read "The Company-Customer Pact" created by the folks at Satisfaction.
Connect with me on Twitter, Jaiku, LinkedIn, Pownce, Plaxo, FriendFeed, or Facebook.