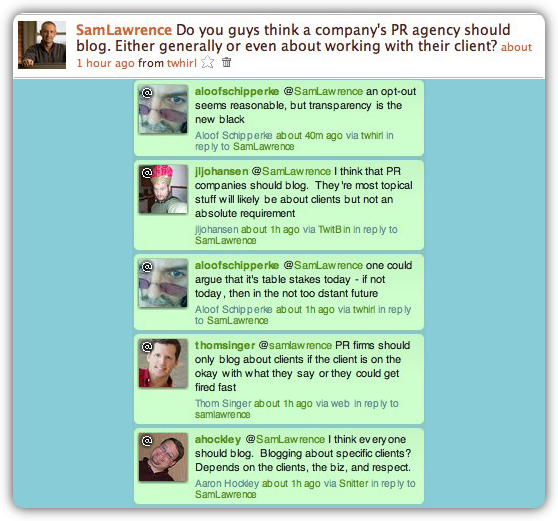 Sam Lawrence lit a fire under those in Social Media and PR today by sharing a story about whether or not his PR agency of record should blog about working with Jive Software.
Jeremiah Owyang, Chris Brogan, Strumpette, and many others discussed it on Twitter (my favorite place for listening to and joining amazing and insightful conversations.)
Sam's headline says it all, "I want our new PR Agency to blog about us but they don't want to."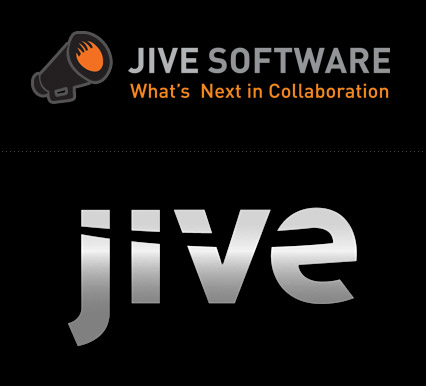 He's certainly no stranger to corporate blogging. The Jive blog is rich with community spirit, information, and ideas.
Lawrence continued, "Before we hired them, I told them I thought it would be cool if they blogged about their experiences working on our business. They told me it was a bad idea. I told them I wouldn't stop asking."
The agency contends that:
– They don't want to say anything that could damage relationships with the press or with clients
– They believe an PR Agency should be invisible
– They're not clear who the target reader would be
Just so we're clear…his agency's concerns are not invalid nor are they alone in their thinking.
Lawrence wants his agency to blog because he believes that they have a lot of interesting insight to share. His sense is that their real challenge is not too different than most companies, they're just not sure how to open up the kimono.
To say the least, Sam just called them out. A perfect first post in response could be, "Why we don't want to blog about working with Jive Software;" even if it's their first and last blog post.
I find this conversation very interesting because usually these days, it's the other way around. Agencies are begging clients to start blogging as a way of listening to, embracing, and conversing with customers.
After much personal research and experience, I've found that a genuine, helpful, humanized blog, combined with the art of cultivating and building relationships, can forge real connections, shape perception, improve customer service, and also enhance brand loyalty, reach, and resonance.
This discussion is symbolic and relevant for many reasons.
First and foremost, not everyone needs to, or should blog.
Some people just don't have anything interesting to say and that's OK. Not everyone needs to write a book, skydive, or sing karaoke either.
Yes, so openness and transparency are "the new black." But don't take it at face value. Think about it first.
Contrary to popular belief, sometimes being open can hurt your brand. It's just that simple and a reflection and reminder that we are all open to public interpretation and response. Social Media is a powerful medium and it can not be underestimated, taken for granted, or leveraged only because it's the new, hot trend.
The easy, and most important, answer on whether or not Sam's agency, or any agency or company should blog is, "it depends."
Yes, it depends on your customers. It depends on who you want to reach and why. It depends on where your customers go for information. It depends on whether or not doing so will benefit your community.
Instead of insisting that his agency blog, the real question for Sam to ask is, "Will blogging about the experience working with us enrich and improve or cheapen and distract the Jive community…"
The questions for Jive's agency to ask are, "Will blogging about this or other relationships benefit existing or potential clients? Will we establish thought leadership or give away our ideas. Are we capable of writing authentically and not like most PR people? Will this blog hurt or help relationships with media, analysts and bloggers?"
The process of thinking about this will yield invaluable insight, which can only help companies create a relevant and specific roadmap to define content, readers, format, and approach. I guess I should say, that this process is an absolute must before any company decides to blog, otherwise they're just blogging to blog (blah blah blah blah) – and that's never a good idea in the world of real business.
This discussion also highlights another interesting and significant point. Do most traditional PR agencies understand the dynamics of the blogosphere, let alone the task of writing and maintaining a blog?
The answer is profoundly, "NO!"
It is the source of the rising undercurrent of professional bloggers and "people who blog" who publicly flog offending individuals and complain openly about the PR industry. There's a reason why it is garnering so much attention and also frightening the sh!t out of PR pros .
Blogging, and Social Media in general, change everything and it has the power to create tremendous attention, whether you want it or not.
Traditional PR wasn't ready to contend with something it can not control. It is this fear that has PR scrambling to learn how to engage and also intimidates many away from blogging. The industry is learning, almost through a baptism by fire, that you just can't take the same mechanical approach to working with bloggers the way it has with journalists and analysts for so many years. And, you simply can't just acquire intellectual capital of those who do get it to instantly adapt. It requires a re-examination and reconstruction of the architecture of Public Rela
tions, with an emphasis placed on
"relations."
At the same time, the majority of writing that defines PR has been dominated by buzz words, hyperbole, and "messages" or defined by ghost-written articles and quotes that place contrived, insincere statements in the mouths of executives and spokespersons.
While it worked for years to generate reasonable success, whether you like it or not, the democratization of content creates and new playing field.
The industry has a lot to learn before it starts pushing content out through today's social channels. Some get it. Some don't. Others are learning. The point is that we can all contribute to and learn from this conversation in order to apply relevant principles and lessons-learned to our individual communications strategies.
This entire discussion, and process of exploration and discovery, is forcing the evolution of PR for the better.
This is about being authentic and building trust.
Now, whether Jive's agency, or all agencies, should blog about client experiences, the answer is, "it depends."
Here's what others have to say about the subject:
Craig Cmehil, Jive customer, "As a customer of Jive or any product really I would very much enjoy hearing what PR agency or any group that is working together with the company to improve it, enhance it, grow it, etc."
Darryl Siry, marketing expert, "I think your customers/community might care about what you have to say but why would they give a damn what your PR agency has to say? It would be a good sign that your PR agency "gets" blogging if they had a blog of their own that was relevant and interesting to their community but getting them to blog about working with you seems like a waste of time and money and wouldn't really do anything for you or your community. I agree with your agency that if they do their job well they should be invisible."
Marshall Kirkpatrick, one of my favorite bloggers, "I wonder if they are afraid of being made fun of for not doing a good job of it. I think most PR people believe they have a vested interest in looking supremely professional at all times and that's not easy to do with a new medium based largely on authenticity. Especially when you're in PR. Some of my favorite people are in PR, I swear. I actually don't think everyone needs to blog, either. Some folks just aren't good at it and would be better of doing their jobs."
I also received a few responses on Twitter: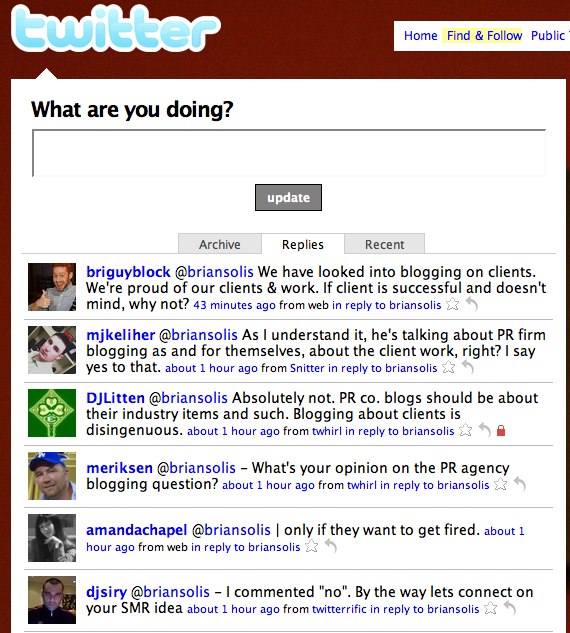 Connect with me on Twitter, Jaiku, Pownce, Plaxo, LinkedIn, or Facebook