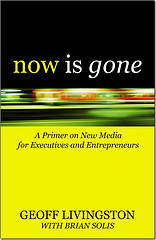 What a week!
On 11/27, I joined Mike McGrath and Geoff Livingston on Digital Society, McGrath's show on BlogTalkRadio, to discuss our book Now is Gone and the principles and strategies on how to use social media to engage your customers.
Then it was off to the annual PRSA Media Predicts event at the Computer History Museum in Mountain View. It was nice to catch up with old and new friends. I made sure to pass around Now Is Gone promo materials.
SiliconValleyWatcher's Tom Foremski
On 11/30, I joined Sally Falkow and Jennifer McClure of the Society of New Communications Research to speak about how to build a Social Media campaign at Bulldog Reporter's Advanced PR Technology conference in San Francisco. Lee Odden has a great summary over at TopRank.
Peter Corbett created a group for Now Is Gone on Facebook. And, Jane Quigley created a "Product" page for the book on Facebook as well. Thank you Peter and Jane! Join us…
Yesterday I found out that PR 2.0 made Liz Strauss' Successful and Outstanding blog list. Thank you Liz!
I also had the distinct pleasure of getting interviewed by Alan Levy, CEO of BlogTalkRadio, on his popular show on 12/2. We had a fascinating discussion about Social Media, transparency, relationships, and concentrated quite a bit on the Social Media Manifesto. Here's a link to the show.