This isn't an attempt at sensationalism, this is a clear message for all businesses, in every market – Engage or die! If you don't, you're competition will. Those who engage with customers and markets will cultivate loyalty in ways never before possible. Traditional marketers will lose, unless they embrace new media.
The key however, is finding ways to measure everything in ways that mean something at every level of corporate communications.
In any given day, I will sell, evangelize, educate, and defend social media to clients and business prospects. But then again, I seem to have to do the same for PR – as to this day, most executives have no concept of how PR works, nor the understanding of how it helps them.
But either way, when it comes down to it, businesses want metrics.
Last week, I had the opportunity to meet with a new player in an already crowded consumer electronics marketplace. It was a fascinating experience, because while it's considered by many experts to be a commodity play, this company happens to be one of the oldest, most trusted brands on the planet.
While we discussed PR opportunities, both traditional and 2.0, their greatest enthusiasm unveiled during potential ideas surrounding social media and the ability to engage their customers in conversations. More importantly, it was a glimmer of hope as it revealed that they too, might have held reservations about the potential for success.
Last week, Factiva invited a group of Social Media Practitioners, Bloggers, Corporate Program Managers, and PR consultants, to discuss metrics in Palo Alto and what was important to them as influencers, their executive team, and clients. Jeremiah Owyang hosted the roundtable and Daniella Barbosa from Factiva made it all happen.
This post isn't intended to serve as a summary of the discussion. Jeremy Pepper, Jeremiah, Christopher Kenton, and Daniela Barbosa, among others, have already captured it brilliantly.

Jermiah Owyang
My platform for the event was many-fold, as I wasn't there simply as a PR person. I'm also a blogger, and more importantly an advisor to many tech companies in a variety of industries including enterprise, consumer electronics, and Web 2.0. With each hat I wear, my answers vary.

Stowe Boyd, Greg Narain, Daniella Barbosa
My goal here is to emphasize key observations and critical points that must surface in order help social media permeate into day-to-day marcom campaigns – including skeptics and evangelists alike.

Jeremy Pepper
Here are some of the questions we discussed and attempted to answer?
– Do you believe Consumer Generated Media is important and should be measured?
– Who is creating Social Media? What are they creating? And is "the who" more important then "the what?"
– If you are producing Social Media, how will you measure ROI?
– Do you think that Social Media needs a structured, mutually agreed upon measurement techniques and metrics (e.g. MSM's ad value equivalence and article impressions) to make monitoring a more serious practice?
– So what should be measured, and how do you want it delivered?
I think we all agreed that CGM (the term) is dead. Let's just call it social media, and absolutely, it's critical that we track it. We call can agree that customers, peers, competitors, basically, everyone can and is generating social media. But it's not just about who, it's about "what" they're saying.
In this case the "I" in ROI becomes much smaller than previously factored. And, while we're at it, ROI for social media, should be measured in terms of "ROP," return on participation. Why? Because ROI is iffy at best when measuring the true value advertising, branding, event marketing and especially PR.
The mistake that most executives make is that they try to tie everything to sales. Advertisers link everything to circulation and page views. PR people tie column inches and online articles to ad value. How does any of this apply to social media?
Those of us in the space are actively finding ways to measure ROP – and many of the processes are painfully manual. Services such as Technorati, Buzz Metrics, Blog Pulse, Buzz Logic and Alexa help, but wouldn't it be incredible if there was a Techmeme or Tailrank for tracking conversations based on key words? Now that's a winner right there! It's the only service that could measure "conversations" and we all (or we should all) know, that markets are conversations now more than ever.
ROP is specific to the measurement of "participation" which is, at the end of the day, what separates social media from traditional marketing. ROI is a metric when marketing at customers. ROP measures conversations with customers and customers conversations with others.
After all, social media isn't only for companies that "get it." In fact, my greatest challenge is trying to help those companies that need it, understand and embrace it to not only succeed, but also survive.
Some of the ideas that were introduced for measurement include (through my creative mashing-up of many of the ideas tossed out there):
– Relevance
– Influence and reach
– Community, engagement, participation, comments, etc.
– Demographic
– Sentiment/tonality of the post
– Ranking, via Alexa, Feedburner, downloads, etc.
– Blogroll
– Meme, tracking conversations
– Readers and loyalty
Based on the voting, the following were the results:
Photo Credit: Jeremiah Owyang (see more from the set)

The Results, Photo Credit: Jeremy Pepper
#1 Participation – Engagement
#2 Influential ideal, memes, path
#3 Relevance
#4 Sentiment / Tone
According to Jeremiah, "Measurement depends on what the business goals are. Some folks tied measurement back to hard ROI: (Does Social Media shorten the sales cycle/reduce cost, and does it increase revenues)."
However, most of the discussion focused only on measuring bloggers. To me, bloggers only represent one, albeit highly influential, piece of the social media landscape. However if we're talking about social media as it relates to CGM, then services such as YouTube, Facebook, MySpace, flickr, Yahoo Groups, LinkedIn, among thousands of others are also relevant for metrics.
One important observation regarding bloggers is that it's not just about the most influential bloggers out there, it's about the "magic middle." These are the people who recognize valuable content and in turn share it amongst each other. With the right tools, conversations can then be tracked throughout the traditional marketing bell curve, while inside the tornado, riding the cluetrain, crossing the chasms along the way.
Perhaps the most critical element of any of this is to combine existing metrics with new measurement standards in order to make this whole process tangible and easier to embrace. ROI + ROP.
Engage or die!

Andy Lark
Here's a partial list of attendees courtesy of Factiva's Glenn Fannick
– Stowe Boyd, BlueWhale Labs /
– Andrew Lark, Founder, group lark
– Ed Terpening, VP Social Media, Wells Fargo, Wells Fargo Blog Index
– Christopher Kenton, MotiveLab,
– Jeanette Gibson, New Media Communications, Cisco
– Brian Solis, FutureWorks PR / PR2.0,
– Ian Kennedy, Product Manager, Yahoo, flashpoint
– Jeremy Pepper, Social Media, Weber Shandwick / POP! PR Jots
– Jory Des Jardins, Co-Founder, BlogHer, LLC;
– Mike Manuel, Strategist, Voce Communications, Media Guerrilla
– Andrew Vignolo, Director, Market Trends & Analytics, Levi Strauss & Co.
– Jeff Beckman, Director, Worldwide and U.S. Communications, Levi Strauss & Co.
– Tony Obregon, Director of Social Media, Cohn & Wolfe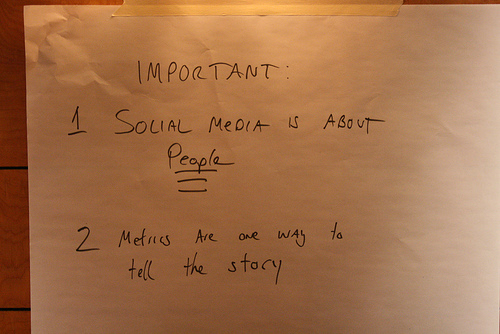 For more pictures from the event, please visit the stream on flickr. You can also visit Jeremiah's set on flickr.
Please keep this story relevant, vote at NewPR!
Roi rop social media social+media factiva pr bloggers metrics jermiah+owyang daniella+barbosa jeremy+pepper cgm web2.0 web+2.0 technorati buzzlogic techmeme tailrank alexa feedburner stowe+boyd greg+narain brian+solis pr2.0 pr+2.0 blogher Andrew+lark grouplark group+lark lark marketing advertising marcom communications public+relations