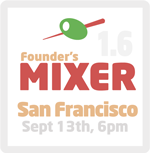 This was STIRR 's sixth event and there was no doubt that it was the biggest to date. In fact they had to move from Blue Chalk in Palo Alto to The Whisper Lounge in SF in order to accomodate the growth. In discussions with Sean Ness and Joanne Wan, estimates were easily placed at about 225.
225…? Kudos STIRR team!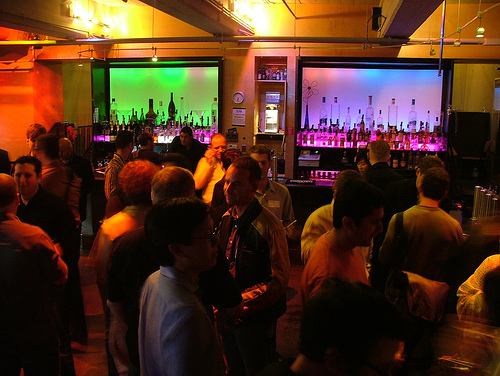 STIRR is an effective mix of "live" social and business networking among a highly qualified crowd of tech innovators, Web 2.0 execs, entrepreneurs, VCs, bloggers, and journalists.
The STIRR team:
Sanford Barr, Co-Founder STIRR, The STIRR Network
Sean Ness, Co-Founder STIRR, Institute for the Future
Dan Arkind, Co-Founder STIRR, Indico Group
Joanne Wan, STIRR Business Development, Strategic Decisions Group
So excuse the gushing intro here, but STIRR among other events, including the Silicon Valley and SF NewTech Meetups, are by far a blinding beacon for the new economy (albeit painfully humbled,) which is quickly gaining traction among those helping in the Valley's resuscitation.
According to my friend "Skeptic" from Dead 2.0 , I'm the softball when covering these events. That's cool. I know I'm an optimist when it comes to seeking a resurgence in, not only the technology sector, but also inflating the enthusiasm and spirit in Silicon Valley in general. I mean, really, how long do we have to continue to bow before the almighty dollar before we figure out how to transform it into some fortuitous multiple that pulls us out of our nuclear shelters for good!
Throughout the evening, I held countless discussions with attendees commenting how the latest series of TechCrunch parties were really getting too big to effectively "network."
STIRR's Joanne Wan commented, "STIRR helps everyone keep a pulse on the market and encourages them to talk and explore opportunities to work together."
TechCrunch and Michael Arrington are in a different league however – not necessarily better, just different. To attend a TechCrunch party is more like going to a concert and getting to hang out back stage. While the TechCrunch parties didn't necessarily start that way, they've simply evolved into monstrous, glamorous affairs, but they do not take away one bit of STIRR's relevance. It's all about the rising tide. Everyone floats up together, just in different ships.
STIRR, after all, is much more than a forum to cover Web 2.0 applications, this is a monthy spotlight on the rebirth of Silicon Valley.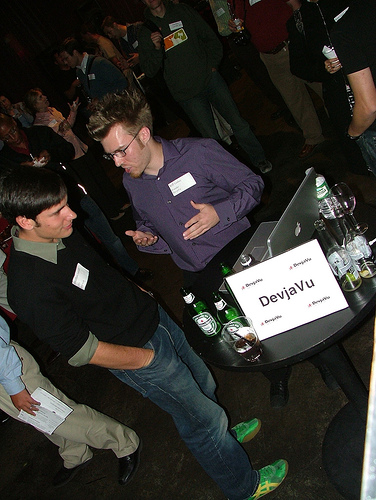 Onward to the "original" 60-second spot…

In an interesting change of format, CNET 's Rafe Needleman was the guest interviewer at this Founder's Mixer, and, he seemed right at home. As one of the principal journalists covering Web 2.0, it truly elevated the segment.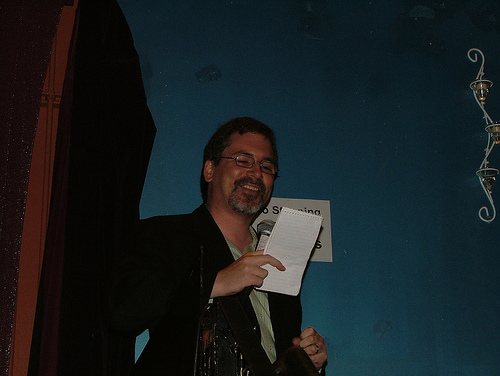 While the infamous staircase continued to serve as the stage for the presenters, the enthusiastic crowd somewhat stymied the trademark 60-second spot. It was excruciatingly difficult to focus, but to the credit of the presenters, they let it roll. Especially Rafe, who seemed to successfully take it all in stride.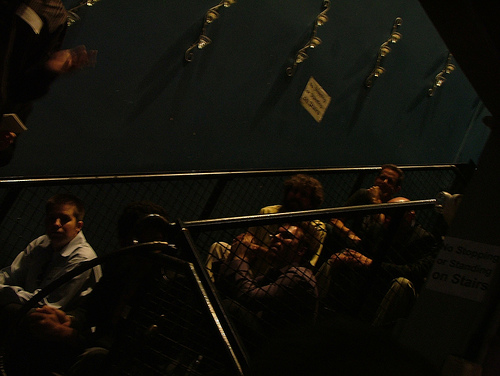 The Presenters
So, let's just excuse those in the audience that brought their virtual megaphones and have them check those at the door for 1.7.
The Presentations…
30boxes , Narendra Rocherolle, Principal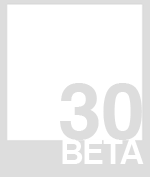 I covered 30 Boxes in my wrap-up of the August Silicon Valley NewTech Meetup.
30 days 30 boxes. An online calendar that lets you organize your life and connect with friends. 30 Boxes is brought to you by the minds of Eighty-Three Degrees , Inc.
Eighty-Three Degrees is a small software firm exploring online consumer applications with an eye for improving the user experience, eliminating complexity, and making use of increasingly open systems.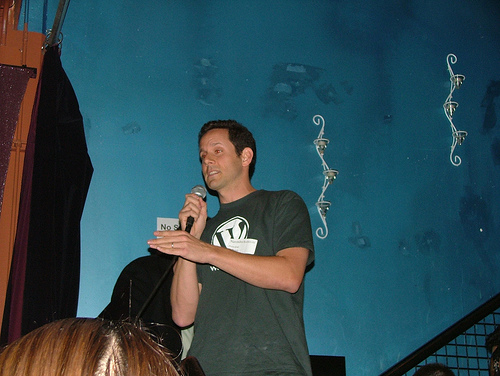 ClickFacts , Michael Caruso, CEO

ClickFacts, Inc. develops auditing software for Internet advertising. They deploy proprietary technology that helps publishers and advertisers detect and prevent click fraud and define a TrueROI. I loved the live demonstration of throwing money away. It was, for a split second, a reminder of Web 1.0 business practices.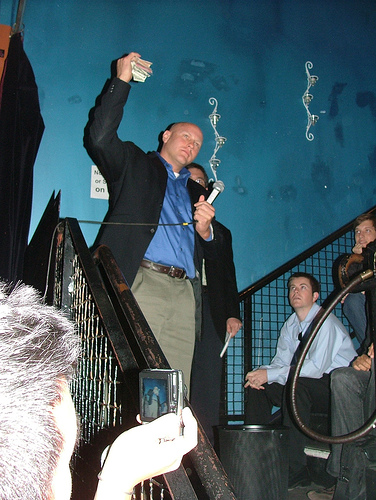 DevjaVu , Jeff Lindsay, Founder

DevjaVu is a small startup in San Jose, California with the purpose of encouraging people to start projects that might change the world. Their goal is to lower the barrier to entry that comes with the idea of starting a new software project by making it as easy as possible to jump right in and focus on making it happen.
DevjaVu is a great fit for both open source projects and private internal projects. They hope to be the next place you go after registering the domain for your next software project, big or small.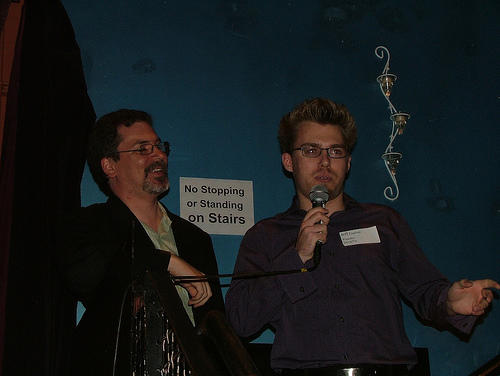 Tariq Krim, CEO & Founder Netvibes

Netvibes.com is a startup company created in 2005. Based in Paris, the company "specializes" in Web 2.0 applications. Netvibes is a custom home page solution, which is free and basically gives the user the ability to create a personalized page with the content they like. The can put together data feeds and services with a very simple interface with access anytime and from any computer.
Users can browse, modify, and import RSS feeds with an integrated RSS/ATOM feedreader. They can also import, download and listen to podcasts without any additional software and can even check their gmail account and stick-on web notes.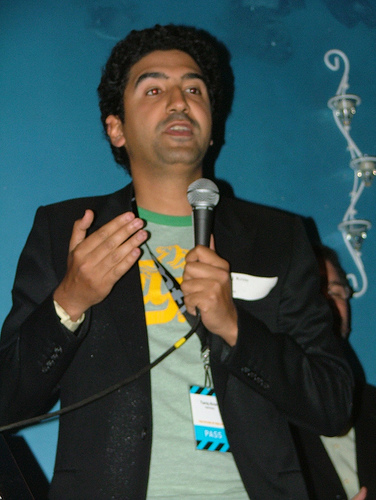 SpyMedia , Bryan Quinn, President

I covered them in a recent post following their presentation at the Silicon Valley Newtech Meetup earlier in the month.
SpyMedia is a privately funded company that offers an online market for photos, where a buyer can set a price for a photo they want someone to shoot — and sellers can set prices for the photo they want to sell. It is ideal for amateur and even professional event and news photographers, as well as citizen and cellphone journalists.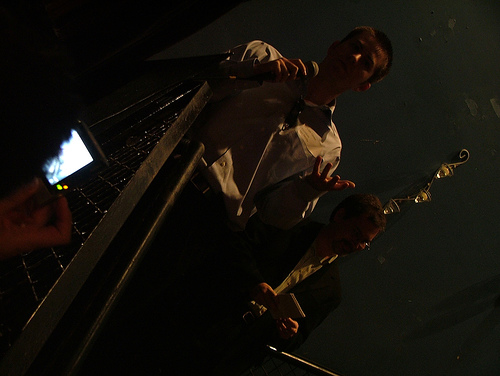 ZapTix , Christian Perry, CEO

Small venues and event organizers use ZapTix to sell their tickets online. Founded in May 2005 by Christian Perry, ZapTix empowers performance groups, organizations, companies, conventions, and individuals to sell tickets and organize events online.
It was started with $12,000 and has already earned net proceeds of $35,000.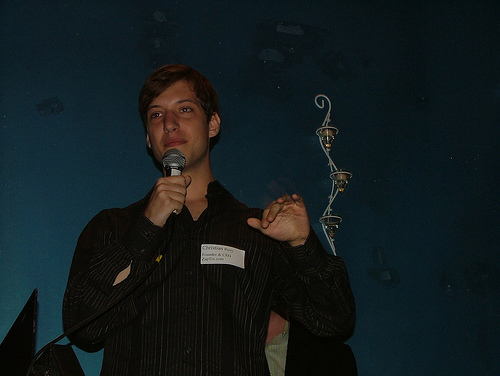 Back to the action…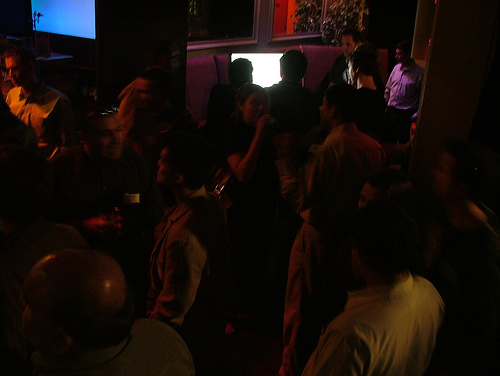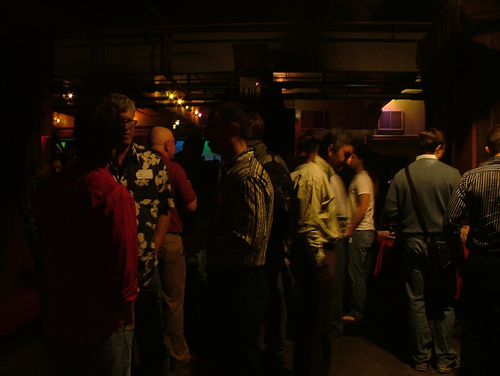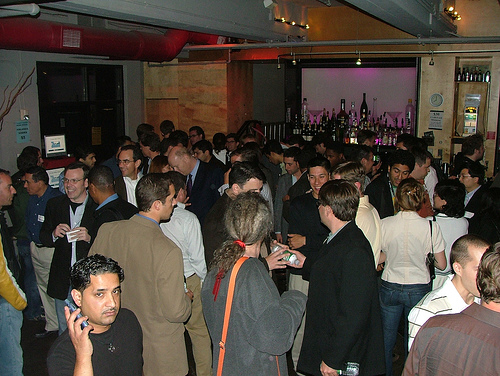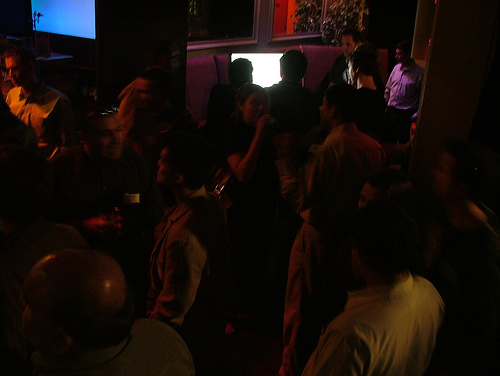 I mentioned to Sean Ness that the quality of the crowd seemed to actually improve with each event, and he responded, "It's all about 'initiation only.' This way we can control the caliber of attendees and keep them relevant and conducive to more effective and meaningful connections. It's our way of maintaining a highly qualified audience. While other events peak and lose their core audience because of a proliferation of various attendees, STIRR focuses on the attendees that matter."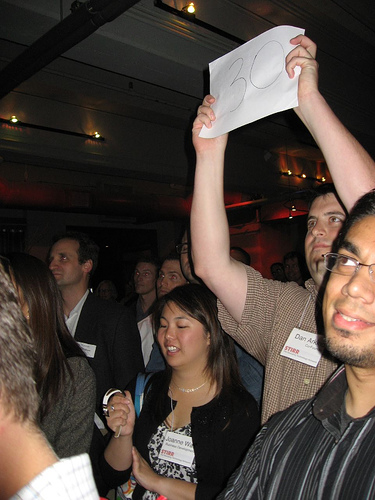 Joanne Wan and Dan Arkind – Photo Credit: FngKestrel
While trying to make my way around the room, I had the opportunity to meet and speak with several stand-out entrepreneurs, execs, and media, all of whom I believe are "people to watch" or already making a difference:
My man Stowe Boyd, goes without saying… Message
Marc Canter
Jessica Hardwick, CEO of SwapThing
Priya Ganapati, journalist at Red Herring
Ryan Olson, journalist at Red Herring
Laurence Toney, VP Marketplace Operations, art.com
Greg Narain, CEO at Social Roots
Ranvir Gujral, CEO of InsightPath
Todd Parsons, EVP Products & Services, BuzzLogic, Inc.
Vic Podcaster ( blog ), Blogger and Founder, HotFromSiliconValley
Scott Beale ( blog ), primary tentacle, Laughing Squid
Lawrence Coburn ( blog ), founder, rateitall, inc.
Julie Davidson, Principal, 30 Boxes
Mital Poddar, VP Marketing, SwapThing
Neil Kumar, Software Engineer, Yelp
Kevin Burton, Founder/CEO, Tailrank
Peter Pham, Sr. Director, Business Development, Photobucket
Joe Hurd, VP, Business Development, VideoEgg, Inc.
Jennifer Wasson, Co-Founder, Track50
Ivaylo Lenkov, CEO, SiteKreator
Khalid Shaikh, Founder & CTO, YouSendIt
Jesse Friedman, CMO, ZapTix
Shannon Clark, Founder, President, MeshForum and JigZaw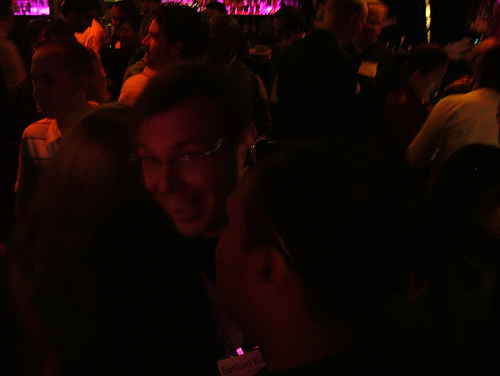 Sanford Barr
The size of the crowd, combined with the meaningful conversations I was engaged in limited my ability to connect with everyone. Those I tried to connect with, but was held back due to uncontrollable obstacles included:
Matt Marshall, VentureBeat
Jeremy Pepper ( blog ), Group Manager, Weber Shandwick
Emily Chang, Co-Founder, Ideacodes
Ethan Prater, VP Products, Jigsaw
Brian Oberkirch, Social Media Consultant, Social Media Consulting
Thor Muller, Managing Director, Rubyred Labs
Brian Sullivan, Founder, CivicEvolution (Well we met at SF NewTech)
James Hong, cofounder, HOTorNOT
Rohit Khare, Director, CommerceNet
Beatrice Tarka, CEO, co-founder, Mobissimo
Alex Vikati, Co-Founder, CastTV
Lee Diamond, Associate, Silicon Valley Bank
Dan Arkind, Co-Founder STIRR, Indico Group
Daniela Barbosa, information consultant, factiva
Lanet Khoda, Partner, LANETWORKS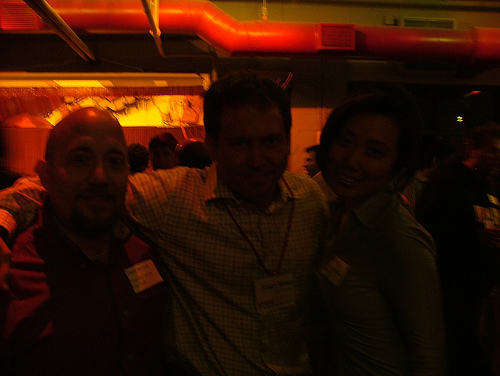 Ness and friends
Interesting highlights:
Ranvir Gujral, CEO of InsightPath mentioned that they're almost ready to go into alpha. I'll learn more this coming week.
Vic from HotfromSiliconValley announced that he will host the podcamp west unconference in November.
Jessica Hardwick, CEO of SwapThing is rolling out a new "localized" version of the online trading service.
Khalid Shaikh, Founder & CTO, YouSendIt mentioned that after being in business for three years, with 37'ish employees, the company officially launched on the 12th.
Todd Parsons, EVP Products & Services, BuzzLogic, Inc. mentioned that the "buzz" around the company is quickly ramping up. I'm looking forward to a demo.
Stowe Boyd gave me the breakdown on the Future of Web Apps conference.
At the end of the night, I was talking with Jennifer Wasson, Co-Founder, Track50 and Jesse Friedman, CMO, ZapTix about a potential alliance between the two companies. It actually was an ideal match, track your favorite bands with Track50 and then buy the tickets when they come into town through ZapTix.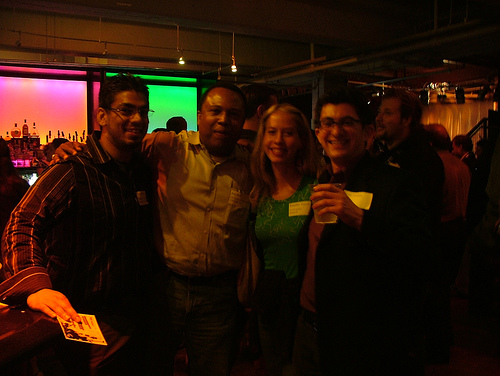 Khalid Shaikh, Joe Hurd, Jennifer Wasson, Jesse Friedman
I am taken aback just thinking about 1.7. Honestly, STIRR instantly outgrew the Whisper Lounge, so I'm eager to see what the October event holds for us. Either way, I'm looking forward to it.
If you know of any potential deals or alliances forged, have any additional information, highlights, etc., please send them along or leave a comment. Also, if we didn't get a chance to meet, please send me an email at pr2point0@gmail.com .
Links: For pictures from the event, click here to jump to the Flickr photo stream.
Digg This!
Tags: STIRR , 30boxes , , Clickfacts , Michael Caruso , devjavu , Jeff Lindsay , netvibes , Tariq Krim , spymedia , Bryan Quinn , Zaptix , Christian Perry , Stowe Boyd , Jessica Hardwick , Swapthing , Priya Ganapati , Red Herring , Ryan Olson , Laurence Tony , Art.com , Greg Narain , Social Roots , Rafe Needleman , CNET , Ranvir Gujral , InsightPath , Todd Parsons , Buzzlogic , Vic Podcaster , hotfromsiliconvalley , Scott Beale , laughing squid , Lawrence coburn , rateitall , Julie davidson , neil kumar , yelp , kevin burton , tailrank , peter pham , Photobucket , jue hurd , videoegg , jennifer wasson , track50 , sitekreator , Khalid shaikh , yousendit , Shannon clark , meshforum , jigzaw , matt marshall , venturebeat , Jeremy pepper , Emily chang , ideacodes , ethan prater , brian oberkirch , marc canter , thor muller , rubyred labs , brian sullivan , civicevolution , james hong , hotornot , rohit khare , commercenet , Beatrice tarka , mobissimo , alex vikati , casttv , lee diamond , siliconvalleybank , dan arkind , inidco group , Michael arrington , techcrunch , Daniela barbosa , factiva , futureworks , Sanford barr , sean ness , brian solis , web2.0 , web 2.0 , briansolis , vc , venture captial , newtech , meetup