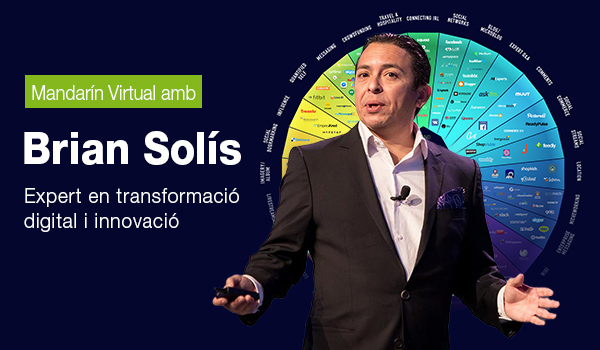 Digitalitzar-se o morir. Si alguna cosa no ha aturat la pandèmia provocada per la Covid-19 són els plans de digitalització de les empreses. Al contrari, s'està convertint en un accelerador de la transformació digital de les organitzacions. La innovació ha permès reduir part de l'impacte provocat per l'expansió del virus i mitigar alguns riscos. D'altra banda, les possibilitats del teletreball han contribuït a frenar les aturades de producció i a donar continuïtat a molts processos clau per a nombroses empreses.
Per afrontar la transformació digital de la manera més efectiva possible, Dircom Catalunya ha convidat a una nova sessió del cicle Mandarin Virtual Brian Solís (www.briansolis.com), reconegut com un dels principals gurus en transformació digital i innovació, i actualment Innovation Evangelist de Salesforce, considerada l'empresa més innovadora del món. La seva investigació ajuda executius i marques a entendre millor la relació entre l'evolució de la tecnologia i el seu impacte en les persones i les empreses. Creador del concepte darwinisme digital (les empreses que no s'adaptin, moriran), Brian Solís oferirà als socis el seu coneixement i la seva anàlisi sobre un dels principals reptes per a totes les empreses i institucions avui.
La sessió comptarà amb servei d'interpretació simultània.
22 de setembre de 2020
De 17:00 a 18:00 hores
Tobada via ZOOM
SOBRE EL PONENT

Brian Solís és un antropòleg i analista digital i ponent reconegut a nivell mundial. Durant gairebé 30 anys ha estudiat i influït en els efectes de la tecnologia emergent en els negocis i la societat. El 2008 va presentar per primera vegada The Conversation Prism, la famosa infografia que oferia amb una ullada tot el panorama social de més impacte a internet. És un del "Top 10 People to know in Sillicon Valley" i ha estat anomenat "blogger de l'any" per PRWEEK en nombroses ocasions.
És autor de llibres d'èxit com The End of Business As Usual, What's the Future of Business o Lifescale.