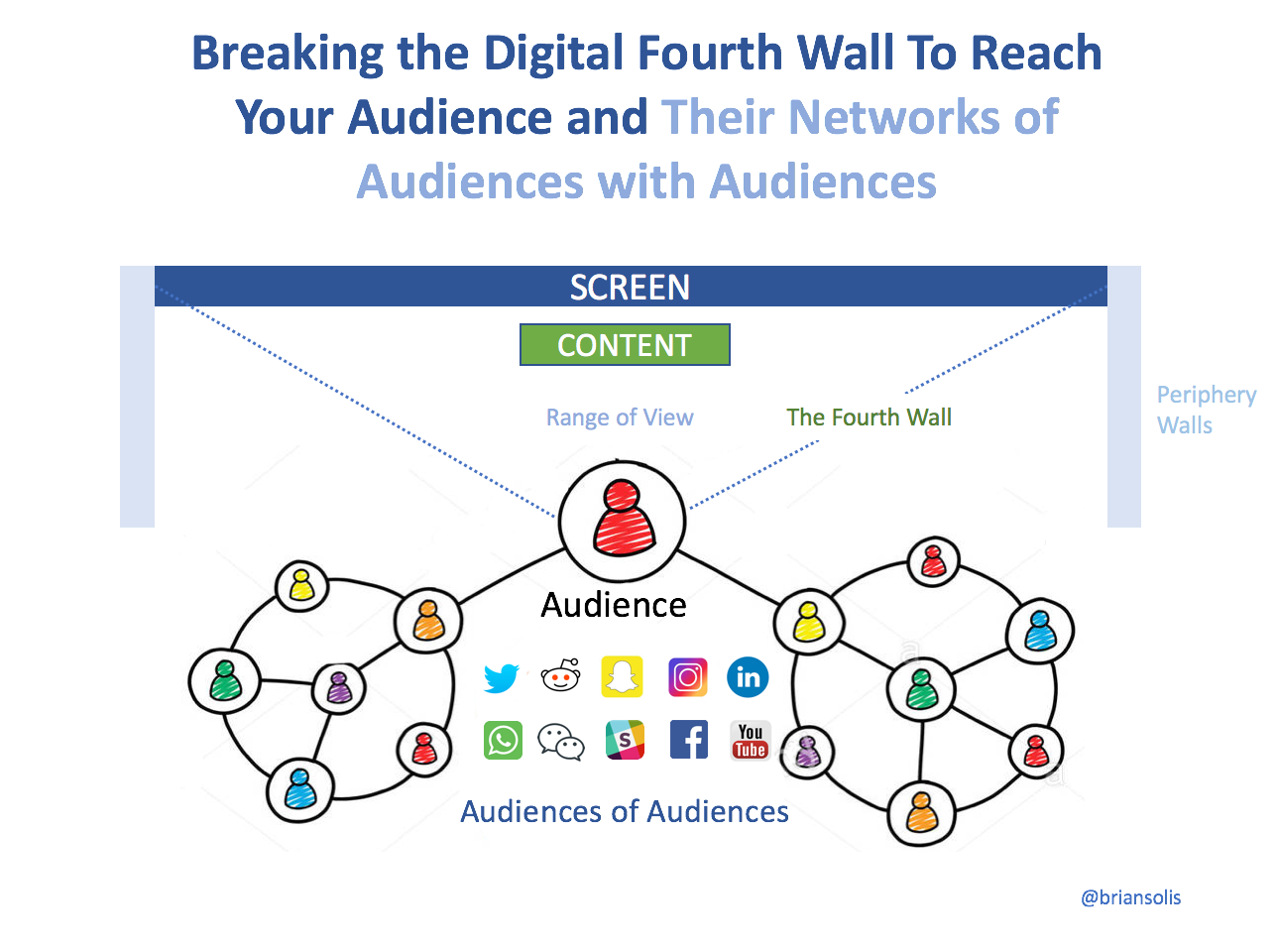 The fourth wall is the space that separates a performer or performance from an audience. A character, actor, author or storyteller "breaks the fourth wall" when they address the audience directly. 
As an analyst, author, blogger, podcaster and creator, I am by default, in the content business. Dedicating time to produce my work matters not if no one happens upon it. But once someone discovers my work, it must convincingly pierce the fourth wall between the medium and them to connect and inspire a meaningful reaction.
Publishing for an audience of one is critical these days. People must believe that they are heard, validated and in some way, part of the artifact…as if I was able to put words to what they were thinking or feeling. But it takes more than engagement. In an era of social media, the ability (and gift) to talk to one person unlocks the ability to talk to many others like them.
Creators must appreciate that everyone now has an audience with an audience of audiences. Thus is social networking. The ability to talk to and through someone is now an art form and a very special and mindful approach to shared storytelling. To shift from impressions to expressions, takes a different level of thoughtful and empathetic design. We now must consider content that breaks the fourth wall between producer and audience and also between audience and their audiences.
I wanted to share a recent and personal presentation I shared at Facebook HQ in Silicon Valley. I learned a lot in the development of WTF and X and I hope I can, in some way, help you better and more genuinely connect with your audience of audiences. Plus there's a bonus "10 Commandments of Marketing" at the end.
About Brian
Brian Solis is principal analyst and futurist at Altimeter, the digital analyst group at Prophet, Brian is world renowned keynote speaker and 7x best-selling author. His latest book, X: Where Business Meets Design, explores the future of brand and customer engagement through experience design. Invite him to speak at your event or bring him in to inspire and change executive mindsets.
Connect with Brian!
Twitter: @briansolis
Facebook: TheBrianSolis
LinkedIn: BrianSolis
Instagram: BrianSolis
Youtube: BrianSolisTV
Snapchat: BrianSolis