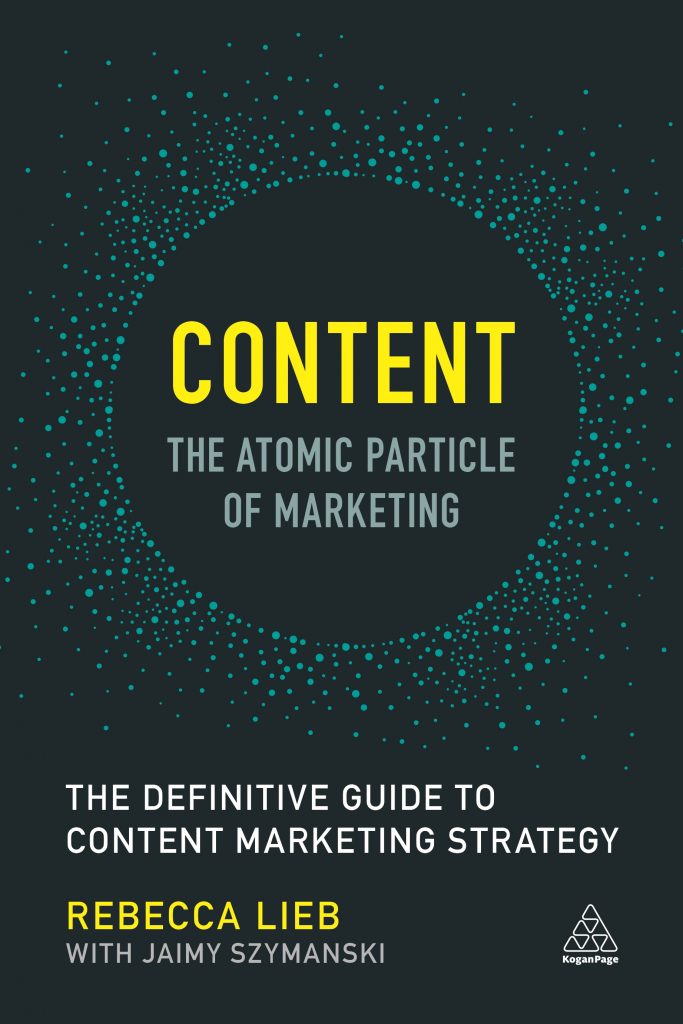 Guest post by Rebecca Lieb and Jaimy Szymanski, Content: The Atomic Particle of Marketing
In the "phygital" world that marries our physical and digital presences, content is ubiquitous. Only by offering content through the lens of context can marketers achieve relevancy to today's uber-connected consumer.
Beacons, sensors and the Internet of Things (IoT) are moving marketing past the screen to the objects, places, and even the conditions (weather, holidays, sales) we occupy and experience in the real world. Contextual marketing will soon be an essential tool for keeping track of customers across devices, locations, and purchase cycle. Brands must begin experimenting now.
Contextual campaigns go well beyond "the right message to the right person at the right time." Location, for example, often plays a role. Automotive dealerships are using beacons to determine which customers visit the showroom versus the service department, enabling them to connect contextually, with the right messages, based on hyper-granular location data.
All of this is super-cool, of course, but what are the actual benefits of contextual campaigns, not only to marketers but also to the organizations they work with, as well as to the consumers they interact with? Our latest book, Content: The Atomic Particle of Marketing (available for pre-order from Amazon) reveals 18 benefits. Most, but not all of them are directly related to marketing (see Fig. 1 below). In this post, we'll explore consumer benefits as they relate to the digital customer journey.
Fig. 1. Contextual Campaigns: Ecosystem of Value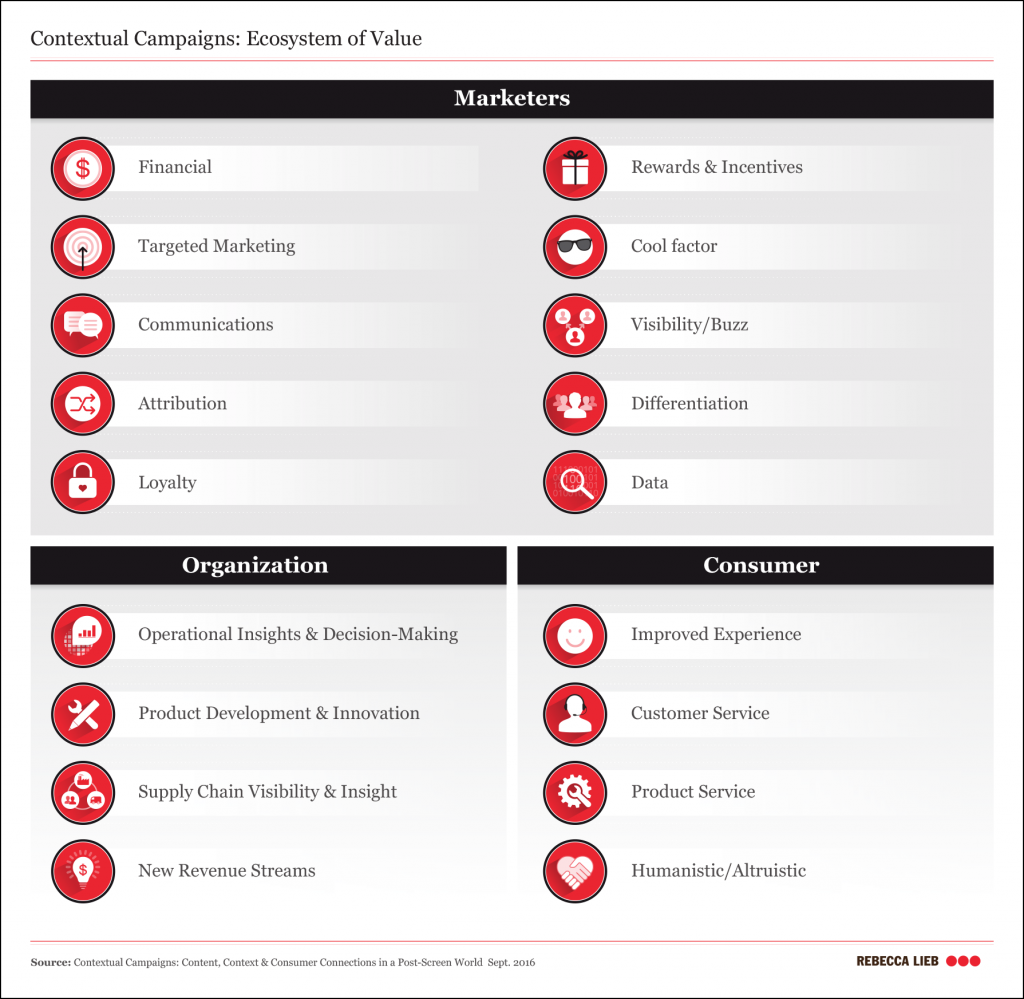 Consumer Benefits of Contextual Content
Unless there's a benefit to consumers, forget about marketing contextually. Without clear benefits (and, of course, informed opt-in), context will almost inevitably come across as creepy and Big Brotherish.
Marketing's future will be based on experience, service, and utility, as consumer attention becomes an ever-scarcer commodity. Content is ubiquitous. To thrive and to differentiate, brand must evolve from Content > Context > Connection. There are four ways brands can achieve this to deepen customer relationships, singly or in combination:
Entertaining Customer Experiences: storytelling and other forms of entertainment. Improved experience is a huge benefit. Helping consumers to use a product or, as Home Depot does, find an item on their shopping list when they're in-store, provides a distinct advantage. Contextual experiences can surprise, delight, assist, inform, and entertain consumers, leading in turn to increased loyalty, word-of-mouth, and brand favorability.
Deeper Information: providing knowledge, decision-making tools, etc. Companies can simply be helpful and useful in a general sense in a way that's relevant to the brand. Sportswear and equipment retailer REI offers a digital concierge service to America's National Parks, helping their customers find the right hiking trail, or keep abreast of weather or other important conditions.
Enhanced and/or Streamlined Services: improved customer and product services, more convenience, and less friction (e.g. mobile banking). Customer service reaps other big benefits. Manufacturers can "see" when a printer is out of ink, or if a user has rebooted a device numerous times in a short period, then proactively reach out to help.
Automated Services: work almost seamlessly in the background, e.g. Amazon Dash. Implanted IoT technology allows manufacturers to proactively offer customer service when, for example, a device has been restarted numerous times within a specific timeframe, indicating the consumer may be having issues or requires assistance. The opportunity is both enhancing reactive support as well as enabling proactive (and eventually predictive) support.
Linking context to the brand and your organization's overarching strategy is key, not just using technology for its own sake. And with contextual, don't forget that it's not just the WIIFM (What's In It For Me), but also what's in it for my organization, my customers, and my prospects.
Valuable Content = Lenient Data Exchange
Companies must focus on the value provided by contextual content. When provided with information and experiences that are valuable, useful, fun or interesting, consumers will, in exchange, volunteer more data and information. In fact, the more device consumers own, the more interested they are in engaging with brands about the use of their data.
If there is not inherent value for the target audience, there's no reason for them to participate, or to exchange information or data with the marketers. Value can be a literal offer, e.g. a coupon; information; entertainment, or a new level of convenience. Value must be identified at the beginning of the experience that brands drive with contextual marketing, as well as tie into campaign KPIs. This is also an ongoing effort, in which interaction data inform evaluation and re-evaluation of what are we measuring and why.
Content: The Atomic Particle of Marketing is available for on Amazon
Rebecca Lieb is a research analyst, author, and strategic advisor. Her areas of specialization are digital marketing and media, with a concentration in content strategy, content marketing, and converged media. She works with many of the world's leading brands on digital marketing innovation.
Jaimy Szymanski is an industry analyst who focuses customer experience, digital transformation, the collaborative economy, and the autonomous world. She provides independent research and advisory services to companies in varied industries that are affected by emerging technologies.