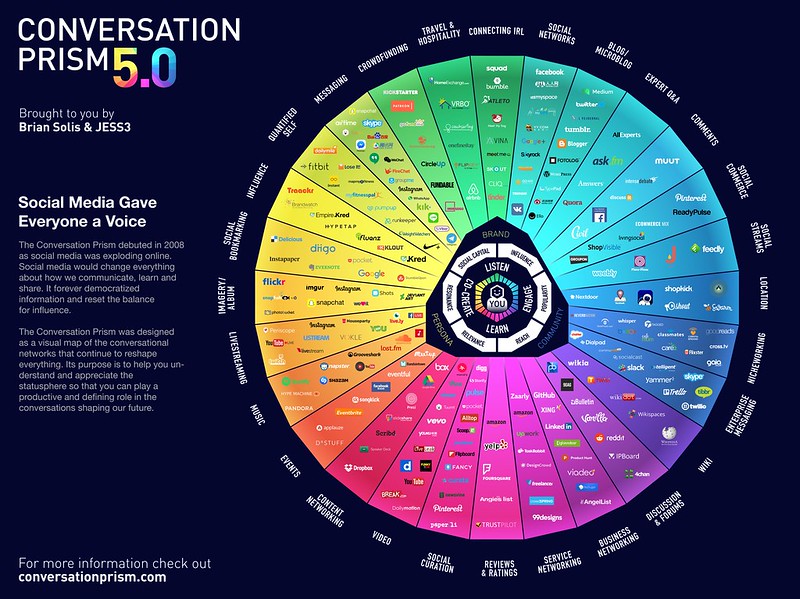 Social media continues to reshape our world and how people connect, discover and share. While some argue that we should drop "social" from the moniker and simply call it "media," the reality is that social media is only spreading, evolving and becoming more pervasive in our life and work.
Every few years, I partner with JESS3 to capture the state of social media visually. The challenge is always great in that social networks and apps come and go, but over time, they set the stage for notable moments in time when the social media universe rests and leaves a documentable imprint. Now in its fifth iteration, The Conversation Prism 5.0 is available as a free download or even as a 22 x 28″ full color poster. This is the first update in four years. Version 4.0 was introduced in 2013.
The Evolving Conversation Prism
The original Conversation Prism debuted in 2008 as social media was exploding online. Social media would change everything about how we communicate, learn, and share and forever democratize information and reset the balance for influence.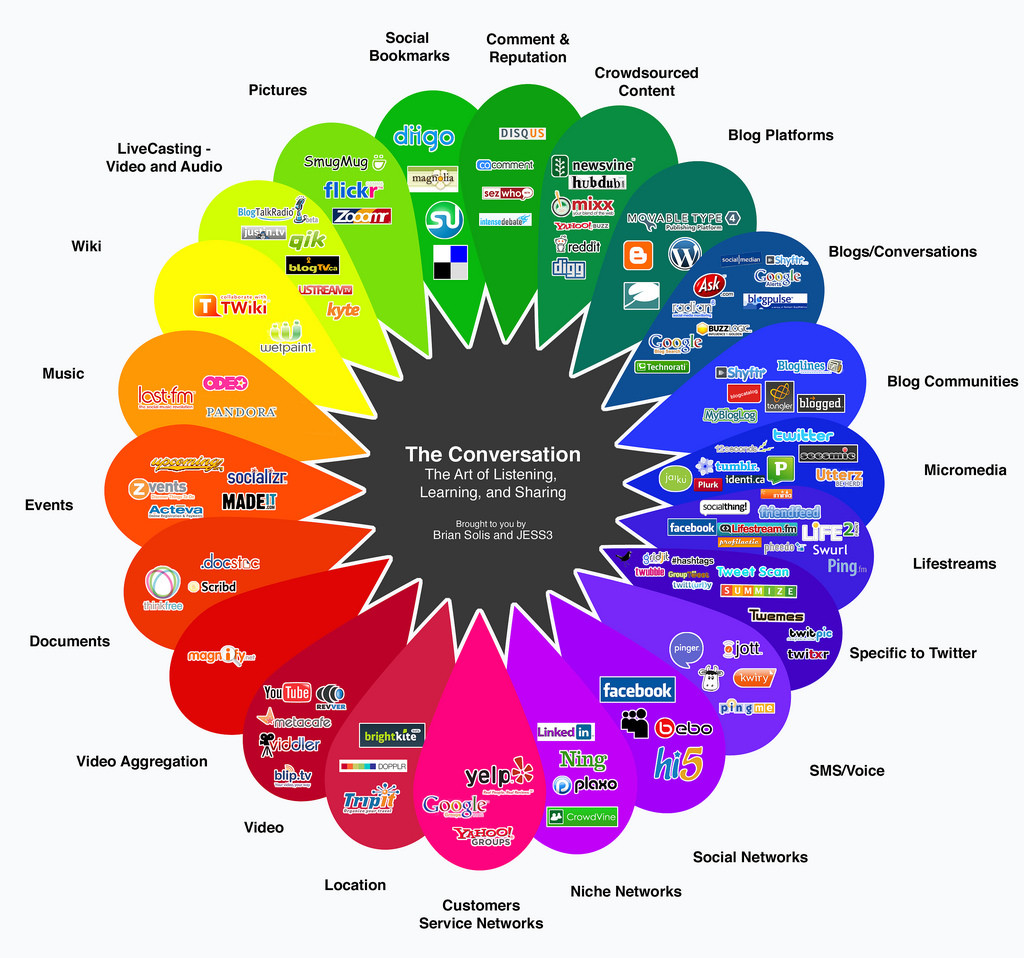 Conversation Prism 1.0 was designed as a visual map of the relevant conversational networks at the time. It was was, and still is, an insightful exploration in digital ethnography. After documenting all of the emerging and established social networks, they were organized by how people used each network and the digital cultures that resulted.
Introducing Conversation Prism 5.0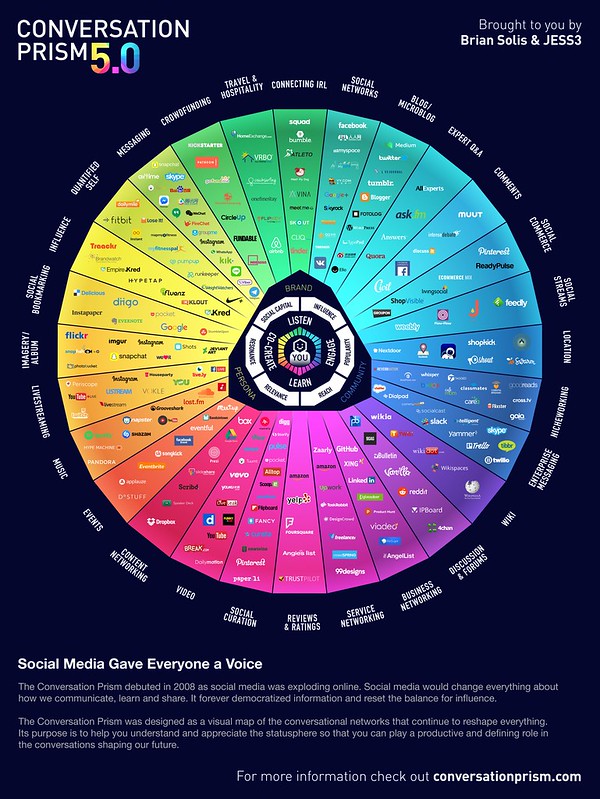 The Conversation Prism is meant to help viewers better understand and appreciate the state of "the statusphere," and how it's evolving so that they may play a productive and defining role in shaping how businesses, educational organizations, governments, and everyday people engage, communicate and build mutually-beneficial communities.
Center
At the center of the Conversation Prism is "You." It's meant to remind the viewer that social media is about the people in the center of their online experiences. Social media is much more than a series of broadcast networks. You shape the experiences of others as they shape your online experiences.
Ring 1
The next layer (ring) demonstrates how to add value to networks and the experiences of others by listening and learning, then engaging and co-creating.
Ring 2
The second layer helps viewers understand how to think about impact or the affect of online engagement as measured by the 3Rs, "Reach," "Relevance," and "Resonance," as well as "Social Capital," the effect of "Influence," and also "Popularity."
Ring 3
The outer layer is the manifestation of your engagement in that how you engage and what people take away becomes your brand, persona and the foundation for your community.
Conversation Prism Facts/Updates
The Conversation Prism was one of the first social media infographics created and it helped inspire early versions of popular social media management software and categorization platforms.
It's an ongoing study in digital ethnography that tracks dominant and promising social networks and organizes them by how they're used in everyday life.
In this round, I partnered with JESS3 again and also sought the help of my long-time research partner Jaimy Szymanski.
There were big changes between v5.0 and 4.0. All-in-all, we removed a total of 84 companies and added 141 networks and apps.
Even though the massive shift in companies, only 4 new categories were added:
Messaging
Crowdfunding
Travel and Hospitality
Connecting IRL
Messaging functionality is the biggest addition in this update as it's now a behavior permeated through generations, not only Millennials
Big players are emerging that have stakes in multiple categories (e.g. Facebook, YouTube, Instagram).
Younger generations view their visual networks like Snapchat and Instagram as their social network, opposing older generations that still define Facebook and the like as their go-to.
Meeting IRL is another interesting category addition this year. Apps are being used to bridge online and offline as people become starved for real connections.
The Conversation Prism has been downloaded in the hundreds of thousands and has been featured in thousands of books, presentations and class rooms over the years.
DOWNLOAD THE CONVERSATION PRISM 5.0
Portrait – High Resolution PNG