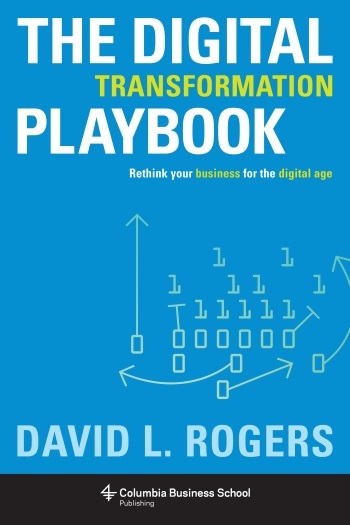 Guest post by David Rogers (@david_rogers), faculty at Columbia Business School and author of The Digital Transformation Playbook: Rethink Your Business for the Digital Age. This excerpt is from Chapter 3, on how businesses need to transform their strategy for competition. Download a full chapter at www.DigitalTransformationPlaybook.com
In 2007, two recent graduates of the Rhode Island School of Design, Brian Chesky and Joe Gebbia, were struggling to pay the rent on their apartment in San Francisco. When they heard that the city's hotels were fully booked during an upcoming design conference, they had an entrepreneurial idea: Why not rent out a bit of their space? They bought three airbeds (inflatable mattresses), put up a website, and, within six days, found three guest lodgers. Each one paid $80 a night. "As we were waving these people goodbye, Joe and I looked at each other and thought, there's got to be a bigger idea here," Chesky said. By the following year, they had teamed up with another friend, computer science graduate Nathan Blecharczyk, and started a business that they later named Airbnb.
By 2015, Airbnb had served 25 million travelers, providing them with lodging in over 190 countries around the world. But it doesn't look like a typical global corporation in the business of providing lodging and hospitality. Instead of building hotels and hiring employees to serve customers, the three founders built a platform that brings together two distinct types of people: hosts with homes to rent (whether a spare room or their whole home while they are away) and travelers who are looking for someplace to stay. The company has minimal assets. In fact, it doesn't own a single rental property. Yet it can offer travelers their choice of more than 1 million listings, ranging from a sofa or tiny guest room up to an actual castle (more than 600 are available to rent). The company takes a cut of the rental fee on each transaction.
Airbnb has only a few hundred employees but manages to book 40 million guest-nights per year because its platform is built to be as simple and self-service as possible for both homeowners and travelers. Its staff focuses on building a Web interface and mobile apps that make it as easy and frictionless as possible for a host to offer lodging or for a traveler to find a place to stay.
Much of Airbnb's success comes down to building trust between the two parties. (Who wants to have their apartment trashed by out-of-town guests when they are on vacation? Who wants to show up at a dump that doesn't match what you booked online?) Building trust begins with mutual ratings and reviews for both hosts and travelers but goes far beyond that. The company waits to release rental payments to the host until after the renter has checked in and verified they are happy with the property; it likewise holds onto the renter's deposit until after they have left and the host has verified their home is in good shape. As further assurance, it provides each host with $1 million in insurance for damages. It has also added verification of both parties through detailed user profiles, ID verification, and links to social networks like Facebook. Travelers looking for options in a destination city can search by neighborhood, can read the company's curated recommendations on where to stay, and can even use Facebook to find "friends of friends" who are renting out spaces. Its founders were even able to mix trust building and marketing: by hiring photographers to take pictures of lodgings for any host who requested it (for free), they offered better visuals for the host while guaranteeing visitors that the company had verified the location they were renting. This innovation alone rapidly increased growth in bookings.
Airbnb has grown at a phenomenal rate, with more rooms for rent than Hilton, InterContinental, or Marriott and nearly $4 billion in gross bookings in 2014. During that year's World Cup games, out of 600,000 attendees who came to Brazil from around the world, 25 percent stayed at an Airbnb rental. Today, the company operates in over 190 countries. "Every country other than North Korea, Iran, Syria, and Cuba," Chesky cheerfully told television host Stephen Colbert in an interview. That list has since been updated: when the United States reestablished ties with Cuba, Airbnb was one of the first American companies to announce it had launched a presence there.
Rise of the Platforms
Airbnb is just of one of many new digitally powered businesses that act as platforms—bringing together two or more parties to create and exchange value through the business rather than trying to create all the value themselves.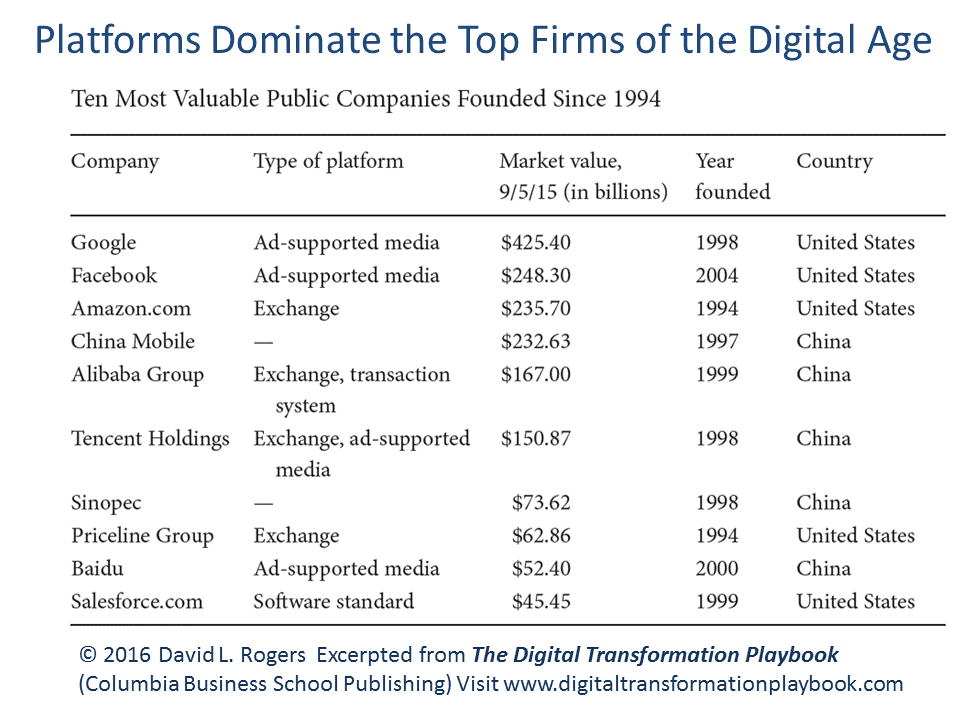 Marketplaces like eBay, Etsy, or Alibaba's Taobao bring together buyers and sellers of goods of all kinds in direct sales or auctions. Matchmaking services like Uber or Didi Chuxing provide taxi services not by purchasing vehicles and hiring drivers but by providing a platform to connect drivers in their own cars with people nearby needing a car service. Media companies from YouTube to Forbes.com operate by bringing together independent content creators, content consumers, and advertisers—each of whom is seeking out the other. Mobile operating systems like Apple's iOS, Google's Android, and Xiaomi's MIUI compete by attracting the best software developers to create apps, which, in turn, draw consumers to buy their smartphones. Airbnb is just of one of many new digitally powered businesses that act as platforms—bringing together two or more parties to create and exchange value through the business rather than trying to create all the value themselves.
Platforms represent a fundamental shift in how businesses relate to each other—from linear to more networked business models. Platform businesses can often be very light in assets but generate large revenues. Instead of building features and seeking to get customers to use their own products, they build ecosystems by getting customers to interact with each other. Rather than simply paying for services received, customers both provide value and receive value. As a result, the value of a platform grows as more people use it.
Scaling Fast
Platform businesses can grow extremely quickly. Their low operating costs, combined with a scalable cloud computing architecture, make this possible. A line chart of Airbnb's user growth looks like a hockey stick, with listings shooting up 1,000 percent in three years. The ability of platforms to increase revenue with relatively slow employee growth is likely another factor.
Airbnb reached $4 billion in gross bookings with only 600 employees. Since the rise of the Internet, the list of the fastest-growing new companies around the world is dominated by those using platform business models. In fact, my research has found that eight of the ten most valuable global companies founded since 1994 are platform companies (see diagram).
Excerpted from The Digital Transformation Playbook (Columbia Business School Publishing). Copyright © 2016 David L. Rogers. Download a full chapter at www.DigitalTransformationPlaybook.com