I recently had the opportunity to co-host an event in San Francisco with Jonathan Wolf of Criteo to discuss the past and future of retail and mobile commerce. That evening celebrated the release of the company's quarterly State of Mobile Commerce Report, based on its pool of online shopping data covering more than a billion transactions totaling over $130Bn of annual sales.
That evening, we would entertain some of the most interesting people documenting or contributing to the future of ecommerce, etail and ad tech. Those who joined us included representatives from Google, Groupon, POPSUGAR, Rue La La, and Criteo of course. We were also joined by notable press covering the space such as Amir Efrati of The Information, Salvador Rodriguez of International Business Times, Rolfe Winkler and Deepa Seetharaman of The Wall Street Journal and Leslie Hook of Financial Times.
This year has been a pretty incredible year for mobile. Yet, it's incredibly under appreciated by brands and retailers, especially in the U.S. In research I published earlier this year with good friend Jaimy Szymanski, we learned that to be success in mobile, businesses would have to devise both mobile-first and mobile-only strategies. Bolting mobile onto existing digital journeys isn't a native or intuitive solution and only adds friction to the customer experience.
The bottom line is that mobile users expect a mobile experience. Sounds commonsensical but it's not. Instead, today's CX forces customers to endure desktop-like experiences on the small screen and/or pushes them to complete journeys or transactions across multiple devices. In fact, in my work with Google, I learned that mobile behaviors and expectations are outpacing the prowess, thinking and competence of many strategists as the journey fractures into "micro moments."
In Criteo's latest report, we learned of several trends that are pointing to mobile as the future of eCommerce. Following are key insights from the two reports, many of which will help you make the case for new investments in strategies and technology…
Globally, mobile now accounts for 30% of eCommerce transactions.
Mobile will be 50% of US eCommerce transactions as conversion rates reach those in Asia.
Mobile is now about purchasing, not just researching: Conversion rates are high, across all devices and retail categories.
Smartphones now generate more transactions than tablets.
A third of fashion transactions now come from mobile, with average order values close to desktop levels.
Top quartile US retailers generate almost 40% of their ecommerce transactions from mobile, against 27% for US overall.
It's not just Apple: Android phones now generate a third of US smartphone shopping transactions, and much more internationally.
U.S. mobile transactions cross 30% share: And it's much higher for top-quartile retailers.
Retailers who optimize their mobile sites generate many more mobile transactions than those who don't: Optimized sites have a better conversion funnel at every stage.
Apps generated almost 50% of mobile transactions for retailers who have made their app experience a priority: Mobile apps perform better than any other channel, including desktop.
Cross-device usage is now enormous: Consumer use of multiple devices to make a single purchase makes up 40% of eCommerce transactions.
Conversion rates directly correlate with the quality of the site. The more optimized the site, the higher the conversion rate.For websites that are usable on mobile the conversion rate is 2.9%, versus1.6% for non-optimized sites.When a site is optimized, the conversion rate increases to 3.4%. This is exactly what Jaimy and I found in our research. Brands need to think mobile-first and mobile-only!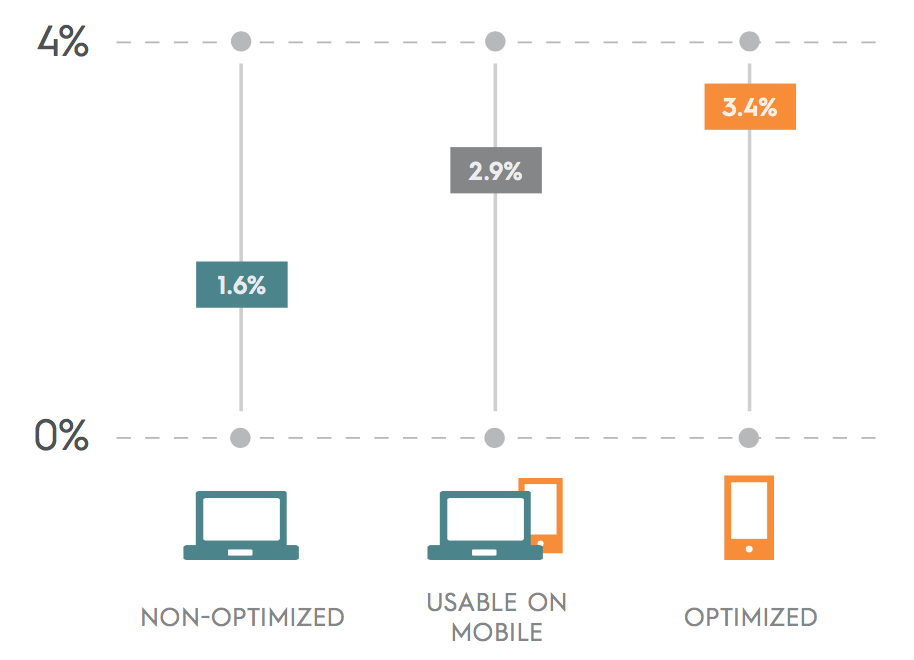 Optimized sites see a larger share of mobile transactions than non-optimized sites.The difference is significant: non-optimized sites have 22% of their eCommerce transactions via mobile versus 31% for optimized sites.This represents a potential 41% opportunity for sites that are not optimized today.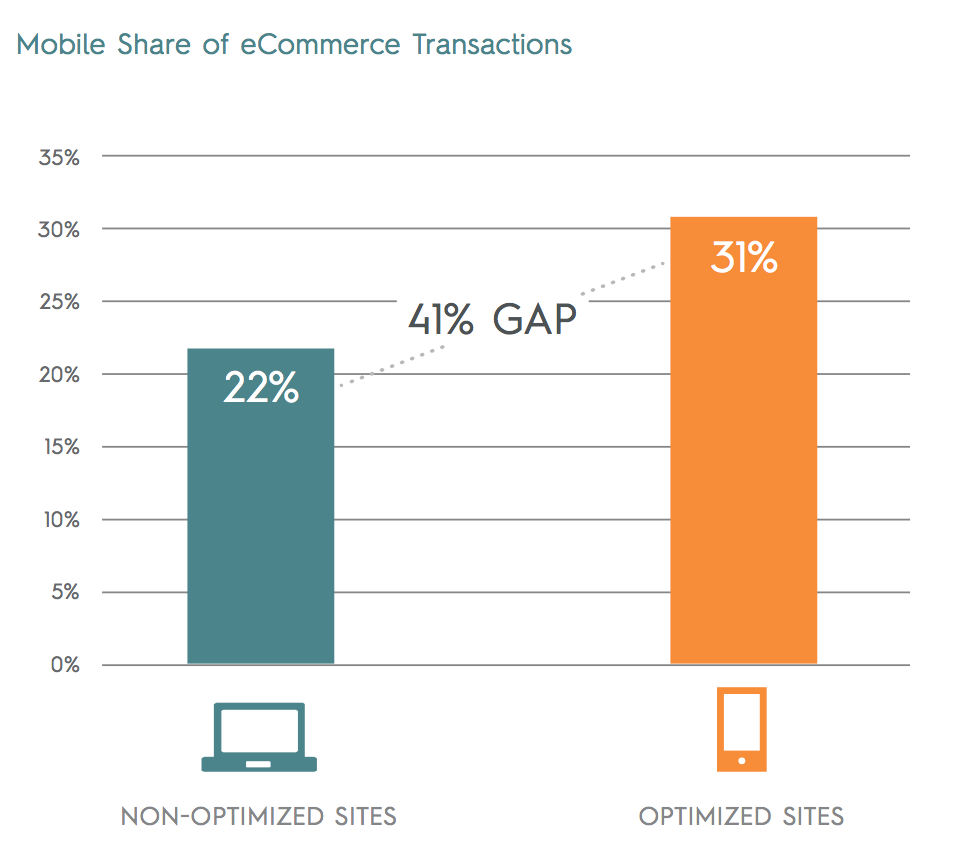 When done right, apps convert visits to sales better than desktop. The user experience of apps is better than desktop and browser but not just because it's an "app." Optimized apps are designed to focus tasks, transactions and desired behavior into desired outcomes. Additionally, apps are used by more loyal customers, leading to higher conversion rates. In retail, consumers using the app convert at a rate three times higher than those using a mobile browser. With travel, the conversion rate for apps is almost two times that of mobile browser.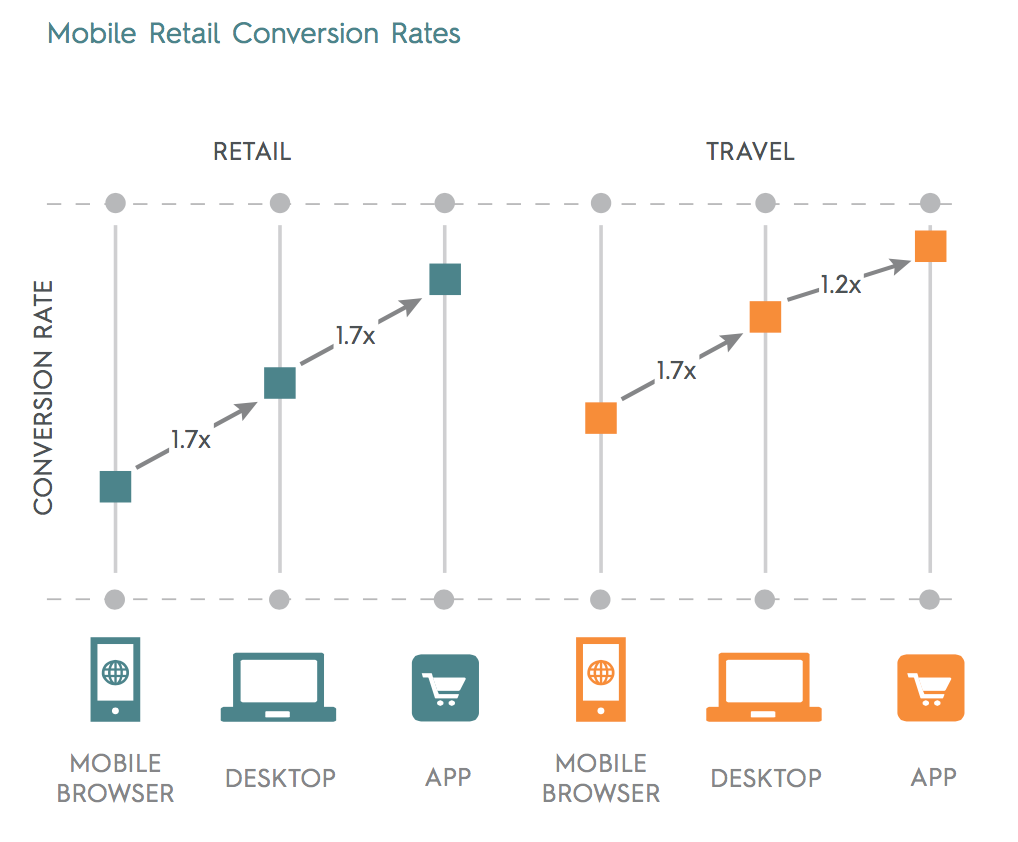 Asia and UK consumers continue to be the mobile leaders globally. mCommerce is now 34% of all eCommerce transactions globally — based on an accurate weighting of eCommerce market size by country.The U.S. is catching up with the global average, with 30% of eCommerce transactions coming from mobile devices.Growth rates are slower in Q2 as the holiday effect of new smartphone sales wears off.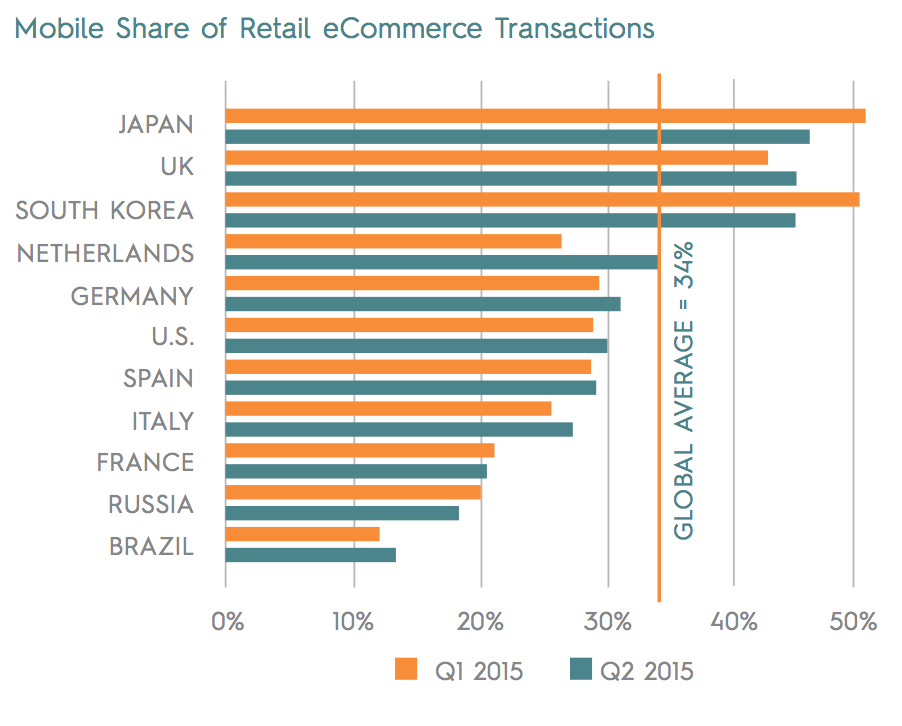 All in all, Criteo leaves us with four trends to watch and more so, to get in front of as a leader in mobile commerce…
One: Growth in mCommerce is unstoppable. By year-end, mobile share of eCommerce transactions is forecast to reach 33% in the U.S. and 40% globally.
Two: Smartphones will continue to displace slower-growing tablets due to larger available screens. Apple is gaining ground on Android, but both are winners vs. a shrinking desktop.
Three: Apps are the next frontier. Advertisers will start to significantly invest in their mobile app as a way to drive more conversions than desktop and engage with their loyal customers.
Four: Dealing with cross-device behavior is the biggest challenge and opportunity for marketers in 2015. With 40% of sales already cross- device, marketers have to talk to users and no longer to devices.
Here, I share highlights of the evening on video…
Pictures from the event are on flickr…
Download the report here…
Connect with me… Twitter | LinkedIn | Facebook | Youtube | Instagram | Pinterest