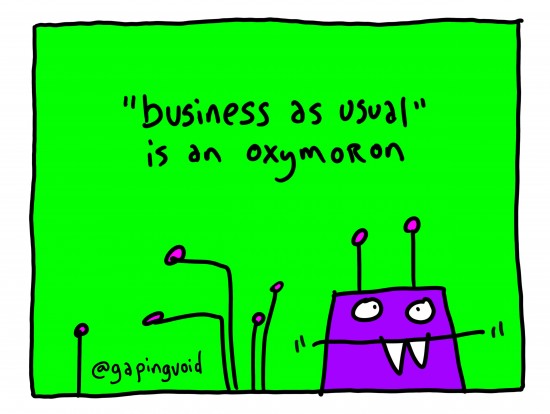 My good friend (and one of the brightest people I know), Brian Solis, has a new book out today: "The End of Business As Usual".
As what has become a tradition between us, I drew the cartoon above to celebrate the launch…
Solis believes, as many of us do, that it is time that the voice of the individual was acknowledged by organizations… and then he makes the case to show exactly why it matters, not only in principle, but in actuality.
The fact that this book launches the same week as the Occupy Wall Street crowd are grabbing global headlines I think, is more than just a happy coincidence, but a definite sign of the times we now live in. Black Swans meeting The Cluetrain. Exactly.
I hope you'll check it out. Congratulations, Brian! Rock on.
– Hugh MacLeod (@gapingvoid)