Source
1 million, 5 million, 10 million…?
If you guessed 10 million, you weren't even half right.
According to new data from Pingdom, Twitter users are averaging 27.3 million tweets per day with an annual run rate of 10 billion tweets. Just last month, Caroline McCarthy of CNET reported that the 5 billionth tweet posted.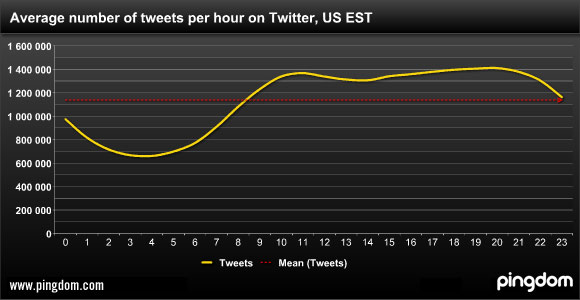 Pingdom's report highlights the pattern of tweets, which appear to spike during waking hours in the U.S. However, it's important to note here that Comscore data shows that half of Twitter's users reside outside of the U.S. As such, Pingdom's data could suggest that tweets published in the morning here (EST) could actually also reflect the afternoon and early evening activity in Europe and other parts of the world.
This pattern of behavior was documented over three weeks between October 21st and November 11th. While 27 million tweets represents a massive scale, it is comparable to the number of times Yahoo Mail and IM users update their status each month.  To put this comparison into perspective however, Yahoo has at least five times as many users.
When we look at the average number of tweets per hour, Pingdom estimates that they are currently fluctuating between 567, 000 and 1.8 million per hour.
Even though the industry is theorizing why visitors to Twitter.com is down, it appears that existing users are only increasing their levels of engagement, posting, and interaction.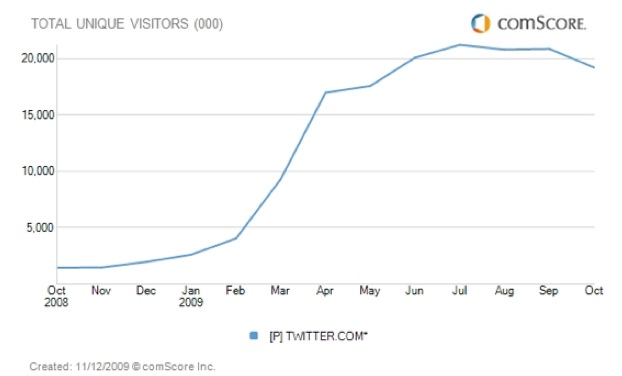 According to Twitter co-founder Evan Williams, stay tuned for a series of announcements that will revitalize Twitter.com and its appeal to new users.
Connect with Brian Solis on:
Twitter, FriendFeed, LinkedIn, Tumblr, Plaxo, Posterous, or Facebook
—
Click the image below to buy:
pr pr+2.0 pr2.0 public+relations marketing advertising interactive social+media socialmedia brian+solis social media media2.0 media+2.0 2.0 smo social+media+optimization marcom communication publicity advertising expert interactive spin brand branding guru social+architect