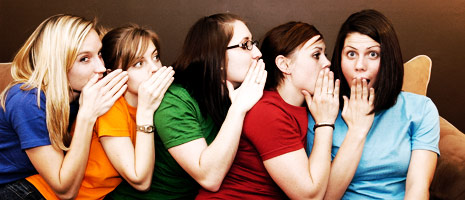 Source: Young Go Getter
Over the years, I've had the opportunity to work with "Viral Marketing Scientist" Dan Zarrella on special projects related to Twitter. His focus on social science and psychology as it relates to new media and online interaction and behavior is in line with my philosophy and approach to understanding and documenting socialized media.
Zarrella recently debuted TweetPsych, a sophisticated system that uses two linguistic analysis algorithms (RID and LIWC) to build a psychological profile of a person based on the content of their tweets. He also adapted the service to analyze a site URL and the content on that page to create a list of the 50 Twitter users who's profiles are psychologically aligned with the site you provided. It's a fascinating service for those actively seeking to expand their contextual networks.
One of the most actively discussed aspects of Twitter is the art and science of retweets.  Retweets, in my opinion, are one of the most sincere forms of recognition and validation, empowering users to pay it forward through the recognition of noteworthy content. According to Dan, retweets also serve as the foundation for assessing the qualities of viral content, "You don't spread ideas just because they are "good;" you spread them because of some other trigger or set of triggers has been pulled in your brain. We can now compare millions of viral ideas to uncover the building blocks of contagiousness."
Aside from my very simple advice to leave room in your tweets for people to add RT and their username, "120 is the new 140" and to also tweet something worth retweeting, Zarrella studied the science of retweets over a period of nine months to discern the attributes and characteristics of tweets that spawned memes and those that didn't. His sampling group was not insignificant either. He analyzed roughly five million tweets and 40 million retweets to discover the art and science of getting retweeted.
He published the results in a 22-page report, which you can download here.
Zarrella's initial finding estimated that 1.44% of all tweets are ReTweets. From there, he recognized other important common traits for successfully getting retweeted.
Links are the Currency of Twitter

According to Zarrella, links were three times more prevalent in RTs over normal tweets, 19% to 57%.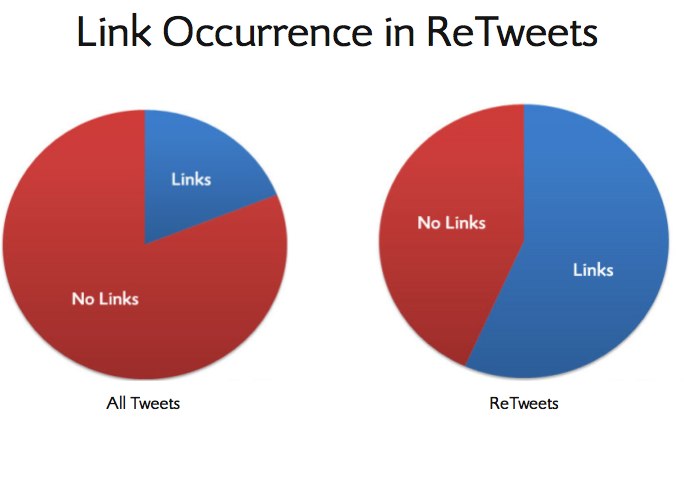 The study also found that the URL shortener used also had an effect on the potential resonance of tweets. For example, bit.ly, ow.ly, and is.gd, were much likelier to get retweeted than older, longer services, such as TinyURL.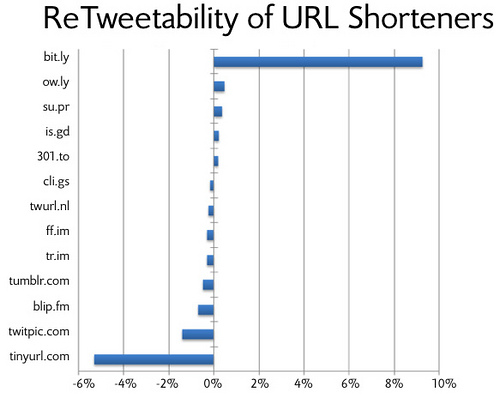 Choosing Words Carefully
Pandering or soliciting for retweets might seem tacky, but asking politely for a retweet actually works according to the research.
The top 20 retweetable words and phrases include:
1. You
2. Twitter
3. Please
4. Retweet
5. Post
6. Blog
7. Social
8. Free
9. Media (note, most likely tied to social media, which demonstrates the interest in related tweets and links)
10. Help
11. Please Retweet (personally i've found that adding "please share" or "pls share" to the tweet helps as well)
12. Great
13. Social Media
14. 10 (The blogosphere and Twitterverse share significant interest in anything with a "top 10" list
15. Follow
16. How to
17. Top
18. Blog post
19. Check out (a call to action indeed inspires action and traffic)
20. New blog post
Chatter isn't Worth Sharing
As I've shared numerous times, literally answering Twitter's question of "What are you doing" engenders uninteresting tweets. The research found that verbs ending in "ing"were among the least retweetable words. Although, I've personally found in my research that "reading," "reviewing," and "looking" trigger significant activity. People generally want to know what has your attention at the moment and if they can look at something through your eyes, it helps spark retweets and clickthroughs.
The least retweetable words:
1. Game
2. Going
3. Haha
4. lol
5. But
6. Watching
7. Work
8. Home
9. Night
10. Bed
11. Well
12. Sleep
13. Gonna
14. Hey
15. Tomorrow
16. Tired
17. Some
18. Back
19. Bored
20. Listening
Don't take intelligence for granted
While many suspect that simple language is preferred, retweets contained an average of 1.62 syllables per word with normal tweets boasting an average of 1.58 syllables per word. It may seem insignificant,  but per a Flesch-Kincaid test, comprehending RTs required 6.47 years of education, while normal tweets require just 6.04.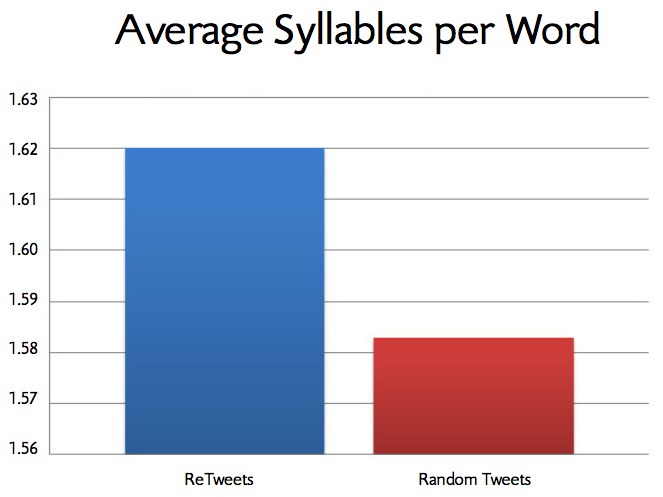 The Novelty of Novelty
One of the most interesting aspects of viral content is its freshness, insinuating that the newness of the content was a significant factor in RTs. For example, Zarrella created a measure of novelty by counting how many times each word in his sample sets occurred.  In random tweets, each word was found an average of 89.19 times, while in the ReTweet sample each word was only found 16.37 other times.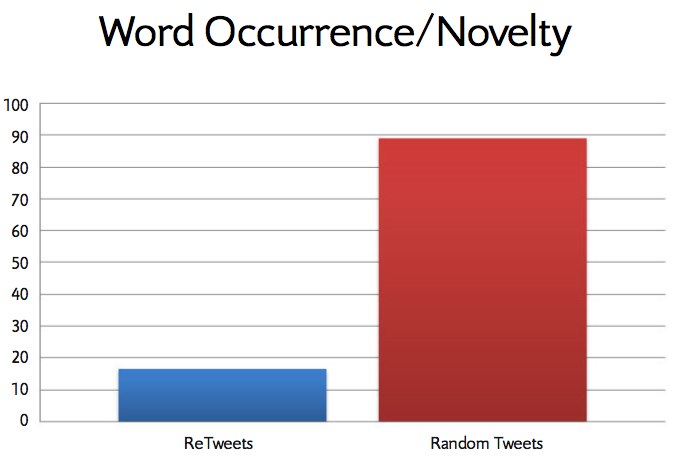 It's Not Just a Figure of Speech
The analysis of words indicated that nouns and third-person singular present words led to the proliferation of headline style tweets that triggered retweets. The pervasiveness of verbs and proper nouns were also factors. To observe this activity, Zarrella used Part of Speech (POS) tagging, an analysis technique in which an algorithm is used to label each word in a piece of content as a specific part-of-speech–noun, verb, adjective, etc.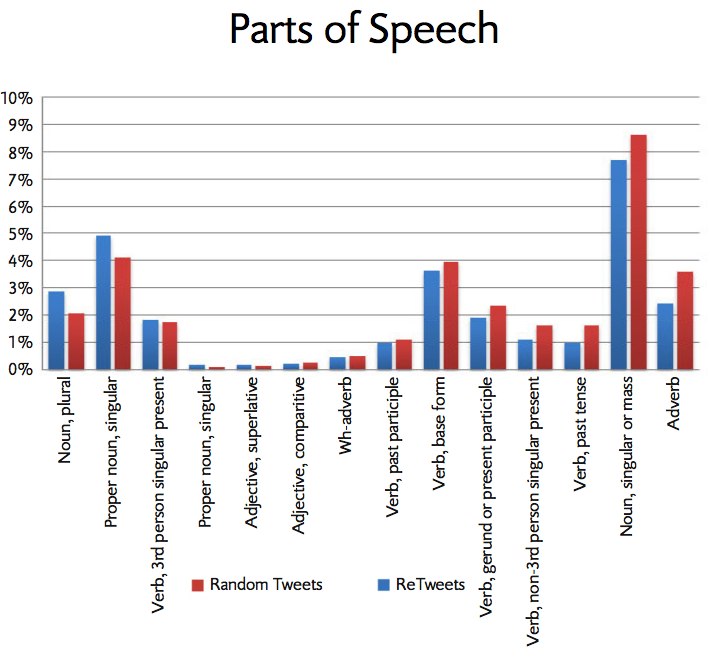 The Power of Punctuation
The power of punctuation isn't necessarily relegated to grammar or sentence structure. The use of punctuation could also represent the difference between a tweet and a retweet.  85.86% of normal tweets contained some form of punctuation  compared to 97.55% in retweets with colons leading the way.
Of the most common punctuation types found in retweets, colons, periods, exlamation points, commas, and hyphens led group with semicolons ranking last. In fact, Zarrella observed that the semicolon appears to be the "only unretweetable punctuation mark." What's interesting however, is that the question mark ranked second-to-last. I would have guessed that questions would have been more prominent in RTs, but after further thought, I would imagine the any tweet containing a question would trigger more answers than the RT of the original question.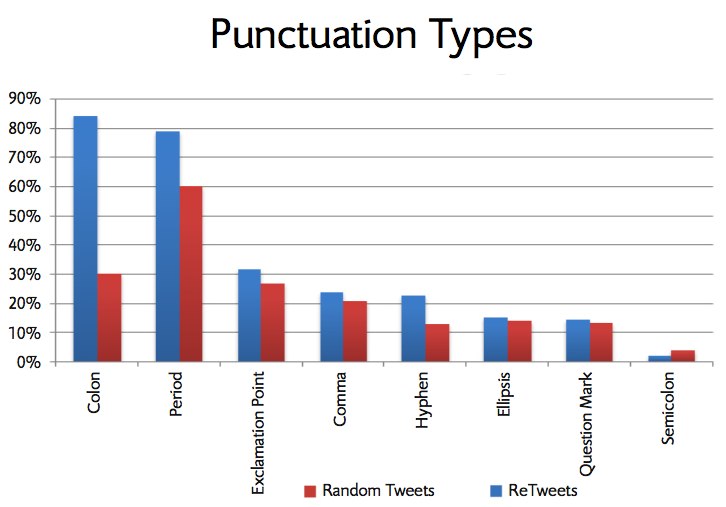 There is no "I" in ReTweet or Tweet
LIWC measures the cognitive and emotional properties of people based on the words they use. Applying this lexicon to tweets and retweets, LIWC analysis shows that Tweets about work, religion, money and media/celebrities are significantly more retweetable than tweets with negative emotions, sensations,
swear words and self-reference.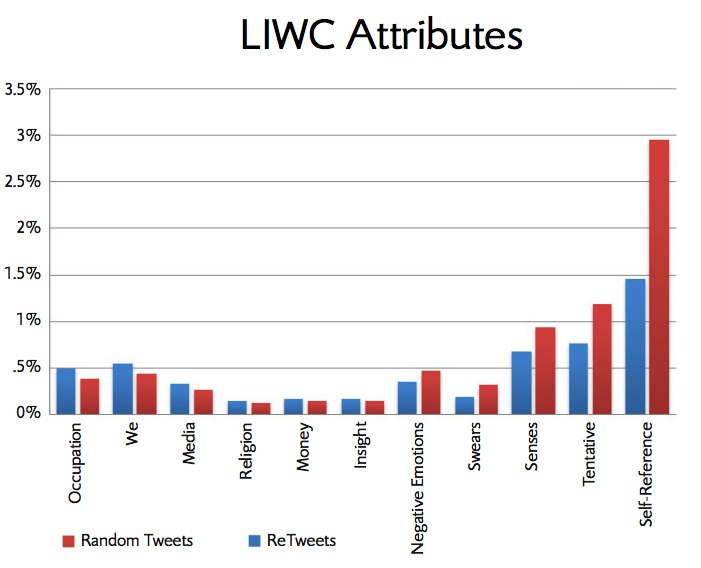 The Attention Aperture: Time and Day Count for Everything
I have also studied the time/day significance applied to what I call the attention aperture (the state of attention and its ability to be captured). I believe that the results vary depending on the nature of the content, specific to whether or not the nature of the Tweet was professional or personal in nature.
Among the most usable findings from Zarrella's study is the analysis of when individuals appear to be more susceptible to retweeting. According to the research, the window for retweets is at its widest between 2 p.m. to 11:59 p.m. (however, I'd like to know if time zone played a factor in RTs). Match the time to the most active days for retweeting, in this case Thursday and Friday, and surely, we have identified the attention aperture for RTs.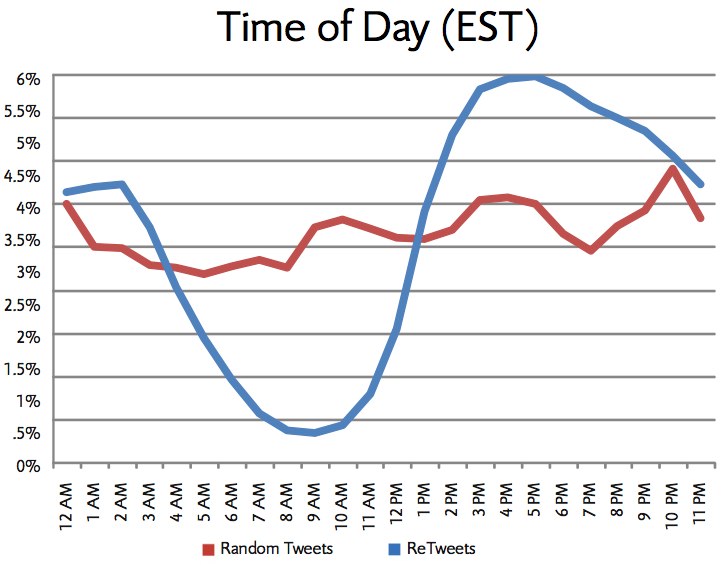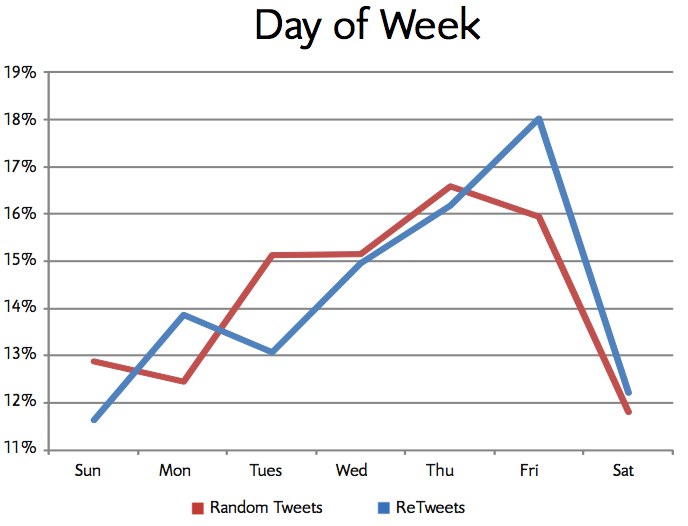 In my research, I found that educational, news-focused, or work-related tweets found its greatest traction between 3 a.m. and 9 a.m. Pacific time. I suspect that this range casts a wider net reaching professionals during work hours with the East Coast and Europe prompting RTs that bring it back to the attention of those on the West Coast as individuals prepare or arrive at work. As such, I asked Dan to create a new graphic that visualizes days and times in a way that might be easier to reference.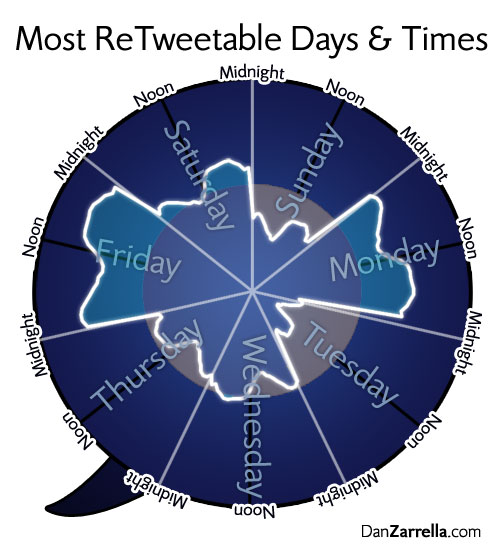 This study was as fascinating as it was informative.  But I needed a personal touch to close close the chapter and remind us that there are real people behind the data and the tweets that were analyzed. I asked Dan to share what he learned from his research, and he readily obliged, "My favorite takeaway from the data is that while having more followers definitely makes it easier to get more ReTweets, even if you don't have tens of thousands, the data shows that if your content is contagious enough, it will spread just as far. I think this also has to do with the hyper-connected, seven degrees nature of the Twitter network."
In the end, as publishers, it is our responsibility to ensure that our Tweets not only speak for themselves, but also represent our purpose, mission, and values.  While this data suggests that the mechanics for posting viral tweets is a matter of formula, I believe that affinity, respect, and stature also play prominent roles in the art and science of retweeting. Concurrently it is also our obligation to also retweet as a form of giving back to the community, recognizing those who actively contribute to a more meaning Twitterverse.
Connect with Brian Solis on:
Twitter, FriendFeed, LinkedIn, Tumblr, Plaxo, Plurk, Identi.ca,BackType, Posterous, or Facebook
—
Have you bought the book or the poster yet? (click below to purchase):