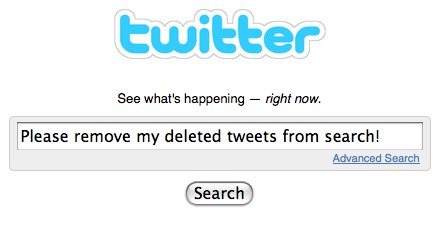 Over the years, Twitter search was plagued by an unbelievable flaw. Deleted tweets remained in Twitter's search index and thus, would appear in the search results regardless of the conscious act of manually removing the tweets from your personal stream. Believe it or not, this problem remained constant much to the dismay of many power users. To my pleasant surprise, Twitter has finally rectified this problem and has officially removed deleted tweets from its index.
Now that Google and Bing are channeling Twitter search results, it's widely suspected that Twitter had no choice but to remedy this enduring problem. Imagine if your deleted tweets ranked among the top results in Google or Bing? Obviously privacy is a primary concern and this is a step in the right direction. However, privacy on the social Web is an oxymoron of sorts. Once a Tweet is published for example, it is indexed by many other third-party services, networks and applications. And, even if you delete a Tweet, it still may reside somewhere else. For example, if you stream your Tweets to Facebook and Tumblr, obviously you'd have to delete the updates across multiple platforms. But, the other challenge is that there are several other services that pull tweets where they may also reside once deleted.
Either way, to officially have deleted tweets removed from search results is a welcome update that is way overdue, but valued nonetheless.
Oh, and make sure to check out Collecta for real-time search results…it not only indexes the live twitter feed, but also the social web to reveal activity around keywords as they appear online. (Note: I'm a tech adviser to the team.)
—
Connect with Brian Solis on:
Twitter, FriendFeed, LinkedIn, Tumblr, Plaxo, Plurk, Identi.ca, Posterous, or Facebook
—
Click image to purchase (book and poster):