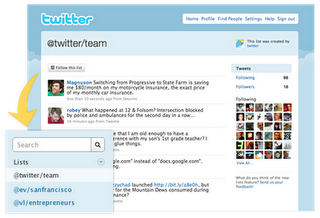 Long available using third-party Twitter tools such as PeopleBrowsr or TweetDeck, Twitter is readying the release of lists, or otherwise known in other networks (FriendFeed) as groups.
This is welcome, albeit overdue, feature that allows users to categorize and organize information based on themes, interests, action items, locales, and friends/peers for future reference, followup and sharing.
The Twitter blog goes into greater detail (note the fact that lists are public by default):
The idea is to allow people to curate lists of Twitter accounts. For example, you could create a list of the funniest Twitter accounts of all time, athletes, local businesses, friends, or any compilation that makes sense.

Lists are public by default (but can be made private) and the lists you've created are linked from your profile. Other Twitter users can then subscribe to your lists. This means lists have the potential to be an important new discovery mechanism for great tweets and accounts.
Connect with Brian Solis on:
Twitter, FriendFeed, LinkedIn, Tumblr, Plaxo, Plurk, Identi.ca, BackType, Posterous, or Facebook
—
Kindle users, subscribe to PR 2.0 here.
—
New book and Conversation Prism poster now available (click below to purchase):
—
pr pr+2.0 pr2.0 public+relations marketing advertising interactive social+media socialmedia brian+solis social media media2.0 media+2.0 2.0 smo social+media+optimization marcom communication publicity advertising expert interactive spin brand branding guru social+architect