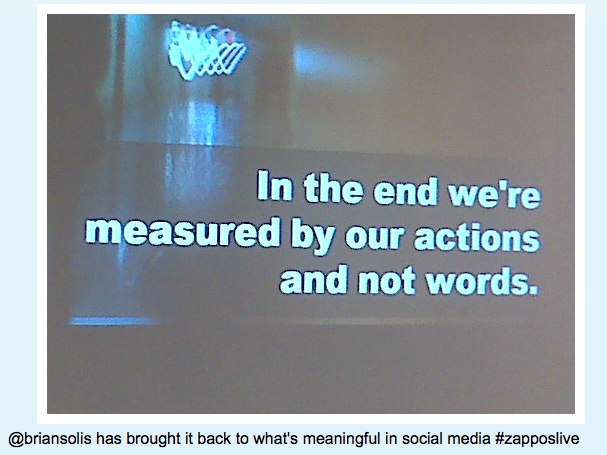 Yesterday I spoke at Zappos Insights Live, an inaugural conference that offered a unique opportunity to learn about the spirit and culture of Zappos through a two-day immersion program.
To say it was brilliant would be an understatement. And, I believe this is just the beginning.
It's incredibly clear that Tony Hsieh doesn't just profess his belief in happiness and service; his entire organization lives and breathes it in everything they do.
While Zappos the company is indeed "powered by service," Zappos as represented by its hundreds of employees, is driven by dignity, personal and professional fulfillment, sincerity, empathy, and the aspiration of always being helpful to not only customers, but each other. At Zappos, employees are royalty. They're encouraged to be themselves. They're rewarded for adding personality to their job and responsibilities. They're promoted for contributions and collaboration. It's this empowerment that powers everything.
I'll write about the culture of Zappos in another post and perhaps in my not-yet-announced book that I'm currently writing. To get an idea of what transpired at Zappos' immersion camp, please read this post by Espree Devora who was one of the lucky 25 participants in Zappos Insights.
Follow @ZapposInsights to stay connected to what's next #ZapposLive

I've included links to Zappos' Core Values to plug you into the framework of the culture and guiding tenants that power the "service" in the Zappos paradigm.
1. Deliver WOW Through Service
2. Embrace and Drive Change
3. Create Fun and A Little Weirdness
4. Be Adventurous, Creative, and Open-Minded
5. Pursue Growth and Learning
6. Build Open and Honest Relationships With Communication
7. Build a Positive Team and Family Spirit
8. Do More With Less
9. Be Passionate and Determined
10. Be Humble
The Zappos Experience as Told by Zappos Employees
Thank you to everyone at Zappos for making my visit so special and memorable!
Connect with me on:
Twitter, FriendFeed, LinkedIn, Tumblr, Plaxo, Plurk, Identi.ca, BackType, Social Median, or Facebook
—
Kindle users, subscribe to PR 2.0 here to receive this feed on your device.
—
Now available (click to purchase):

—
pr pr+2.0 pr2.0 public+relations marketing advertising interactive social+media socialmedia brian+solis social media media2.0 media+2.0 2.0 smo social+media+optimization marcom communication publicity advertising interactive spin brand branding customer service customer service loyalty brand branding insights live tony hsieh