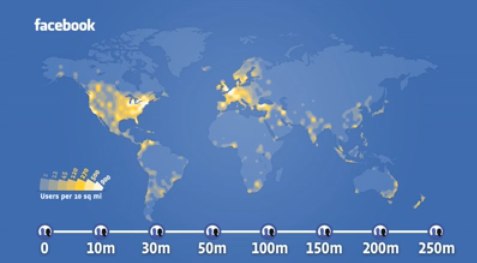 Mark Zuckerberg proudly announced on the Facebook blog this week that the popular social network continues its global dominance jumping from 200 million to 250 million users. To commemorate the milestone, Facebook created a  map that visualizes connections and adoption worldwide.
Zuckerberg credited you and me and the social graphs we weave with its phenomenal growth, "Each person who joins makes Facebook better by adding a presence to the site that friends and family can connect with and feel closer to. For us, growing to 250 million users isn't just an impressive number; it is a mark of how many personal connections all of you have made, and how far we at Facebook have to go to extend the power of connection to the billions of people around the world."
250 million users is a remarkable landmark, yet it's only a small slice of the global market. There's much room for growth and innovation. Zuckerberg continued, "So today as we celebrate our 250 millionth user, we are also continuing to develop Facebook to serve as many people in the world in the most effective way possible. This means reaching out to everyone across the world and making products that serve all of you, wherever you are—whether through Facebook Connect, new mobile products and the other things that we are building. We're grateful to have all of you with us, and we look forward to helping connect the next quarter billion people on Facebook."
Facebook faces formidable competition in the countries where home-based incumbents maintain a dominant  user base. China's QQ instant messaging network boasts an estimated 300 million users while Russia's Facebook clone Vkontakte hosts 38 million users.
In other countries, local players maintain a home field advantage (source):
– Germany = Studiverzeichnis
– Holland = Hyves.nl
– Perou (and other South American countries) and Mexico = Hi5 (Hi5 also leads in Romania and Portugal)
– Argentina = Sonico (Facebook is leading however)
– India, Estonia and Brazil = Orkut
– Lithuania = One.lt
– Ukraine and Russia = Vkontakte,
– Georgia, Uzbekistan and Armenia = OdnoKlassniki
– Hungary = Iwiw
– China = QQ, Xiaonei and Kaixin01
– Japan = Mixi
– The Philippines = Friendster
– South Korea = Cyworld
– Taiwan = Wretch
Vincenzo Cosenza recently mapped the top social networks in each country, which also visualizes Facebook's rise to become the presiding global social network…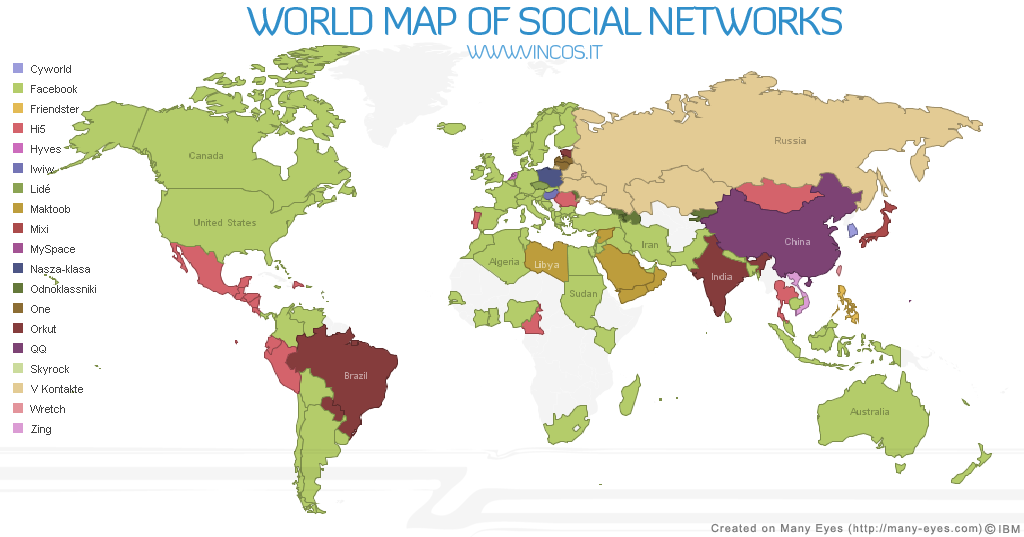 Top Three Social Networking Sites by Country (Full list to be published in my next book):
– Australia: Facebook, MySpace, Twitter
– Canada: Facebook, MySpace, Flickr
– China: QQ, Xiaonei, 51
– France: Facebook, Skyrock, MySpace,
– Germany: Facebook, StudiVZ, MySpace
– India: Facebook, Orkut, Hi5 (Twitter is a close fourth)
– Italy: Facebook, Netlog, Badoo
– Russia: VKontakte, Odnoklassniki, Mail.ru – My World
– Spain: Facebook, Tuenti, Fotolog
– United Kingdom: Facebook, Bebo, MySpace
– United States: Facebook, MySpace, Twitter
With Social Media comes great responsibility…
Connect with me on:
Twitter, FriendFeed, LinkedIn, Tumblr, Plaxo, Plurk, Identi.ca, BackType, Social Median, or Facebook
—
Kindle users, subscribe to PR 2.0 here to receive this feed on your device.
—
Now available (click to purchase):

—
pr pr+2.0 pr2.0 public+relations marketing advertising interactive social+media socialmedia brian+solis social media media2.0 media+2.0 2.0 smo social+media+optimization marcom communication publicity advertising interactive spin brand branding facebook twitter social+network global worldwide qq users