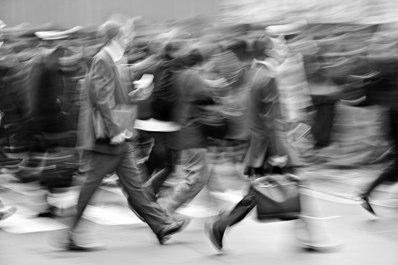 When I attended TWTRCON in San Francisco and also the 140 Twitter Conference in Mountain View recently, the intent of businesses was perspicuous. Speakers and attendees were on hand to actively share, inquire, and learn about how to increase visibility, engagement, and brand presence on Twitter and other social networks.
Equally paramount was the division of those who believe they're already successful on Twitter and those who have yet to discern measurable value for the long-term.
The consensus defined engagement as a way to join the conversations that were transpiring around their brands – with or without them. The need to not "miss out" and also attempt to steer perception was critical and pervasive. For the majority, ROI would come later.
In one example of ROI, where the I = investment, @delloutlet reported $1 million in sales directly to the company's activity on Twitter.
In many other examples of ROI, where the I = involvement, companies including @jetblue, @southwest, @carlsjr, @ciscosystems all reported dramatic increases in customer engagement, which led to the creation of vibrant online communities rich with empowered brand ambassadors.
In the Twitterverse, this is about businesses attempting to get down to business.
At TWTRCON, I received a printed summary of a Twitter trends report published by ThinkTank research and strategy. I found it rather interesting. In fact, it was so interesting, that I decided to retype the data to share with you, with full attribution to its author Robin Boyar of course.
Why is it so interesting?
I believe that this report may signal the end of the innovators and early adopters segment of Twitter adoption and the beginning of the era for the early market majority.
It's more than a hunch and less than scientific, but I've continually observed and documented the Twitter Trending Topics prior to the great race to Twitter's (ir)relevance leading up to the present. In addition to Twitters incredible growth as reported yesterday, there are scores of hints that the older age groups responsible for Twitter's rise are now rivaled by an increasingly younger demographic that is responsible for sparking some of these interesting and obvious "mainstream" trends. Remember, when Ashton took on CNN, it created a series of copycat contests that included the likes of Britney Spears, Will Smith, Spencer Pratt and many others who reach a much different market segment. This rush of new users were introduced to Twitter from a much different psychological perspective than how Twitter was initially embraced and utilized by early adopters. Whether they stay or not is an entirely different story however.
Two of many, many recent examples: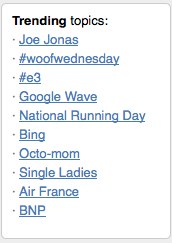 Whereas Twitter launched as the Facebook of microblogs or micronetworks, it may now shift into a cultural fusion of Facebook and MySpace. And if this is indeed the case, it will fundamentally change the behavior, interaction, customs, habits, and trends within this highly scrutinized societal microcosm.
Perhaps brands will need to rely on digital anthropologists and sociologists in addition to socially aware marketing strategists in order to effectively navigate the shifting currents on Twitter – today and tomorrow. In the end, it's about capturing and grasping attention and injecting value in order to engender loyalty and empower communities.
Compare these thoughts with your personal observations and the data included in the report below and let me know what you think is unfolding and whether it's a positive evolution and how it affects your participation – if at all.
This information is from ThinkTank's "Engaging Users," a study of Internet, mobile, and social networking users, fielded May 2009. For more information, please contact Robin Boya, robin [at] thinktank8 [dot] com.
Twitter User Summary:
Current Twitter users are early adopters of technology, entertainment and emerging services. They are more likely to use social networks and Internet 2.0 technologies to stay connected and be informed. Most are eager to learn about new products and services. They are loyal users, with 70% likely to continue using Twitter. As such, Twitterers leverage the power of word of mouth and are a valuable audience.
Twitter users are super engaged consumers.
A typical twitterer is a technical or creative professional in their 30s, who tends to adopt new products or trends more quickly than others. Almost all are on other social networks, 2/3 watch online video, read blogs, and play video games. Over half have HDTV, 40% have DVRs, and about 1/3 have smartphones.
Consider it the Oprah effect – most of the U.S. knows about Twitter.
Over ¾ of Internet users are aware of Twitter. While friends (43%) have driven greatest awareness, a whopping 35% heard about Twitter through television. Other sources of awareness include Websites (22%), social networks (18%) and family (17%).
What does Dr. Horrible, coffee, Tom's Shoes, and a Sony Vaio have in common?
They were all purchased because of Twitter. 40% of Twitter users regularly search for products or services online via Twitter. About 20% follow at least one product or service. Specifically, 12% note they've chosen a service or bought a product because of information they got on Twitter.
Is the social networking and Twitter phenomena half empty or half full?
It depends on the user. While 44% believe Twitter has long term value, 52% believe it's a trend.
Brands beware! Use Twitter wisely!
40% of Twitter users note the way a brand utilizes Twitter affects their perception of the brand. 2/3 of users would use Twitter to communicate good or bad information about a brand.
Make social networkers loyal: cues from Twitter: easy, fast, and well designed.
Social networkers note community and friends as top reasons they're spending more time on these sites – variety of activities (46%), ease (39%), and speed (30%).
Search and find most popular, multimedia not fully adopted
About 1/2 of all Twitterers are using search and find. Less than 1/4 are updating to blogs, posting photos or posting videos.
Ashton vs. CNN: News actually trumps celebrities.
About 1/2 of Twitterers are interested in news and entertainment. Other popular Twitter themes include politics, products and services, sports, celebrities, and restaurants.
Social networks and Twitter: It's not just about finding your old prom date.
2/3 of all social networkers use them to connect and communicate. However about 1/4 use them to follow news, play games or professionally network.
Smartphones: A Twitterer's best friend.
Twitterers are almost twice as likely to own smartphones than Internet users. Top two phones include BlackBerry (15%) and iPhone (10%). Twitter users have advanced mobile behavior: 1/2 take photos, 1/3 go online and 20% play games regularly. About 25% of Twitter users update some type of social networking status regularly via their mobile phone.
Gender:
Male = 55%
Female = 45%
Age
13-17 = 5%
18-24 = -30%
25-34 = 20%
35-49 = +25%
50+ = +20%
Social Networks Visited Weekly
Twitter = 100%
Facebook = +80%
MySpace = +60%
LinkedIn = +20%
Yelp = -10%
Tribe = 5%
Friendster = 5%
Friendfeed = 5%
Search Topics
News = +50%
Entertainment = 50%
Products or Services = +45%
Politics = +45%
Technology = -45%
Celebrities = -45%
Restaurants = +40%
Art and Culture = -40%
Health = +35%
Business = +35%
Sports = +30%
Fashion = -30%
Update:
Time Magazine's cover story this week is, "How Twitter Will Change the Way We Live."
Excerpt:
In short, the most fascinating thing about Twitter is not what it's doing to us. It's what we're doing to it.
Helpful Posts on PR 2.0:
– Time Spent on Twitter Soars by Over 3,700%, Facebook 700%
– Gazing into The Twitterverse
– This is Not a Sponsored Post: Sponsored Conversations & the FTC
– Reviving the Traditional Press Release
– Twitter, Acquisition vs. Retention
– You Are Significant
– The Art and Science of Blogger Relations – Updated eBook
– In Social Media, The SEC Protects Investors and Companies by Removing "Relations" from IR
– Twitter Flutters into Mainstream Culture: The New Competition for Attention Starts with You
– The Social OS, The Battle Between Facebook and Twitter is the New Mac vs. PC
– The Domino's Effect
– Can The Statusphere Save Journalism
– The Conversation Index
– Social Media Influences Buying Decisions
– Is Social Media Recession Proof?
– The End of the Innocence
– The Social Effect and Disruption Theory
– Twitter and Social Networks Usher in a New Era of Social CRM
– In the Statusphere, ADD Creates Opportunities for Collaboration and Education
– Humanizing Social Networks, Revealing the People Powering Social Media
– I Like You The Emerging Culture of Micro Acts of Appreciation
– The Ties that Bind Us – Visualizing Relationships on Twitter and Social Networks
– Make Tweet Love – Top Tips for Building Twitter Relationships
– Are Blogs Losing Their Authority to the Statusphere
– Twitter Tools for Communication and Community Professionals
– Reinventing Crisis Communications for the Social Web
—
Connect with me on:
Twitter, FriendFeed, LinkedIn, Tumblr, Plaxo, Plurk, Identi.ca, BackType, Social Median, or Facebook
—


Subscribe to the PR 2.0 RSS feed.

Kindle users, subscribe here.
—
Now available:

—
pr pr+2.0 pr2.0 public+relations marketing advertising interactive social+media socialmedia brian+solis social media media2.0 media+2.0 2.0 smo social+media+optimization marcom communication publicity ashton+kutcher cnn twitter facebook myspace business brand branding social+network study report trends