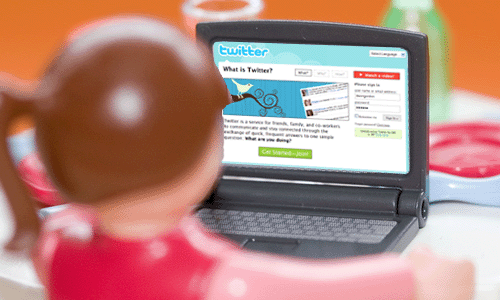 Credit
Seems that even the shiniest applications on the Web also face the same growing pains as any product, no matter where it resides on the adoption bell curve.
While many widely speculated the total number of new users who were introduced to Twitter as a result of the now infamous race to 1,000,000 followers, we do know that the number seems to hover between 500,000 and 1.2 million. When compared to the estimated existing user base of ~5 million heading into the race, the final number represents a significant spike in visibility, trials, and subsequent adoption. Irrespective of the exact number, believe that the culture of Twitter is forever influenced as it will with every big event.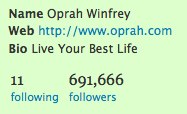 Oprah Winfrey's followers have skyrocketed to 691,000 as a result of her televised tweet. She follows 11 people.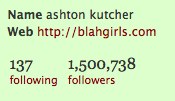 Ashton's follower count no longer needs media attention as it seems to be on auto-pilot now. He follows 137.
Robert Scoble made an interesting point recently, "She (Oprah) got at least 300,000 by being on the recommended follower list, not organically."
His point alludes to something we must consider. While the "Oprah Effect" is profound, is Twitter and its experiential value easily discernible by mainstream consumers?
While its traffic spikes appear significant, the true question is, what happens after new users create accounts and explore the service without direction or guidance?
Nielsen is reporting that Twitter's growth may indeed face hurdles based on current numbers that document follow vs. follow through.
According to the report, over 60 percent of new Twitter users fail to return the following month, creating a retention rate of only 40 percent. This isn't an isolated event. Over the last year, Twitter has struggled with user retention, averaging roughly 30 percent carry over from month to month.
Neilsen also explored other popular social networks on their rise to mass adoption.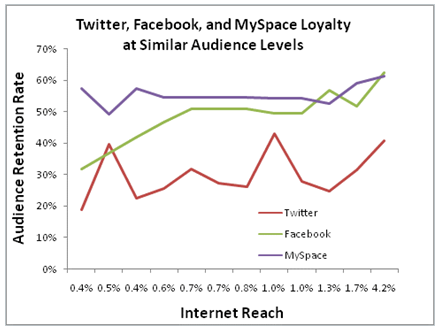 Facebook and MySpace retention rates were twice as high during their phases of dramatic growth and only continued to escalate to the nearly 70 percent both enjoy today. Keep in mind that Facebook has surpassed 200 million active users.
Whether or not you agree with the results, there are associated realities with its current state, age, appeal, and barriers to adoption.
It's in the way that you use it.
Your experience is defined by those whom you follow.
Indeed, the potential market for "egocasting" is finite. The audience for self-promotion is limited in its patience. An ongoing popularity contest wears even the most persistent. And surely, Twitter is much more than a customer service channel for people to vent about product and service issues only to have companies save the day. The culture needs a supportive ecosystem of people and applications that define and propagate productive interaction. Perhaps Twitter's simplicity was its greatest catalyst and now potentially its most formidable barrier to reach the critical next stage of evolution. Twitter, along with the community, must demonstrate the value of micro updates and dialogue in order to provide long term value and and ensure resilience for all parties. Adding clever, centralized insight, instruction, and information in addition to recommended people to follow will serve as a companion to those new users who will not take the time to read the instructions and use cases that are globally dispersed across the Web.
Helpful Posts on PR 2.0:
– Twitter Flutters into Mainstream Culture: The New Competition for Attention Starts with You
– Online Reputation and Brand Management Starts with Identity
– The Social OS, The Battle Between Facebook and Twitter is the New Mac vs. PC
– The Domino's Effect
– The Conversation Index
– A New Search Engine for Twitter
– Social Media Influences Buying Decisions
– Is Social Media Recession Proof?
– Twitter Traffic Surges to 10 Million
– The End of the Innocence
– The Social Effect and Disruption Theory
– Putting the Public Back in Public Relations is Now Available
– Twitter and Social Networks Usher in a New Era of Social CRM
– The Human Network = The Social Economy
– In the Statusphere, ADD Creates Opportunities for Collaboration and Education
– Humanizing Social Networks, Revealing the People Powering Social Media
– Social Networks Now More Popular than Email; Facebook Surpasses MySpace
– I Like You The Emerging Culture of Micro Acts of Appreciation
– The Ties that Bind Us – Visualizing Relationships on Twitter and Social Networks
– Make Tweet Love – Top Tips for Building Twitter Relationships
– The Battle for Your Social Status
– Twitter Tools for Communication and Community Professionals
– Is Twitter a Viable Conversation Platform
Connect with me on:
Twitter, FriendFeed, LinkedIn, Tumblr, Plaxo, Plurk, Identi.ca, BackType, Social Median, or Facebook
—
Subscribe to the PR 2.0 RSS feed.


—
Now available:

—
pr pr+2.0 pr2.0 public+relations marketing advertising interactive social+media socialmedia brian+solis social media media2.0 media+2.0 2.0 smo social+media+optimization marcom communication publicity twitter nielsen facebook myspace